If LSU is in the BCS Championship Game, There Will Be No Rematch
November 17, 2011
Kevork Djansezian/Getty Images
Many fans, writers and talking heads keep discussing the possibility of a rematch should LSU play in the BCS championship game. The only possible opponents for a rematch are Alabama and Oregon.  
Before getting into the discussion, note that the purpose of the BCS is to match the teams ranked 1 and 2 in a bowl game. There is nothing in the requirements which says the two best teams will be matched in the game.
If voters were going to rank the best FBS teams this year, many would rank Alabama 1A at worst. 
Even as good as the Tide are, Alabama will not be selected because:
1.  Following the 2003 season, Oklahoma and LSU beat Southern Cal out of a spot in the big game. LSU due to the strength of schedule portion of the BCS formula. As a result, beginning in 2004 strength of schedule was removed from the formula. 
Oklahoma played despite being thrashed by Kansas State in the Big XII Championship game, 35-7.  Beginning in 2004, voters started following an unwritten rule which went something like this: if a team can't win its conference championship, it doesn't deserve to play for the national championship. 
There are two times when this unwritten rule was most obviously applied:
A). 2006: If there was ever a time for a rematch, it was this year. In their last game of the season, Michigan lost to Ohio State by 3 points (42-39) in Columbus but the SEC lobbied long and hard against any rematch.
One of the prime arguments was that Michigan wasn't a conference champion. Florida was a conference champion and deserved the chance to play for the national championship. Bear in mind: at this time, no one had any idea this would be the start of the recent stretch of SEC dominance.  It is a virtual certainty that everyone outside the SEC, especially in the Big 10, remembers this argument very well. 
This year, Alabama lost to LSU by 3 points (9-6) in Tuscaloosa.
B). 2007: LSU was selected for the championship game despite having two regular season losses. On championship Saturday, two favorites for the championship lost. Meanwhile, LSU beat Tennessee in the SEC championship game by a touchdown.
When the final BCS rankings came out, LSU had jumped from around 7th to 2nd. In doing so, they passed—among others—Georgia.  The Bulldogs were arguably playing the best football in the SEC at season's end. The explanation given to Georgia fans was: if you can't win your division, much less your conference, you don't deserve to be playing for the crystal.
2. Voters outside the south are likely experiencing SEC fatigue. They are tired of hearing how great the SEC is and, by inference, how their conference is second rate. They are unlikely to want to set up a situation where the SEC is not only guaranteed a 7th consecutive national championship, but the runner up as well.
3. Non-SEC conference commissioners will not like the idea of the SEC getting both shares of the BCS championship game payout.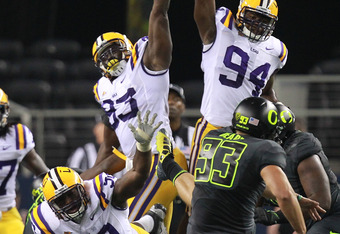 Ronald Martinez/Getty Images
If for no other reason, this is certain to lead to heavy lobbying effort to block an LSU vs. Alabama championship game. 
Oregon's issues are somewhat different:
1. One argument favoring Oregon was their play has improved substantially since the first game.  These people seem to think that LSU has not also improved during the season.
Another argument is the Ducks would have a key player back, who was suspended for the game. No thought is given to the fact that LSU had not one, but two key players suspended for the first game.
2.  In 10 games, Oregon is 1-1 against 2 teams ranked in the most recent BCS top 25: LSU and Stanford.Neither of their remaining games include a top 25 team.
LSU is 3-0 against top 25 teams: Alabama, Oregon and Auburn. If LSU ends the season 13-0, they will have played and beaten five top 25 teams, including, Arkansas and Georgia.
3. Oregon has a record of losing big games against teams who have equal or better athletes and play stout defense—Ohio State, Auburn, and LSU come to mind.
4. When LSU beat Oregon in the first game of the season, it wasn't close. It is difficult to justify a rematch when the loser was soundly beaten the first time.
Why give Oregon a second shot when they were not very competitive the first time? There must be other opponents worthy of an opportunity to win a national championship.
Then there is the media. You know, those folks paying the bills. Given the choice, would they rather spend several weeks promoting (as well as trying to convince sponsors to buy commercial time) for:
1.  A rematch between two defensive titans likely leading to another 9-6 yawner for those outside the SEC? The last thing ratings-conscious media types want is TVs switched to Dancing with the Stars re-runs at halftime.
2. A rematch between teams which one participant had already soundly defeated the other? To make matters worse, the first game loser has a reputation of not doing so well when facing teams with good athletes, stout defenses and time to prepare.
3. A game between one of the best defenses in the country and an offense led by either Brandon Weeden or Landry Jones?
Who will play LSU if the Tigers make it to the BCS championship game?
I think that point three above answers that question: the Oklahoma vs. Oklahoma State winner...provided neither has more than one loss.