Ligue 1 : Can Yoann Gourcuff Get Back to His Best with Olympique Lyonnais?
November 16, 2011
Michael Steele/Getty Images
It's a straightforward question really—and one that you think would have an obvious answer. In fact, it seems strange even to be questioning whether a player with the quality and potential of Yoann Gourcuff is capable of being the best player in a league the standard of Le Championnat.
Yet here we are, over a year now since his big money move to Lyon, and we've seen little if any evidence of the player who was so pivotal in winning the French title for Bordeaux in the 2008-09 season. Aside from the creative side to his game, Gourcuff scored 12 times in 37 appearances during that league campaign. Yet, in his 28 appearances for his new club to date, he's only managed to find the net four times—a pretty meagre return for a player on whose shoulders so much responsibility has come to sit and from whom we had come, if only briefly, to expect an awful lot more.
So what happened? Did the move to Lyon come too early? Were he and Claude Puel not a particularly good fit?
In a sense, you could argue that both are true.
Like many promising young players, after a small amount of success, a relatively small amount of development and an overwhelming amount of hype, the pressure grew on Gourcuff, and it was inevitable that he would end up moving at the first sign of a lucrative offer to a bigger club. The difference in this situation though, was that despite the fact that moving to Lyon certainly represented a step up in terms of his career, it didn't seem as though this was skipping a stage, or that things were happening too quickly the way it might have been had he signed for Manchester United or Real Madrid.
Essentially, Lyon seemed like the next rung up on the ladder and that it would be the sort of move that would be beneficial for his long-term development, allowing him a guaranteed run in the first XI and plenty of scope to leave his mark on the team.
So how come it hasn't worked out like that? Well, this is where the whole Claude Puel situation fits in.
Unused to the 4-3-3 formation coming from Bordeaux, Gourcuff arrived at Lyon needing to adapt to a very different way of playing. With a game better suited to having the team built around his abilities, Gourcuff initially found it tricky adapting to a system that involved a greater emphasis on the collective, and less on the individual.
Now, this isn't to say his creative side wasn't given the opportunity to flourish, and it isn't an excuse for a succession of lacklustre, uninspired performances. However, it is an important aspect that is essential not to overlook. Players like Gourcuff suffer when little effort is made to cater to their particular needs, and although Puel's insistence on the team ethic suggested he had the best interests of the club at heart, he could have paid a little more attention to detail in trying to find a role better suited to such a talented player. Instead, Puel tried—unsuccessfully—to fit him into a system that didn't particularly suit him, and in the end, it was one of the factors that cost him his job.
Then, to make matters worse still, this period of transition was complicated even further by a series of injuries, which seriously limited Gourcuff's availability and made his integration into the new setup all the more difficult. Unable to string many consecutive appearances together before having to deal with a fresh setback, Gourcuff too often found himself in a position where his lack of impact was down to a needing sharpness and missing match practise.
Given this, it's understandable, at least from a certain point of view, why Puel was either reluctant or unable to change the way the team played in order to suit him—why do this for a player who's going to be unavailable so often? Why alter the makeup of the team significantly if it's just going to be necessary to do the same when he's missing?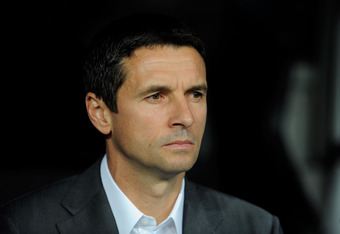 Denis Doyle/Getty Images
Remi Garde's arrival to replace Puel at the start of this season seemed as though it might bring about a bit of change and give more freedom to Gourcuff to perform in an attacking 4-4-2 formation with an emphasis on width and moving the ball around quickly and effectively, but again, injuries have really gotten in the way of his start to the season. As of yet, he's only been able to make four appearances, including one as a substitute, and there's an increasing feeling that time is perhaps beginning to run out for Gourcuff if he is to fulfill his potential and become the player he looked so capable of becoming during his time with Bordeaux.
It's possible that Gourcuff might becoming increasingly concerned about this himself and consider a move elsewhere, worried that his career is starting to stagnate in Lyon. It's also possible that Lyon might be willing to give up on his case and will instead try to recoup some of the massive transfer fee they paid for him back in August 2010, if they are able to find a club willing to take the chance.
The thing is though, that in this situation, the smartest decision for both parties to make would involve Gourcuff staying at the Stade Gerland. For a start, it's unlikely that Lyon will be able to get anything like the money in return that they paid for him to begin with, and you have to feel that it would be in their interest to retain the player for the time being, even if their intention is simply to wait until his value rises again before they can move him on.
However, staying at Lyon is possibly more important for the player himself.
How often have we seen young players, so full of promise, bounced around several clubs who were all looking for instant impact instead of a long-term project and didn't feel like exerting the necessary time and energy to further the player's career?
Staying at Lyon would allow Gourcuff the opportunity to continue his development as a footballer and to get his career back on track, something that won't be possible if he is moved elsewhere and has to restart the whole process of integration and initiation. Even if he hasn't found this particularly easy at Lyon, it would seem senseless to give up on the progress he has made and to take the risk of having to start it all over again—possibly having to leave should that move fail to work out.
Massimo Cebrelli/Getty Images
Instead, Gourcuff would be much better served in following the example of similar players in his position, who stayed with the one team long enough in order to properly develop as players and to completely fulfill their potential—just think of Paul Scholes, Andrea Pirlo, or even to a lesser extent Xabi Alonso. All were immensely talented players, with a style of play quite similar to that of Gourcuff, yet what was most important was that all stayed long enough at the one club in order to properly integrate into the squad, and to allow the teams to be built around them—not because this was the only way that they could play, but that they became essential to the whole style in which the team itself played.
Gourcuff has the potential and the talent to have a whole team built around him, but in order to do so, he'll first need to prove that he's worth it by his performances. If he makes himself an essential part of the Lyon side, it will benefit both him and the club.
But if he waits around for the team to find a system that suits him instead, he could be in for quite a long wait.