Fresh Start for White Sox and Cubs May Mean More Waiting for Chicago Fans
November 19, 2011
Jonathan Daniel/Getty Images
Chicago White Sox versus Chicago Cubs in the World Series.
There's a headline most Chicago fans don't expect to see in their lifetime—and with good reason. 
That hasn't happened since 1906, and history doesn't suggest that it will be happening anytime soon either.
Let's be honest, it's been over 100 years since the Cubs have won the series and since 1945 that they have made the series at all, so their fans would just be happy to get there against anyone.
But for many Chicago baseball fans, a World Series between the two teams would be the ultimate experience.
The city would probably shut down completely if that should ever happen, but of course in order for it to happen, both teams would actually need to start by just reaching the playoffs in the same season.
However, that's rarely been the case over the years.  Typically if one of the two teams is having a good season, the other is completely irrelevant by June—or they are both just bad, which has most often been the case.
Just look at the numbers—they don't lie.
In the last 30 years the White Sox have had a record at or above .500 19 times while the Cubs have done it just 11 times.  So just by looking at that you can see that there are a lot of seasons where neither team has had any chance at the postseason at all.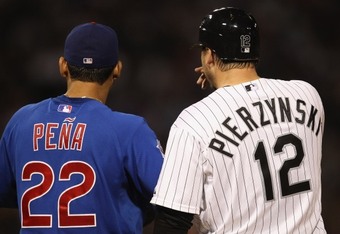 In the combined 60 seasons between the two teams during that span, there have only been 30 times where one of the two has finished at or above .500— which makes the math pretty easy.  Only half of the time in the last 30 years has either team had at least a .500 record, let alone a playoff appearance.
Not so good.
Now in those 30 seasons, the White Sox have had five playoff appearances—and one World Series title—while the Cubs have actually had six appearances but nothing to show for it.  So obviously there have been only five opportunities in the past 30 years where both teams could have reached the postseason in the same year.
The only year that both teams were able to accomplish the feat during that span actually came in 2008.  However, neither team made it out of the divisional playoffs that year, and neither has been back to the postseason since.
Is next season going to be any different?  Not likely.
Both teams are currently going through a lot of changes with not only their teams, but their management as well.
Now that doesn't necessarily take them out of contention, because the games still have to be played, but it certainly doesn't make it any easier.
White Sox new manager Robin Ventura and Cubs new skipper Dale Sveum certainly have their work cut out for them as they both take over teams coming off of subpar seasons—which over the years seems like a recurring theme with Chicago baseball on both sides of town.
Maybe both teams will surprise their fans and remain in contention past the All-Star break next year, but I certainly wouldn't bet on it.
However, that definitely won't keep Sox and Cubs fans from arguing with each other about which team is better or which ball park is nicer—that will never stop regardless of whether or not either team is competitive.
Most fans will tell you that they just want their respective team to play well and reach the playoffs and that they're not concerned about what the other team is doing, which is the way it should be.
But make no mistake, they still love to beat the guys from the other side of town for bragging rights no matter how their season is going.
For proof of that you need to look no further than the six interleague games that they play each year. Those games almost always have a playoff atmosphere, even when the actual playoffs may not be feasible for either team.
In the scheme of things those games really don't matter much, but you would never be able to tell.
The fact that the crosstown rivalry is so heated every year even when the stakes aren't always high just makes you wonder what it would be like if these two ever met each other when it counts.
Hopefully someday Chicago baseball fans will get to experience that, but for now it's still probably more of a dream.
Three more months until spring training begins and with that yet another season of renewed hope for both White Sox and Cubs fans.
No matter what happens, it never gets old.