South Carolina Football: Should South Carolina Run an Option Offense in 2012?
November 16, 2011
Streeter Lecka/Getty Images
South Carolina has all the pieces to have quite an offense in 2012. 
If, you know, it changes its entire offensive philosophy and coaching style. 
The Gamecocks are showing flashes of being a brilliant option style offensive football team.  With three (count them), three starting caliber running backs, a stable of fast dual threat quarterbacks, and undersized speedster receivers, the Gamecocks could run wherever they want at will.
Think about it.
Connor Shaw has shown a great running ability.  He is the second leading rusher on the team behind the injured Marcus Lattimore.
Brandon Wilds is proving that he is an SEC caliber starter, and the possible successor to Marcus Lattimore.
Shonn Carson was the pre-season number two, and a the most impressive freshman during the spring game.  He is fast, agile, and has great vision. Of course he got hurt along with Marcus, an All-American. 
Oh, and you also can't forget the ultimate wildcat quarterback, Bruce Ellington. 
Add in Damiere Byrd (who has showed his ability to be a reverse threat), Ace Sanders, and Nick Jones. There you have some great running ability.
Alshon Jeffery will be gone, so it will be up to his brother, Shamiere Jeffery or incoming freshman Shaq Roland (currently a four star prospect, soon to be five) to be the deep threat.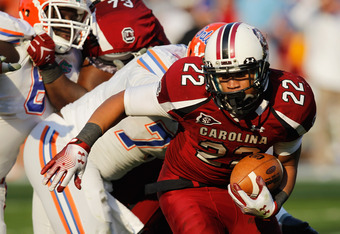 Streeter Lecka/Getty Images
Connor hasn't been the perfect passing quarterback this year.  Far from it.  However, as a run first quarterback, he has skills, and he could keep defenses honest.
Imagine this, Gamecock fans:
Connor Shaw lines up in the backfield with Marcus Lattimore on his right, Shon Carson or Brandon Wilds on the left, Shaq Roland split wide, and Damiere Byrd to the left.
Damiere takes off early as the reverse threat. Connor hikes the ball, fakes the handoff to Marcus Lattimore, then runs an option towards Shaq Roland and Damiere Byrd (now a blocker) with Carson or Wilds. 
The team can still have some standard offensive plays and power runs. 
However, think of the options here.  Hand it to Damiere off the reverse.  Give it to Lattimore up the middle.  Connor can keep it or toss it to whoever is sharing the option course with him. 
Or, get a wild hair and throw it up to one of the wide receivers.
The team is suited for this, and the offensive line should be improved next year a great deal.
Brandon Shell, the five star player from this year's class, will be completely healed and have a year to learn the left tackle position. 
That's the way this team is built, and it could be super-effective.
The question is, will Spurrier adjust his game plan? 
Probably not. Either way, it's great to be a Gamecock!