Manny Pacquiao vs. Floyd Mayweather and the Top 10 Fights We Need to See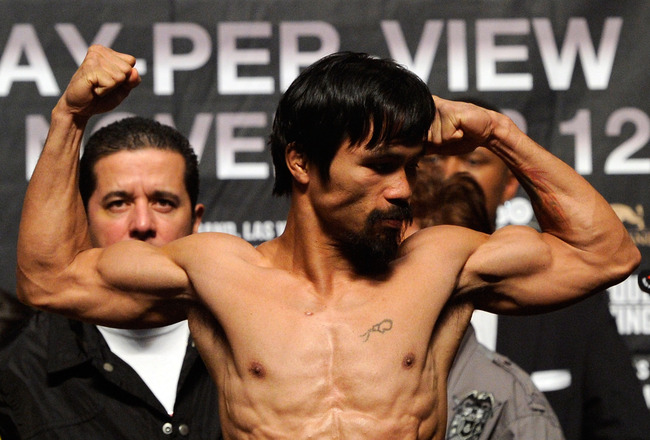 Manny Pacquiao
Ethan Miller/Getty Images
Manny Pacquiao (54-3-2, 38 KO) vs. Floyd Mayweather (42-0, 26 KO) is one of the biggest proposed fights of the century, but what else is there?
There are many matchups not happening that the boxing public wants to see or has demanded to see but has not been given.
Some of these are more recently proposed fights between young up-and-comers rising to the top on parallel trajectories the audience wishes would collide into an explosion of exceptional violence.
Others are veterans that have traded words and opponents over the course of years while forming common interests among fans to see them cross paths in an elite showdown of ring superiority.
The top 10 fights we need to see are starting now...
10. Juanma Lopez vs Orlando Salido II

Here is the Round 8 stoppage of Lopez by Salido.

Picture this: it's New Years Eve, 2010. Juanma Lopez is 30-0 and has just defeated the legendary Rafael Marquez to successfully defend his WBO featherweight (126 lbs) title.
The IBF and WBA world featherweight champ Yuriorkis Gamboa (21-0, 16 KO) awaits him in 2011 for a highly anticipated unification between the two undefeated best featherweights currently fighting.
Lopez just has to get past Orlando Salido (36-11-2, 24 KO), an opponent Gamboa outclassed easily in 2010 to gain the IBF belt.
Gamboa and Lopez are considered equals. If Gamboa can outclass Salido, Lopez should too, right? Wrong.
In April of this year, Salido stopped Lopez for the first time in his career in Round 8. Lopez's upset caused the collapse of interest in Gamboa-Lopez and also the loss of interest in the featherweight division.
Both Salido and Lopez have knocked out interim opponents while awaiting a date and time when they can have a rematch.
If Lopez can defeat Salido soundly and make his loss appear to be a fluke, then perhaps he can resurrect interests in the featherweight super fight between himself and Gamboa, effectively saving the division.
9. The Maidana Rematches
Marcos Maidana
Ethan Miller/Getty Images
Marcos Maidana (31-2, 28 KO) is one of the most consistently entertaining fighters of this generation. His fights can be changed in the blink of an eye by his extraordinary punching power.
He seeks out the best and gives them hell en route to another classic fight-of-the-year notch on his resume.
At age 28, he still has plenty of time to make sequels of the action-packed thrillers that were Amir Khan (26-1, 18 KO) vs Maidana, Erik Morales (52-7, 36 KO) vs Maidana and Victor Ortiz (29-3-2, 22 KO vs Maidana.
Against Ortiz in 2009, Maidana was knocked down three times over the course of the fight to rally back and stop Ortiz with cuts caused by his vicious punches in the Round 6.
Against Khan in 2010, Maidana was knocked down by bodyshots in the first round as Khan dominated until the tenth round when Maidana hurt Khan, forcing him to have to survive an onslaught of punches. Maidana suffered a unanimous decision loss.
Against Morales in 2011, Maidana battled the Mexican legend who turned out to be a livelier underdog than expected. Maidana escaped with a majority decision victory.
If this trend continues into 2012, Maidana could give yet another arguable fight-of-the-year performance.
8. Yuriorkis Gamboa vs Brandon Rios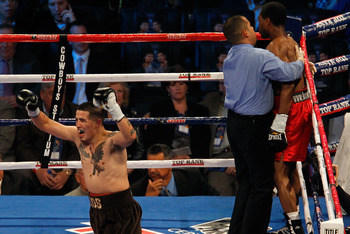 Brandon Rios celebrates as another poor soul is saved from his wrath.
Tom Pennington/Getty Images
Yuriorkis Gamboa (21-0, 16 KO) has been stripped of his IBF and WBA world titles for various reasons involving boxing politics.
He's been stripped of a lucrative super fight at featherweight with Lopez, thanks to Lopez suffering a TKO loss to a man he himself easily outpointed.
Now the man who originally turned professional as a super featherweight (130 lbs) is taking his career into his own hands by attacking the lightweight (135 lbs) division's best fighter, Brandon Rios (28-0-1, 21 KO).
"Bam Bam" Rios is a vicious 25-year-old Mexican warrior from Lubbock, Texas with a chin made of titanium and two explosive devices for fists who knows how to bang against those who dare step to him.
Gamboa dares to be the next opponent, a speedy knight in shiny shorts willing to stand against the fire-breathing Mexican dragon that is Rios.
Gamboa's new trainer, the legendary Emanuel Steward, loves the match. Rios's longtime trainer Robert Garcia can't wait.
Pending Rios defeats John Murray (31-1, 18 KO) December 3 on the undercard of Cotto vs Margarito II, this fight could be a 2012 fight-of-the-year contender that gives birth to boxing's next superstar.
7. Andre Berto vs Victor Ortiz II

Berto vs Ortiz I: The highlights

Andre Berto (28-1, 22 KO) lost his undefeated record this year to Victor Ortiz (29-3-2, 22 KO). Ortiz was hungry to prove his naysayers wrong about his loss to Maidana.
Ortiz wanted to prove that he had the heart to survive troubled times like the one he didn't survive in 2009. Berto put him through hell, knocking him down twice only for Ortiz to knock Berto down twice as well.
In the end, Ortiz's aggression and drive to beat Berto back won him a unanimous decision victory and the WBC welterweight championship until Mayweather snatched away by controversial fourth round KO.
Ortiz wants a rematch, yet Mayweather told him to get past Berto first. The fight is currently scheduled for January 28 on HBO.
This fight was exciting and is between two young men everyone loved seeing fight the first time and will enjoy equally as much if not moreso the second time. This could be the beginning of a classic trilogy.
6. Amir Khan vs Timothy Bradley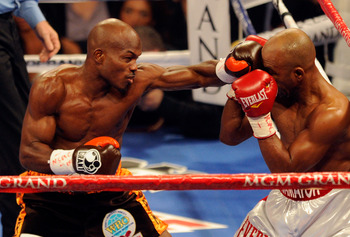 Timothy Bradley knocks out Joel Casamayor
Ethan Miller/Getty Images
The junior welterweight (140 lbs) division has accumulated a wealth of talented fighters over the years, but the two best in the division are been Amir Khan (26-1, 18 KO) and Timothy Bradley (28-0, 12 KO).
Bradley went on a three-fight streak from 2009-January 2011 against undefeated warriors ranked in the top ten of his division, handing Lamont Peterson (29-1-1, 15 KO), Luis Carlos Abregu (29-1, 23 KO) and Devon Alexander (22-1, 13 KO) each their first loss.
Khan has bested battle-tested veterans such as Zab Judah (41-7, 28 KO) and Paulie Malignaggi (30-4, 6 KO) by way of knockout and technical knockout, respectively.
Khan's biggest win of his career thus far came by way of unanimous decision against Maidana last year.
Bradley and Khan were expected to clash this past July until Bradley and his former promoter got into a legal dispute that led to him jumping ship to Top Rank.
Bradley debuted for Top Rank with a recent knockout of Joel Casamayor (38-6-1, 22 KO) on the Pacquiao vs Marquez III undercard.
Khan is set to defend his IBF title against Peterson this December 10. Should Khan succeed, he and Bradley could work towards a new fight date in 2012 to settle who is the best in their talented division.
5. Andre Ward vs Lucian Bute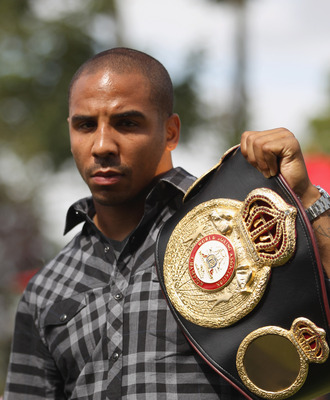 Andre Ward
Tom Shaw/Getty Images
Two undefeated Super middleweight world champions clashing would be great for the sport. Andre Ward (24-0, 13 KO) is currently the WBA champion and competes in the Super Six Finals on December 17.
His opponent is British warrior Carl Froch (28-1, 20 KO), who holds the WBC championship. Froch is a great champion, but the real success story of the Super Six Tournament has been the American Ward.
Ward has exploded into the boxing conscious with this tournament as a showcase of his talents against elite competition with him remaining the last undefeated fighter of the original Super Six.
Ward is the favored by the odds to win and then the real superfight will hopefully be made between himself and undefeated Canadian superstar Lucian Bute (30-0, 24 KO).
Bute is the only fighter with elite talents who was left out of the Super Six Tournament. He's since faced a plethora of B-class opposition that he's excelled against.
His first true elite test was former Super Six replacement, Glen Johnson (51-16-2, 35 KO). Best known for his knockout of Roy Jones Jr (54-8, 40 KO). Bute outclassed him to win a unanimous decision.
After Ward defeats Froch, the only thing in the way of the fight is location. Bute is likely to want to stage the fight in Canada where he sells out stadiums. Ward will likely want to fight near Oakland, California.
4. Nonito Donaire vs Guillermo Rigondeaux

Rigondeaux stops "Big Bang" Casey with bodyshots in the first round.

Guillermo Rigondeux (8-0, 6 KO) is a Cuban defector and Olympic legend considered one of the greatest amateur fighters to ever walk into a ring.
He is currently an interim WBA champ at junior featherweight (122 lbs) and will gain the full title upon defeating undefeated WBA regular champ, Rico Ramos (20-0, 11 KO) on New Years this year.
Nonito Donaire (27-1, 18 KO) is currently a WBC and WBO bantamweight (118 lbs) champion but plans to move up to junior featherweight next year in search of a world title in a fourth weight class.
Donaire's Filipino-American nationality puts strong expectations on him in light of Pacquiao, the eight-division conqueror, coming toward the end of his historic career.
Donaire plans to move up and immediately start taking world titles at 122 from the likes of WBO champ Jorge Arce (57-6-2, 44 KO) and WBC champ Toshiaki Nishioka (39-4-3, 24 KO).
IBF champ Takalani Ndlovu (32-6, 18 KO) is currently looking over offers to unify next year, but he wouldn't specify which champ wanted to unify.
Ronnie Shields, Rigondeaux's trainer, has already confirmed that Rigondeaux wants Donaire next year.
If this fight were to happen, it would become one of the most intriguing matches in the 122-pound division's history.
3. Saul "Canelo" Alvarez vs Julio Cesar Chavez Jr.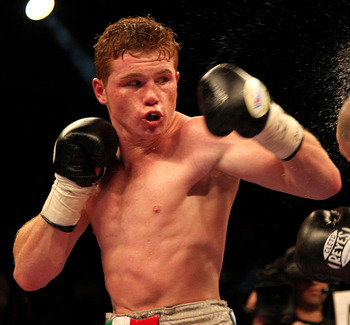 Saul "Canelo" Alvarez
Jed Jacobsohn/Getty Images
Two of Mexico's brightest stars need to face one another to determine the future star of one of boxing's greatest countries.
Julio Cesar Chavez, Jr. (43-0-1, 30 KO) is the son of a legend with a tough chin, decent power and now holds the WBC middleweight world championship.
Saul Alvarez (38-0-1, 28 KO) is a popular 21-year-old Mexican kid who stands out with his red hair and handsome looks in addition to ring smarts.
Both know how to take a punch and how to put on a show, and the battle between these two undefeated fighters would be the biggest fight in the Hispanic community since De La Hoya vs Trinidad in 1999.
2. Juan Manuel Marquez vs Erik Morales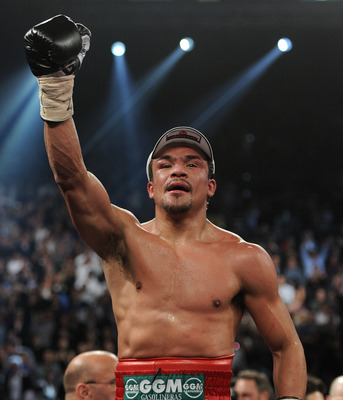 Juan Manuel Marquez after a beautiful performance
Harry How/Getty Images
Erik Morales (52-7, 36 KO) is the only Mexican to defeat Manny Pacquiao and is the only person to defeat Pacquiao this century.
Juan Manuel Marquez (53-6-1, 39 KO) arguably has also done so over the course of his three fights with Pacquiao.
He scored a draw in the first, a split decision loss in the second and a majority decision loss in the most recent match.
Marquez has said he only wishes to face Pacquiao one more time in Mexico and then retire, but what about a fight at junior welterweight against his fellow Mexican?
Erik Morales and Marco Antonio Barrera (67-7, 44 KO) created a wonderful trilogy this century that made them Mexico's premier two legends. Marquez meanwhile still had to fight for recognition.
Even after drawing against Pacquiao and beating Barrera twice, his respect was fully acquired. Now in recent years, he is slowly becoming recognized as the best Mexican fighter currently active.
Pacquiao, though not Mexican, was essential to the classic series of battles between himself, Marquez, Morales and Barrera. Together these four birthed an era of fast fists, mangled faces and happy fans.
The only members of this era to not fight are Morales and Marquez. If these two were to fight on Cinco de Mayo, not only would a classic be taking place but the stadium (be it Texas or Mexico) would erupt.
Both men, win or lose, could go out winners for the type of performance they would be destined to put on. Hopefully Marquez's retirement talk could be postponed long enough to make this fight happen.
1. Floyd Mayweather vs Manny Pacquiao

Here's Mayweather's and Pacquiao's career highlights.

Floyd Mayweather (42-0, 26 KO), Manny Pacquiao (54-3-2, 38 KO). Does any more need to be said.
Both names alone ring out cries of greatness and hopes of a collision.
Both are worlds apart, but they are destined to make bloody good music together.
Mayweather is a defensive genius no fighter has yet to figure out.
Pacquiao is an offensive force too great for most to deal with.
Every time this fight seems about to come through, something new happens to destroy it. Mayweather at first desired to have random blood and urine drug testing of both himself and his future foe Pacquiao.
Pacquiao disagreed, and an argument has developed over whether the testing is necessary, how many days before the fight it should stop and whether a fighter even one as big as Mayweather has the authority to ask such a request.
Since the first negotiations went south, Pacquiao and Mayweather have fought other foes. Mayweather has beaten two foes who have taken the test and Pacquiao claims to have agreed.
But now Pacquiao has looked bad in his previous matchup against Juan Marquez (53-6-1, 39 KO) in a third fight of their highly regarded trilogy.
Though Pacquiao escaped with the victory, he and his promoter Bob Arum want a fourth fight against Marquez when the first three were already obscenely close.
There are those who say there will never be a decisive victor between the two. Then there are those who would entertain the match, but only after he fights Mayweather.
Whether this fight happens or not, the very idea of these two superstars one day facing each other has breathed an amazing new life into the sport of boxing.
Keep Reading