F1: Force India, and the Rise of the 'National Team'
November 16, 2011
Mark Thompson/Getty Images
Long ago, Formula One teams raced in their national colours.  The Ferraris and Alfa Romeos were Italian red, the BRMs and Vanwalls British racing green, and the Mercedes and Auto Unions German silver.
They were teams which carried the hopes of nations, which the population could get behind and easily recognise as one of their own.
The sponsorship era mostly ended the custom of cars painted in national colours, and over time the idea of a team the whole country would support faded away with few exceptions.
The nationality of the team meant little unless the team entered red cars.  Few fans truly cared that Sauber were Swiss, Williams were British, and Jordan were Irish.
Until just recently, that is.  Entrants now carry the flags of "non-traditional" F1 nations, making the sport relevant in places it never was before.  And though the cars are probably made in Britain, these teams are making a big deal out of their national connections.
Force India carries the name—and flag colours—of a country with over a billion people.  US F1 briefly appeared and collapsed without starting a single race, but the intent to promote American technology and drivers was there.
Hispania wishes to become "progressively more Spanish" and Lotus/Caterham is referred to by the Malaysian government as "1Malaysia F1 Team". 
Elsewhere, Andrey Cheglakov, the man providing much of the funding for the Marussia project—road cars and racing—says, "The launch of our car is very much like the launch of the first Russian sputnik."
For those who lack astronomical interest, Sputnik 1 was the first satellite in space and winner of the first leg of the "Space Race"—a huge Russian (or more accurately Soviet) achievement.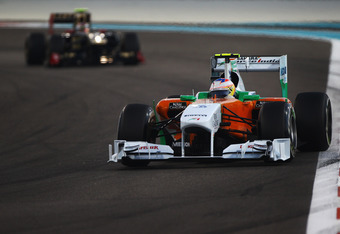 Clive Mason/Getty Images
Such focus on the nationality of a team hasn't been seen for many years.  And I can only see the trend continuing.
An explosion of investment into F1 by these non-traditional sporting economies—countries which want to put themselves on the international sporting map and see F1 as the ideal solution—has seen the calendar change dramatically. 
If you told an F1 fan in 1995 there would be races in Qatar, South Korea, the UAE, Bahrain and Singapore by 2011, they probably wouldn't have believed you.
But it happened.  So why stop at hosting a race?
Russia, the Middle East and South East Asia have bred a new class of super-rich. Russian billionaires, ruling families of Gulf states, Indian industrialists, the Chinese government. There are many men out there like Tony Fernandes and Vijay Mallya who recognise what F1 could do.
The ordinary people are seeing benefits too.  Booming economies such as China and India are developing an ever-expanding middle class of people with disposable incomes and the opportunity to taste a lifestyle which, 20 years ago, was reserved solely for the rich.
New teams forming in those regions can tap into that potentially huge, undeveloped market.  And that market exists—the swelling of national pride and interest at the grassroots level is impossible to ignore.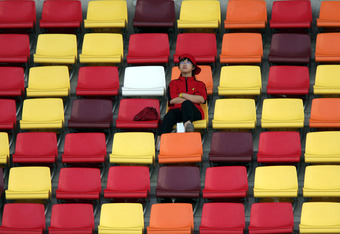 Clive Rose/Getty Images
The words "Force India" are entered on Google by Indians twice as often as by the rest of the world combined.  Malaysia by far leads the way for "Lotus F1", as well as Russia for "Marussia F1".  Traditionally strong countries for F1?  Not at all. 
Even Spain, which only really woke up to F1 when Fernando Alonso arrived, leads the way for "Hispania F1".
A proudly-American team which the public can connect to and identify with could be the key to unlocking the vast US market.  And it'll take more than just a race to truly ignite Chinese passion for F1. 
Domestic sponsors will want to be associated with the new trailblazing team. The benefits will knock on to other connected business interests.
Then we must, of course, factor in the substantial merchandise sales a local team would enjoy.
And we can't ignore the 'external' benefits to less-established economies, such as a greater international profile for the country itself.  Worldwide exposure could mean rising export opportunities, a huge boost for tourism, and more international investment.
Show the world you're a strong, stable, technologically capable nation and the world will come to you. What better way than through the globe's top racing series?
India, Malaysia and Russia now have what you could call 'national teams' with strong and proud connections to their homeland.  Spain looks to be getting there too. And Italy has had one for years.
Within the next decade don't be surprised if China, the USA, and at least one Gulf state join that list.