New York Rangers: The 20 Most Beloved Players of the Post-Lockout Era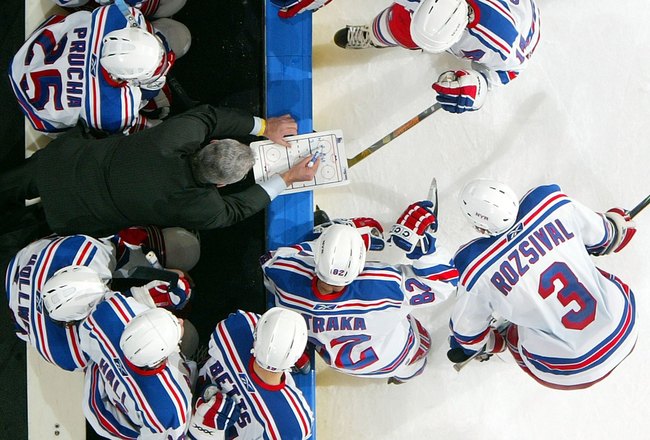 Jim McIsaac/Getty Images
Following the NHL lockout and cancellation of the 2004-2005 NHL season, the New York Rangers were a disgraced franchise, tied down by a long list of bad contracts and unfulfilled promises.
Led by former superstar Jaromir Jagr, goaltender Kevin Weekes and the return of a handful of young players, the Rangers were projected by Sports Illustrated to finish dead last in the NHL entering the 2005-2006 season.
That season, however, saw the emergence of several key players that led to rapid success and the beginning of a new organizational philosophy: build from within.
In the post-lockout era, the free agent-chasing, over-spending Rangers had a become a force to be reckoned with, using the draft and a commitment to player development to earn their first playoff berth in over a decade.
In six seasons since the lockout, the Rangers have missed the playoffs only once and earned back the respect and devotion of a fanbase that had waned in passion since the team's 1994 Stanley Cup run.
Unlike the high-priced free agent talent that fans had been forced to root for in the earlier part of the decade, the Rangers players of the post-lockout era became a young, hard-working, blue-collar group with which fans could easily identify. Here is one writer's take on the 20 most beloved Rangers players of the last seven years.
Note: This list is meant to reflect the most beloved players and not necessarily the players with the most goals or points (i.e. the absence of Scott Gomez and Nikolai Zherdev).
Honorable Mention: Ryan Hollweg, Michal Rozsival, Vinny Prospal
20: Artem Anisimov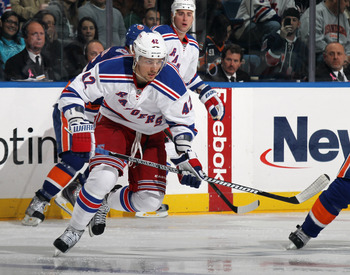 Bruce Bennett/Getty Images
If any one player has encapsulated Glen Sather's commitment to the youth movement, it would most certainly be Artem Anisimov. Despite Anisimov's failure to accumulate more than 45 points in either of his first two NHL seasons, the Rangers' coaching staff and front office have demonstrated patience and a willingness to allow the former second-round pick to continue the progression of his development.
Although he has failed to fully live up to the expectations, Anisimov has proven to be a reliable defensive player and penalty killer. He has yet to produce consistently on the offensive end, but has shown flashes of natural skill and scoring brilliance that has given Rangers' fans hope that he will soon develop into a dependable goal scorer.
Anisimov is exactly the type of player that the Rangers organization would have given up on prior to the lockout. Glen Sather's willingness to allow Coach John Tortorella to continue to work with Anisimov to improve his game is a breath of fresh air and a tactic that will hopefully pay major dividends for this organization in the future.
Through 16 games this season, Anisimov has found a niche alongside Marian Gaborik and Derek Stepan on the GAS line, a spot that looks to have propelled him in the right direction.


19: Markus Naslund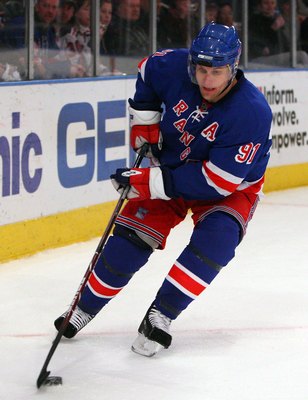 Jim McIsaac/Getty Images
The departure of Brendan Shanahan and Jaromir Jagr following the 2007-2008 season left the Rangers with a leadership void, a problem quickly fixed by the addition of Markus Naslund. Naslund, the longtime captain of the Vancouver Canucks, provided a sense of stability to a team going through a transition period trying to re-establish an identity in the post-Jagr era.
Naslund proved to be a shell of his former all-star self, but he still managed to net 24 goals, good for most on the team that season. His most memorable moment may have come during the Rangers first round playoff matchup against the Washington Capitals, when he redirected a cross-ice pass into the Washington net to give the Rangers a 1-0 win in Game 2.
After his first season in New York, Naslund announced his retirement, doing so in a manner that allowed the Rangers to avoid a $2 million buyout that would have counted against the salary cap the following season. This classy move further brought to light the type of person and player Naslund was, and that endeared him in the hearts of Rangers fans.
18: Ryan McDonagh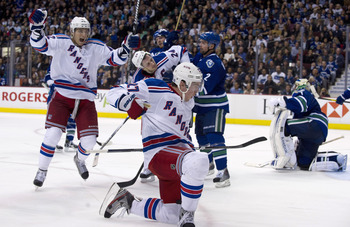 Rich Lam/Getty Images
Most fans were so excited to dump Scott Gomez off to the Montreal Canadiens that they neglected to realize that Rangers had acquired one of the best young defensemen in the NHL. Ryan McDonagh, a former first round draft pick, added to an already impressive collection of young talent that Glen Sather had managed to accumulate in exchange for some less desirable expiring contracts.
McDonagh made an immediate impact after being called up from Hartford midway through the 2010-2011 season. Paired with fellow youngster Michael Sauer, McDonagh played to a superb plus-16 rating and scored the game winning goal in Game 82 of the regular season to propel the Rangers over the New Jersey Devils and into the playoffs.
Just 15 games into this season season, McDonagh has already posted seven points and a plus-nine rating. His rapid improvement from what was already an exceptional rookie campaign has Rangers fans clamoring for what this kid might do going forward.
He has already shown the ability to play top defensive minutes, averaging well over 25 minutes of ice-time per game playing with Dan Girardi, and has shown flashes of end-to-end rush ability that we have not seen since Brian Leetch. The sky is the limit for this kid as he continues to grow and contribute to this Rangers team.
17: Blair Betts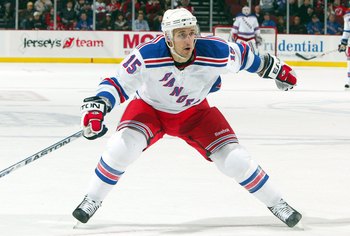 Jim McIsaac/Getty Images
Blair Betts never scored more than 10 goals or 20 points in his four seasons as a member of the New York Rangers, but was consistently recognized as one of the most important cogs in the team's post-lockout revival. Betts was one of the best face-off men and penalty killers in the NHL and brought a strong work ethic to each and every shift.
Hockey analyst Pierre McGuire was quoted as saying that Betts was "the most underrated player in the league" and was named the fourth line center on his annual All-Monster Team.
Betts' on-ice contributions were generally underappreciated until he left as a free agent in the summer of 2009, when limitations on the offensive end most likely shied the Rangers' away from a contract offer. In his time as a Ranger, however, Betts played an integral part in helping Glen Sather and the Rangers' front office better understand and identify the type of player needed to build a Stanley Cup contender.
16: Derek Stepan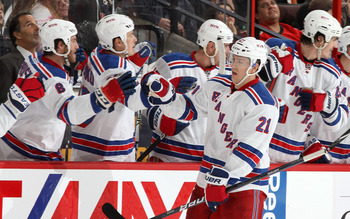 Jana Chytilova/Freestyle Photo/Getty Images
Derek Stepan began his Rangers career with a bang by recording an opening night hat trick against Ryan Miller and the Buffalo Sabres. As remarkable of an accomplishment as it may have been, Stepan immediately fell victim to heightened expectations after he put himself on pace for a 246-goal rookie campaign.
Stepan battled bouts of inconsistency en route to a 21-goal, 45-point rookie season and finished the year by going pointless and recording a minus-five in the Rangers first round playoff loss to the Washington Capitals.
With fears of a sophomore slump swirling through the minds of the Rangers faithful, Stepan started slow out of the gates to begin the 2011-2012 season. Since being moved to a line with Marian Gaborik, however, Stepan has turned things around in a big way by recording nine points in his last seven games.
At only 21 years of age, Stepan has given Rangers fans all the more reason to buy into the team's youth movement philosophy. He is a bubbling personality and active in both the community and online social media. He is a player with which the younger generation of fans can relate and has the potential to be a top six centerpiece forward for this team now and in the future.
15: Dominic Moore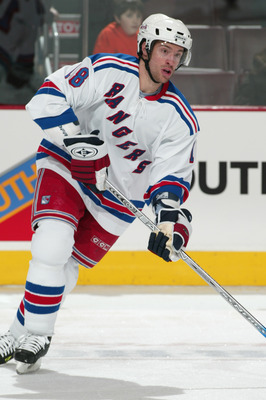 Len Redkoles/Getty Images
Dominic Moore was definitely one that got away. In looking back at his career, it is almost shocking to see that he only played one season as a Ranger in the post-lockout era when considering the immense impact that he had on the fanbase when he was here.
Moore centered the memorable "HMO" line with Ryan Hollweg and Jed Ortmeyer, which served to kick the Rangers in gear on nights when the top skill players were off their game. Moore was no slouch himself, pouring in nine goals in the 2005-2006 season and contributing as the team's most consistent and reliable penalty killer.
On a team with a mostly European flavor, Moore was the grinder and hard-nosed player with which the fans could identify. Seeing Moore play for the divisional rival Pittsburgh Penguins in 2007 was a painful reminder of how valuable he could have been on the Rangers going forward.
Just last season, Moore was a major contributor to the Tampa Bay Lightning's run to the Eastern Conference Finals, recording 18 goals in the regular season and 11 points in 18 playoff games. Moore was inexplicably let go, but garnered tons of appreciation from fans during his time as a Ranger.
14: Marian Gaborik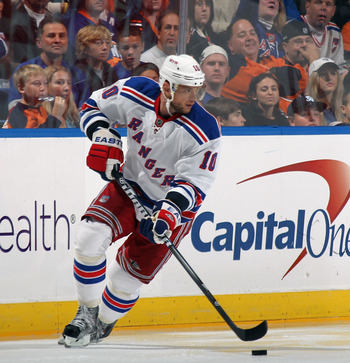 Bruce Bennett/Getty Images
The Rangers acquisition of Marian Gaborik in the summer of 2009 brought with it immense expectations for both the team and the individual player. Both of Gaborik's first two seasons were marred by failure on some level, with the team missing the playoffs in 2009-2010 and Gaborik himself falling short of his expected production in 2010-2011.
Gaborik has yet to win a playoff series in New York, but the team's lack of success does not tell the whole story. Gaborik delivered 42 goals and 86 points in 2009-2010, both career highs. Moreover, Gaborik's focus on the defensive end and in the neutral zone, which has largely flown under the radar in his time here, has steadily improved over the course of last three seasons. In total, Gaborik is plus-31 as a Ranger and has proven to be a reliable player in all three zones.
While I would hesitate to call the relationship between Gaborik and the Rangers fans a love affair, there is most certainly a feeling of respect and trust. Rangers fans have come to realize that behind Gaborik's natural hockey skill and skating ability is a hard-nosed determine player ready to delivery in the big spot once the opportunity arises.
13: Michael Nylander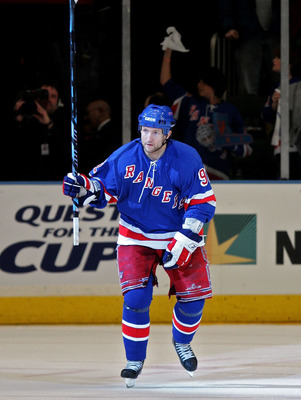 Bruce Bennett/Getty Images
For my money, Michael Nylander centered the most dominant Rangers line of the past two decades with Jaromir Jagr on his right and Marty Straka on his left. In his two seasons as a Ranger following the lockout Nylander recorded 162 points in 160 games and was the primary catalyst for Jagr's historic 2005-2006 season.
His ability to possess the puck and use his stick-handling ability to toy with defenders has been unmatched by any other Rangers player in the post lockout era.
Nylander's quiet sense of leadership was perhaps his best quality. During pre-game warm-ups, Nylander was the orchestrator, running drills and dishing pucks off to teammates. He was first and foremost a passer and a distributor, which earned him respect in the locker room despite his soft-spoken demeanor.
One of my favorite things about Nylander was that he would always make it a point to be the last player off the ice prior to a game, a small superstition that he repeated without fail for two seasons.
In the first season of the shootout experiment, Nylander used his long, slow winding approach to throw opposing goaltenders off balance for easy stuff in goals. His chemistry with Jagr was like almost nothing I have ever seen on NHL ice. Nylander always seemed to know how to find Jagr anywhere on the ice, whether the situation warranted a quick touch pass or an extended puck possession play.
Nylander finished his Rangers career as hot as ever, recording 13 points in 10 playoff games before the Rangers were eliminated in the second round.
12: Petr Prucha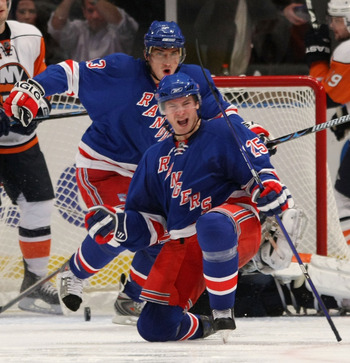 Bruce Bennett/Getty Images
If I have showed any bias in this list, it is most certainly weighted towards the 2005-2006 season due to the thrilling and unexpected run that team went on following the lockout and a projected last place finish. Despite ending in a first round sweep at the hands of the New Jersey Devils, that season helped to establish the identity of the current day Rangers and saw the emergence of several of the most impactful players in team history.
One such player was rookie winger Petr Prucha. Prucha started the season playing fourth line minutes, but eventually emerged as one of the Rangers top goal scorers, especially on the power-play where he netted a team rookie record 16 goals. After recording only four points in his first 15 games, Prucha rattled off 43 points in the remaining 53 games to help lead the Rangers to their first 100-point season in over a decade.
Things went downhill for Prucha culminating in his departure in a trade just three seasons later. For that one season, however, Prucha was a star on Broadway as he played the role of Jaromir Jagr's protégé en route to a historic season.
Fans were absolutely enamored with this kid and his popularity soared through the roof. Now out of the NHL, Prucha is one of the few Rangers players who can say that he starred in his own commercial, appearing with Jagr in one of the classic "Bobby Granger's Guide to the Rangers" segments.
11: Dan Girardi
Mike Stobe/Getty Images
As an undrafted player, Dan Girardi is one of those rare Rangers players who came up through the system with few expectations placed upon him. Throughout the first part of his career, fans seemed to be satisfied with his work as a solid third-pair defenseman with little belief that he would be a part of the team's long-term solution.
A few things happened that changed the course of Girardi's career in New York. First, he quietly began to put up points, including a career high 10 goals in 2007-2008 and 31 points in 2010-2011. Second, and more importantly, Girardi developed unmistakable chemistry with defensive partner and Rangers star, Marc Staal.
With his foot in the door Girardi cemented himself as an important member of the Rangers blue line, earning a four-year contract extension in the summer of 2010. It had not been until this season, however, that Girardi has made his presence felt as a potential all-star.
Averaging over 27 minutes of ice-time per game, Girardi has arguably become the Rangers most important player and is finally starting to gain the true respect of Rangers fans. For a guy that was once looked at as a replaceable part, his emergence to stardom is something Rangers fans have latched on to in a big way.
10: Brandon Prust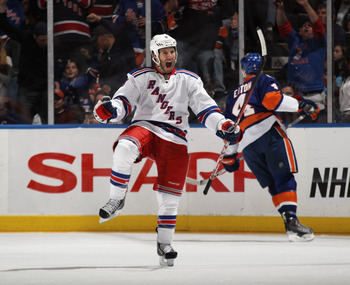 Bruce Bennett/Getty Images
Late in the 2009-2010 season, the Rangers acquired Olli Jokinen and Brandon Prust from the Calgary Flames. Jokinen was supposed to ignite a dormant Rangers offense and Prust, well he was just a throw-in…or so we thought.
Prust scored a modest, but respectable, four goals in 26 games following the trade, but the Rangers failed to make the playoffs and Prust's accomplishments flew mostly under the radar. 2010-2011, however, was a different story, as Prust established himself as one of the most respected hard-nosed energy players not just on his team, but in the entire NHL.
Prust racked up 13 goals and 160 penalty minutes that season and demonstrated a willingness to stick up for teammates and contribute in all facets of the game, whether it be with a fight, on the penalty kill or on the fore-check.
Prust quickly earned the respect and admiration of Rangers fans and was awarded the Steven McDonald Extra Effort Award following the 2010-2011 season. After that season, Coach John Tortorella praised Prust as an integral part of the Rangers core moving forward, a statement with which almost all Rangers fans would agree.
More so than any other player, Prust has always been willing to fight through injury for the sake of the team and the victory. As he says, "It's just pain."
9: Jed Ortmeyer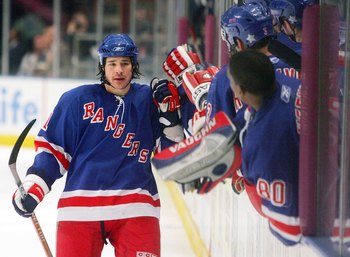 Jim McIsaac/Getty Images
Over the course of three seasons on Broadway, Jed Ortmeyer failed to accumulate more than 10 goals or 25 points…total. Any non-Rangers fan might think that his place on this list is a bit of a joke, but I promise you it was most certainly earned.
As a long-standing member of the HMO line, Ortmeyer always managed to energize the Garden crowd with his hard fore-check and penalty-killing ability. In Game 4 of the Rangers 2006 first round playoff matchup with the New Jersey Devils, with the team already down in the series 3-0, Rangers fans were looking for any reason to make some noise.
Ortmeyer obliged by stuffing a goal past Martin Brodeur to give the Rangers a 1-0 lead heading into the first intermission. Although the Rangers would go on to lose the game and the series, Ortmeyer was able to give fans some semblance of playoff success following a decade of disappointment.
Ortmeyer defined what it means to be a Ranger and probably garnered more respect from fans than any other player we have seen in the post lockout era. Like many other members of this list, Ortmeyer was a two-time winner of the Steven McDonald Extra Effort Award, given to the Rangers player that best demonstrates "outstanding commitment and hard work on and off the ice."
8: Brendan Shanahan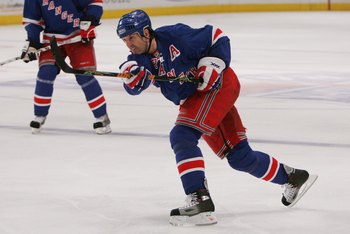 Bruce Bennett/Getty Images
Following the unexpected success of the 2005-2006 season, the Rangers made their first big splash of the post-lockout era by signing Brendan Shanahan to a $4 million contract. Shanahan's league-wide pedigree along with his individual and team success with the Detroit Red Wings brought instant respectability to a Rangers team looking to prove that their own success could be sustained.
Shanahan began his Rangers career in style, scoring his 599th and 600th career goals in a season opening win against the Washington Capitals. He went on to play two successful seasons with the team, scoring over 50 goals, including five during an extended playoff run in 2006-2007.
Despite being only the alternate captain of the Rangers, Shanahan represented the team as the captain of the Eastern Conference in the 2007 All-Star Game.
In a manner similar to Wayne Gretzky, Shanahan gave Rangers fans the enjoyment of watching an all-time great player finish out his career on Broadway. As short as his time here may have been, Shanahan went about his business in a respectable and hard-working manner and represented the team with the class that only a Hall of Fame player could.


7: Martin Straka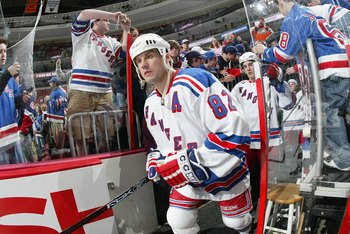 Len Redkoles/Getty Images
Marty Straka was the third piece on the great Rangers line with Jaromir Jagr and Michael Nylander. Unlike Nylander and Jagr, Straka loved the spotlight and the media, which made him an easy choice as one of the Rangers two alternate captains coming out of the lockout.
Despite watching Straka play in Pittsburgh for many years, Rangers fans had yet to develop much of an opinion or expectation for what the fiery winger could bring to their squad. Straka was always perceived as somewhere between a good player and a great player, but proved his worth right away in New York as a point-per-game player and catalyst for Nylander and Jagr.
Straka had skill but was also a bit of spark plug, often energizing the Garden crowd with exuberant goal celebrations or an inspired fore-check. Straka's most significant in-game contribution came in the team's 2008 first round playoff series against New Jersey, where he stole the puck and set up Marc Staal for a game-winning goal in Game 4 with just under three minutes remaining.
Straka's contributions as a Rangers player are probably underappreciated by most fans. While guys like Jagr, Nylander, Prucha and Lundqvist are given most of the credit for the team's post-lockout revival, Straka played an equally important role, eclipsing the 70 point barrier twice and recording 20 points in 24 playoff games during his Rangers tenure.
6: Brandon Dubinsky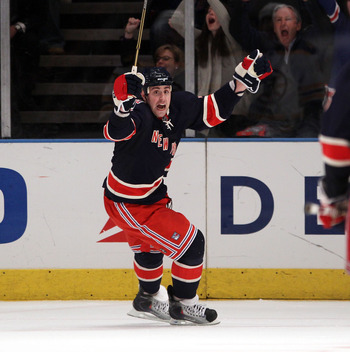 Bruce Bennett/Getty Images
As enjoyable as Rangers success immediately following the lockout was for fans, the organization knew that it would most likely be unsustainable due to the team's reliance on aging stars. Brandon Dubinsky gave fans reason for optimism, however, as he was the first of the Rangers current corps of young players to make his mark at the NHL level.
In contrast to the rapid player movement that has accompanied the post-lockout era, Dubinsky has been a constant for the Rangers, playing for extended periods of time with the likes of Jaromir Jagr, Chris Drury, Marian Gaborik and, now, Brad Richards.
After a relatively quiet NHL debut in 2006-2007, Dubinsky made the club out of training camp in 2007-2008 and went on to score 40 points and, more importantly, four goals in the Rangers two playoff series that season. Despite a slew of nagging injuries, Dubinsky has seen his regular season point total increase every season and has continued to make a habit of scoring big goals in playoff games.
"Dubi" is a bit of an unconventional, cocky and sometimes reckless player, qualities that have endeared him to the Rangers faithful. Despite the fact that any NHL analyst or fan would put him at a level below the top scorers in the league, Dubinsky sees himself as an elite player and has demonstrated as much by dropping the gloves with the likes of Alex Ovechkin, Mike Richards and Corey Perry on multiple occasions.
Admittedly, Dubinsky may never reach that level, but he has shown the ability to be both a grinder and a playmaker, attributes that will help him become an effective top-six forward in this league.
Dubinsky is one of the more relatable Rangers, especially for young fans. He's cool, he's tough and he has the potential to be a top level forward in the league. He has been one of the faces of the Rangers post-lockout youth movement and, along with Ryan Callahan and Marc Staal, has laid the groundwork and foundation around which Glen Sather has assembled a successful team.
5: Marc Staal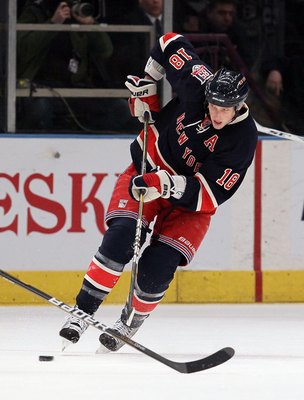 Jim McIsaac/Getty Images
The Rangers lack of success prior to the lockout can be at least partially attributed to poor drafting with names like Pavel Brendl, Dan Blackburn, Hugh Jessiman and Al Montoya failing to deliver on the promise attached to a first round pick.
The Rangers string of first round failures came to a sudden halt, however, with the selection of Marc Staal as the 12th overall pick in the 2005 NHL Entry Draft. Staal was labeled as a blue-chip prospect from the second his name was announced and after a short stint in the AHL he made the big club out of training camp to begin the 2007-2008 season.
Staal has been as good as advertised, as he has developed into the type of homegrown talent that the Rangers had been devoid of for over a decade. Almost immediately, Staal proved to be a capable NHL defensemen and a centerpiece around which to build a Stanley Cup Contender.
The steady presence of Staal on the blue line has allowed the organization to experiment with young players without fear of compromising the team's ability to win games now. I would argue that a player like Dan Girardi, now a cornerstone for this Rangers team, might never have been given a shot had Staal not been there to provide peace of mind for Rangers coaches and executives.
Staal began his career as mediocre at best on the offensive end, despite scoring a decisive slap-shot goal with under three minutes left in Game 4 of the team's first round playoff series against the New Jersey Devils in his first season.
He has shown rapid improvement, however, hovering around the 30-point mark for the last two seasons. While fans remain optimistic that his offensive game will continue to develop, there are no doubts that he is now considered to be one of a handful of shutdown D-men in the entire NHL.
His matchups against superstar Alexander Ovechkin in two career playoff series and many other regular season meetings, as well as his overall body of work, has been highlighted by the national media as invaluable to a Rangers team that often struggles to keep up with some of the high-octane offensive teams in the Eastern Conference. Staal has become an absolute workhorse, averaging well over 25 minutes of ice-time per game, which bumps up to over 28 minutes in the playoffs.
Staal's recent concussion problems have been well documented and are devastating to both the Staal family and the Rangers organization. Hopefully, whether it is in the coming months or not until next season if need be, Staal can make it back on the ice and continue his growth into one of the best all-around defensemen in the NHL.
4: Ryan Callahan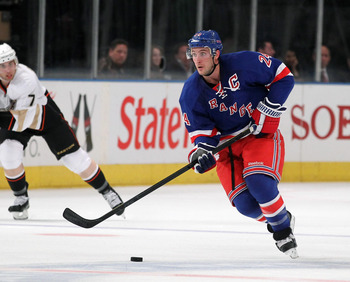 Al Bello/Getty Images
Ryan Callahan has been a relatively strong point producer in his Rangers career, averaging over 20 goals over the course of the last three seasons. Points aside, however, Callahan would most likely make the top five on this list based on his work ethic and demeanor alone.
Now the 26th captain in team history, Callahan embodies everything that being a New York Ranger has come to symbolize and will be the unquestioned leader and face of this team over the next decade.
Callahan made his NHL debut without much fanfare, but burst on to the scene with a two-goal performance in the 7-0 St. Patrick's Day Massacre against the Boston Bruins. After a breakout season in 2008-2009, Callahan was awarded the Steven McDonald Extra Effort Award and less than one year later was named to the US Olympic team, which earned a memorable silver medal in Vancouver.
After the short-term captaincy of Jaromir Jagr and the de facto "C" worn by Chris Drury, Callahan is the first true enduring captain the Rangers have had since Mark Messier. He is and will continue to be an integral part of the success of this team as a leader, a scorer, a grinder and a penalty killer.
Callahan is the ultimate warrior who has maintained his inner motor and drive to be great despite already having achieved modest success in the league. Rangers fans know that he will never take his place on this team for granted and will give an all-out effort every single time he is on the ice. He is a rare breed of talent and desire, and it is our privilege as fans to watch him lead the team that we love.
3: Sean Avery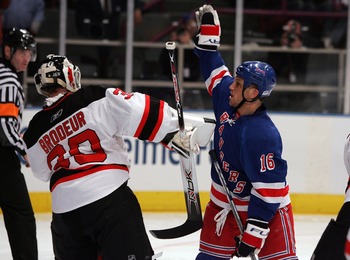 Jim McIsaac/Getty Images
Midway through the 2006-2007 season the Rangers acquired Sean Avery from the Los Angeles Kings, a move that was perceived as relatively minor. At the very least, Rangers fans hoped that some new blood in the locker room would inject some toughness and grit to a team coasting its way through the dog days of a long season.
The trade had unintended consequences, however, as Glen Sather unknowingly fostered one of the most intriguing and polarizing player/fan dynamics in all of sports.
Avery was always a player willing to speak his mind off the ice and play dirty on the ice. Once paired with New York City and the Rangers fans, however, Avery elevated his game to an entirely new level, leading the Rangers to a 17-4-6 record to close out the season and earn a playoff berth.
The correlation between Avery's arrival and the team's late-season surge was no coincidence, and the fans knew it. Avery had become the talk of the town and managed to steal the back pages of the New York newspapers with his inspired play and sometimes controversial post-game comments.
After just one season Rangers fans had developed an almost irrational love for Sean Avery. He was labeled as the prodigal son and had suddenly become the face of the team. He was reckless and outspoken, but his antics were tolerated because the team was winning and fans were happy.
In the team's 2008 playoff matchup against the New Jersey Devils, Avery infamously screened Martin Brodeur by waving his stick wildly in his field of vision, an act that drew the ire of the hockey world and a small segment of Rangers fans. For those still on Avery's side, however, the bond between player and fan grew even stronger as Rangers nation fought vigorously to defend the reputation of its favorite player.
Avery signed with the Dallas Stars in the summer of 2008 but soon returned to the Rangers, further strengthening the belief the he and New York were made for one another. After a short stink in the AHL, Avery made the first of his two triumphant returns to Garden ice, with the other coming earlier this season after failing to make the team out of training camp.
For whatever reason, Avery has been given a lifetime pass by Rangers fans. He is despised, reviled and criticized by everyone else in the hockey world, but Rangers fans don't seem to care. If he is not on your team, you hate him. If he is on your team, you absolutely love him. If you are a Rangers fan, you adore him.
Perhaps it is his unpredictable personality. Maybe it is because he is the embodiment of the bad-ass New York attitude. It might not make to anyone outside the Rangers organization, but in our minds, Sean Avery is one of the most beloved Rangers players of all time.
2: Jaromir Jagr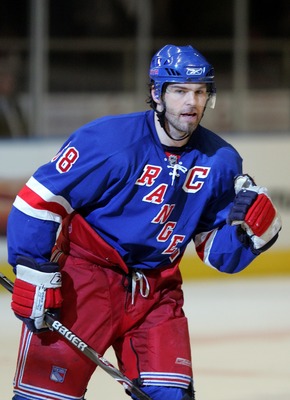 Bruce Bennett/Getty Images
It probably is not an overstatement to say that prior to the lockout the Rangers were the most pathetic organization in professional sports. They spent the most money, brought in the most high-profile players and had failed to make the playoffs seven years in a row and counting.
Just prior to the lockout, the Rangers acquired Jaromir Jagr in a trade from the Washington Capitals, which for most fans was the final straw. The team had completely lost any semblance of an identity and was now tied down by the weight of the contract of a once great, but now disgruntled superstar.
With fan interest at its lowest point since prior to the 1994 Stanley Cup, Sports Illustrated picked the Rangers to finish dead last in the NHL entering the 2005-2006 season, a prognostication that I believe may have come true if not for an unforgettable opening-game in Philadelphia against the Flyers.
Seemingly out of nowhere, Jagr scored two power-play goals in the third period to both tie and give the Rangers the lead, cementing a confidence-building win that would set the tone for the rest of the season.
The rest, as they say, is history. Jagr went on a tear the likes of which, when considering both the situation and the individual accomplishment, I personally have never seen in sports. With the help of Michael Nylander and Marty Straka, and the emergence of guys like Henrik Lundqvist, Petr Prucha, Michal Rozsival and Marek Malik, Jagr not only led the Rangers to playoffs and their first 100-point season in over a decade.
But he completely revived New York's passion for hockey, which had been crushed by the disgrace of the pre-lockout era. Jagr dominated the league en route to a ridiculous 54-goal and 123-point season and, in this writer's opinion, was absolutely robbed of an MVP award by Joe Thornton (I don't think MVPs should be switching teams midway through the season).
In his historic 2005-2006 season, Jagr became the sixth player in team history to reach 100 points and broke the Rangers single season goals and points record, previously held by Adam Graves and Jean Ratelle respectively.
In just one season Jagr had gone from public enemy No. 1 to Rangers legend, a status cemented after he was named the 24th captain in team history just prior to the 2006-2007 season. After being announced as captain to a raucous Madison Square Garden crowd, Jagr scored on his first shift of the season less than one minute into the game.
Jagr tailed off slightly over the course of his next two seasons in New York. In total, however, he managed to accumulate 124 goals in three-plus seasons and did not miss one single regular season game. Although he was never able to lead the Rangers to much playoff success, he did produce at over a point-per-game pace in 23 playoff contests with the team.
What else is there to say? The guy is literally the reason why I am the Rangers fan that I am today. He brought the team out of a dark spiral and paved the way for the youth movement and success that we as fans are experiencing today.
If not for the emergence of a certain goaltender Jagr would easily be No. 1 this list. For a guy that played so many years on a hated division rival, the amount of appreciation, respect and gratitude that Jagr has earned from Rangers fans is simply remarkable.
1: Henrik Lundqvist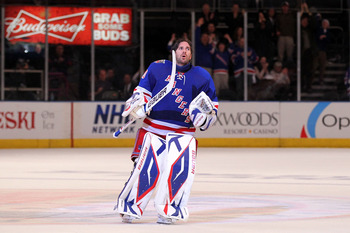 Bruce Bennett/Getty Images
In a manner similar to the names hanging on the Garden rafters above his head, Henrik Lundqvist has been a star on Broadway from the first game he took over for incumbent starting goaltender Kevin Weekes back in 2005-2006.
Rangers fans, do not let a fear of bias cloud what we all know to be true…Lundqvist is the best goaltender on the planet. He is a home-grown Ranger, drafted, tried out in training camp, and made to earn his place as our starting goaltender.
Just seven seasons in to his career, "The King" is already a folk-hero and a legend around these parts. When we share our Rangers experiences with future generations we will tell them that Lundqvist is simply one of the greats, capable of stealing a win for our team on any given night.
There is a ton of statistical evidence to support Lundqvist's dominance, but all that really needs to be understood is that the Rangers have consistently finished in the bottom half of the NHL in goal scoring since the lockout yet have managed to make the playoffs every single season except one. The reason, Henrik Lundqvist.
Lundqvist played more than 70 games four seasons in a row from 2007-2010 (thanks Tom Renney) before getting a break in 2011 when he only managed to line up between the pipes 68 times. He is the first goaltender in NHL history to record 30 wins in each of his first six seasons and appears to be well on his way to extending that streak this season. He has posted double-digit shutout totals twice in his career already and is widely regarded as the best goaltender in the NHL (sorry Ryan Miller and Tim Thomas).
The statistics tell only part of the story, however, as Lundqvist has proven to be both a consummate professional and a fantastic teammate. He has never been afraid to voice his displeasure with the opposition, even resorting to fighting or tackling the opposing player on a few occasions. He has always been open and honest with the media, never shying away from an interview even in the face of defeat.
Lundqvist has represented the Rangers on both the national and international stage. In five of his six NHL seasons Lundqvist has either been selected as an All-Star or a Vezina Trophy Finalist. At the 2006 Olympics he led team Sweden to the gold medal, giving Rangers fans something to cheer for after Team USA bowed out early.
Following the 2005-2006 season, Lundqvist joined fellow list members Ryan Callahan, Jed Ortmeyer, Brandon Prust and Brandon Dubinsky as a winner of the Steven McDonald Extra Effort Award.
The guy is simply a star. The announcement of his name at the Garden as the starting goaltender consistently receives the loudest cheers. He is a figurehead in the community, a leader on the ice and in the locker room, and a role model for many Rangers fans.
He is the Rangers marquee player, and he will win a Vezina sooner or later. He will shatter Rangers records and soon, hopefully, will lead the Rangers to playoff glory. He is unquestionably the most beloved Rangers player of the post-lockout era and, after all is said and done, may be one of the most beloved Rangers players of all-time.
Comments?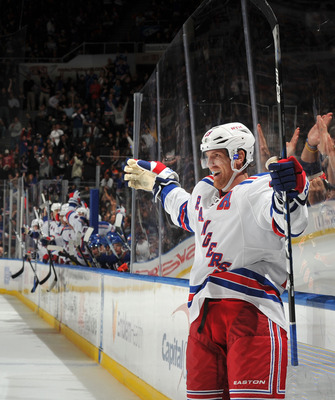 Christopher Pasatieri/Getty Images
Thoughts? Do you agree with the players on the list? The order? Does the guy in the picture above make this list one day? Who am I missing?
Please leave comments below.
Keep Reading

New York Rangers: Like this team?