Detroit Red Wings: 5 Things That Need To Change Right Now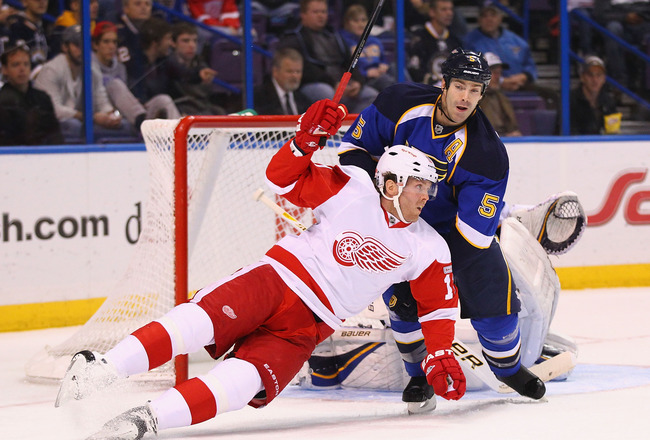 Dilip Vishwanat/Getty Images
The Detroit Red Wings continue to puzzle their fans with the direction in which the team seems to be going.
Detroit's 2-1 loss to St. Louis is further evidence of that, as the Red Wings played their most uncharacteristic, disorganized hockey game so far this season.
Detroit put up just 22 shots on goal tonight—a far cry from the almost 37 shots per game that the Red Wings averaged before tonight's contest. Detroit also gave up 37 shots on goal, which was 11 more shots than they were giving up to opponents on average.
All in all, Detroit played a disorganized, unmotivated game.
Going forward, the Red Wings need to change five things in a hurry. Read on to find out what those five things are.
1. Euro Twins Need to Start Scoring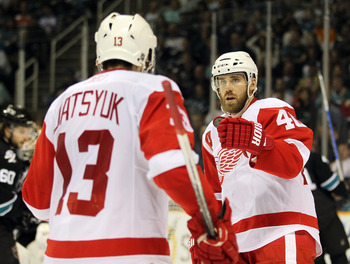 Ezra Shaw/Getty Images
Paging Pavel Datsyuk, has anyone seen Henrik Zetterberg?
Their assistance is required on the ice. And to be perfectly honest, Datsyuk and Zetterberg are not playing as if they want to be on the ice.
Zetterberg has three goals and three assists in 16 games.
Datsyuk has two goals and eight assists. Not as bad, but Datsyuk is pointless in three games, and goalless in 10 games!
Yikes.
This has to change, and in a hurry for Detroit.
The Red Wings' loss to the Blues tonight snaps a four-game winning streak. But more importantly, Datsyuk and Zetterberg each failed to help the Wings cash in on a five-minute major penalty that would have put Detroit up by two goals at that point.
Not all the blame can be placed on the "Euro Twins" for tonight's loss, but their play needs to improve remarkably to be even close to where they were last year.
Detroit has relied on secondary scoring to win games, a prime example being the Dallas game where there defensemen scored.
That cannot happen all the time.
Zetterberg and Datsyuk really need to start taking more of a scoring role on this team.
2. Penalty Kill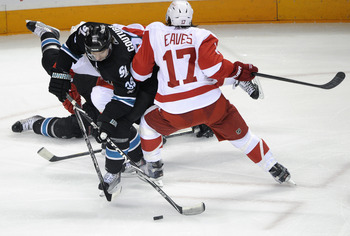 Thearon W. Henderson/Getty Images
A great penalty doesn't kill off all of the penalties, but just when the penalties need to be killed the most.
Unfortunately for Detroit, they can't get either of those things to happen for them.
Detroit gave up a costly first period power play goal to the Blues right after Detroit failed to capitalize on their own five-minute power play.
Detroit never really seemed to gain momentum back after failing to score on the power play and St. Louis took it to the Red Wings, firing 19 shots at Jimmy Howard in the second period alone.
Statistically speaking, Detroit's penalty killing has a bigger asterisk next to it than Barry Bonds' home run record.
Detroit's penalty killing is 25th in the league, killing a mere 77.4 percent of power plays this season. A lot of those power plays that Detroit ended up killing made no difference in the final score anyways.
I know I have keyed on Detroit's penalty kill as a problem before, but in games like this past St. Louis game, fans can really see the effects of a mediocre penalty kill versus a great penalty kill.
3. Defensive Zone Play Is Killing the Red Wings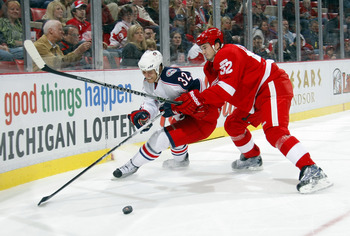 Dave Sandford/Getty Images
I cannot stress this slide enough.
Yes, Detroit is only giving up 2.19 goals against per game, but those goals are coming at costly times.
Detroit's play in their defensive zone has been far from stellar, and they got outworked in their own end tonight by St. Louis.
The Blues took it to the Red Wings, and stuck it to them on the scoreboard.
Detroit was unable to get the puck out more than a few times on their penalty kill, and they were lucky that St. Louis was unable to find the back of the net more often late in the third to pad their lead on the power play.
Detroit's Jonathan Ericsson should likely stop going out on the ice, as he is a walking disaster. He took the penalty that led to the first St. Louis goal—a completely unneeded penalty I might add.
Detroit has been unable to keep bodies away from the front of the net, and fans will continue to see Detroit struggle defensively until the Red Wings are able to keep people from camping out in front of Jimmy Howard.
Detroit's ability to play well defensively is all about...
4. Effort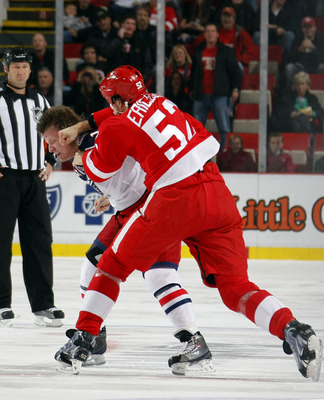 Dave Sandford/Getty Images
That's right. Effort.
Right now, Detroit is giving hardly any effort on the ice. Along with the effort, I would like to point out a lack of creativity.
Detroit's five-minute power play tonight was a perfect example of these very issues.
Detroit was unable to muster any kind of offensive zone time on the power play and that seemed to be the theme for the rest of the night, as Detroit only mustered 22 shots on goal.
Detroit's effort level on that power play was minimal, as they were content just to sit to the outsides of the zone, not trying to penetrate St. Louis' box formation.
As far as the lack of creativity goes, Detroit seemed to have no creativity on that power play, as they were content to fire point shots into shooting lanes that were not open, getting shots blocked and giving St. Louis the ability to clear the puck down the ice.
Detroit needs to find the net more often with their shots.
While that's easier said than done, I have high confidence that Detroit could hit the net with more pucks if they wanted to, as they are now second in the league in shots per game.
5. Power Play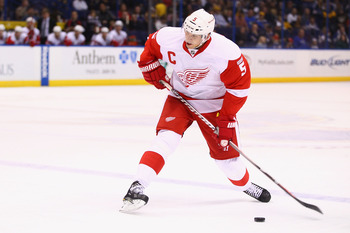 Dilip Vishwanat/Getty Images
This Nick Lidstrom guy is something else: six goals and 12 points in 16 games? Not too bad for a 41-year-old defenseman I would say.
But Lidstrom's two power play goals are not going to keep Detroit's power play afloat by themselves.
In fact, forget keeping it afloat, Detroit has to dig their power play out from the depths of the league's worst.
Detroit's power play currently sits 20th overall in the NHL at a meager 14.3 percent.
Maybe the loss of Brian Rafalski hurt more than Red Wings fans want to give it credit for, but come on! 20th overall?
Well, not much to be done about that.
But getting a five-minute power play and not scoring on it, only generating a couple shots, sure as heck doesn't help the Red Wings chances of upping those power play numbers.
Detroit needs to get shots to the net. The need to get physical in front of the net. Most importantly, Detroit must use Datsyuk and Zetterberg effectively on the power play.
Put them on the same line. Double shift them. Do something!
Not doing anything differently and expecting different results (while Ian White is out anyway) is Einstein's definition of insanity.
Run Down, Where Do Red Wings Go from Here?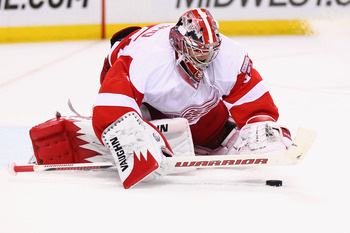 Dilip Vishwanat/Getty Images
Detroit is getting a Vezina-like performance from Howard night in and night out.
The Red Wings as a team have been playing better defense than last year, and that is the reason the Red Wings currently hold a playoff spot.
But the Red Wings are sacrificing offense for defense (never a bad ploy in my books) and have seen their offensive attributes run dry.
If the Red Wings truly have sacrificed offense for defense, their penalty killing should be better.
It's not better, and that's a big cause for concern if I am a Detroit coach.
I'm not a Detroit coach, but these lackluster penalty killing numbers, along with the disappointing power play goal total, have to stand out to coach Mike Babcock.
Detroit must come with effort every single game. This is the new NHL, no games come for free. Special teams—just like in football—seem to be a third of the game. Right now, that third of the game is costing Detroit costly points in the standings.
Detroit has the ability to string wins together, as can be plainly seen, but the lack of focus and the small things like giving effort on every play seem to be bringing about some massive problems for the boys of "Motown."
Follow Isaac on Twitter for more article updates.
Keep Reading

Detroit Red Wings: Like this team?