Breaking Down the Dallas Cowboys' Recent Success in the Run Game
November 16, 2011
Tom Pennington/Getty Images
It may be a little premature to say but the Cowboys may have finally found the right running formula. Running back DeMarco Murray is racking up yards faster than Dez Bryant gets jewelry debt. For the season Murray has 674 rushing yards on just 100 carries. My man is averaging 6.7 yards per carry and is showing no signs of slowing down.
He has taken full advantage of his time as a starter and all signs point to him keeping his job when Felix Jones returns from injury.
But why has Murray been so successful at running the ball? What's the difference between his running style and that of Felix Jones'? Well, there are a few answers to that question but fullback Tony Fiammetta has been a key cog to this operation.
Let's take a look at a simple goal line play by the Cowboys to illustrate Fiammetta's vision and how well he leverages his weight in run blocking. This play happened late in the second quarter with Dallas already up by two touchdowns. This particular running play is important because Dallas imposed their will on Buffalo and it shows just how far the Cowboys have come in the run game.
Dallas lines up in the I-formation with Laurent Robinson split to the left and Dez Bryant out to the right. Because Dallas isn't in a full goal line set, the Bills chose not to stack the line of scrimmage. Up until that point the Cowboys had scored all of their points through the air and there was no reason to believe that the Cowboys wouldn't play action to Witten waiting in the back of the end zone.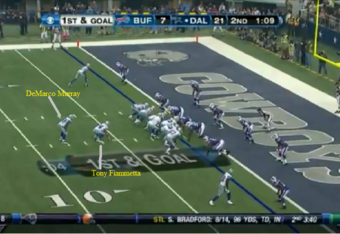 You'll also notice on this play that the Bills were readily expecting a pass. The two corners were playing man and stayed with Bryant and Robinson throughout the entire play. That actually shows pretty good discipline by the Bills in one aspect because they didn't want to get burned by the pass.
But back to the play. As you can see by the defensive formation below, the Bills brought their two safeties down to play against a possible run.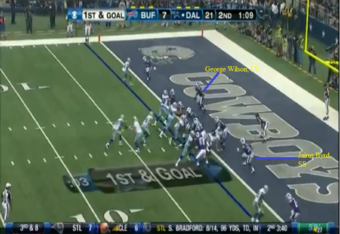 What also gave Dallas an edge was the score and their ability to completely open their playbook. At this point in the game they could have passed three straight times and settled for a field goal to go up 24-7. It was kind of a coach's choice at this point but Dallas chose to keep it simple and attack the heart of the Bills defense.
The next important part, before we get to Fiammetta, is how well the Cowboys' offensive line controlled the line of scrimmage. There was no movement from Buffalo up front as the Dallas line stood them up and pushed it forward for Murray.
One of the most criticized Cowboys offensive lineman this season, Doug Free, was key in springing Murray to daylight. As you'll see in the illustration below, Free not only stood his man up but he pushed him back and Murray ran right over Free's side to paydirt.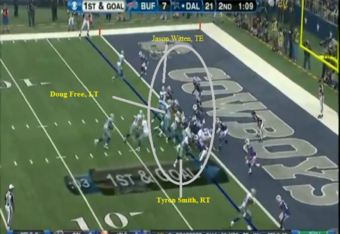 The combination of Witten and Free sealing the left side of the line partially allowed Murray to break free, but here is where Fiammetta comes in. Buffalo's inside linebacker Kelvin Sheppard came charging up the middle as the "free" blitzer. Due to Fiammetta's vision he was able to snuff Sheppard out and open the way for Murray.
Not to mention both men were on a collision course with Sheppard barreling down the middle and Fiammetta doing the same. Fiammetta's able to leverage his weight and re-rout Sheppard to the right allowing Murray to go in over Witten and Free on the left side.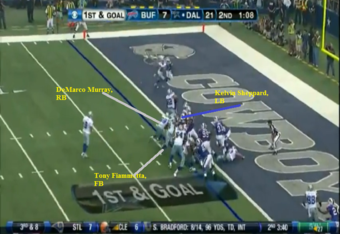 What makes Fiammetta work so well in the Cowboys offense is something as simple as eyesight: He has great vision. Remember when former Cowboys fullback Chris Gronkowski completely missed a free blitzing Michael Boley when the Cowboys played the Giants last year and Boley drove Romo into the ground and broke his collarbone? May that had something to do with vision but Fiammetta doesn't seem to have that issue.
He didn't miss Sheppard or simply chip him he fully blocked him, stood him up and moved him so that Murray would have an easier path to the end zone.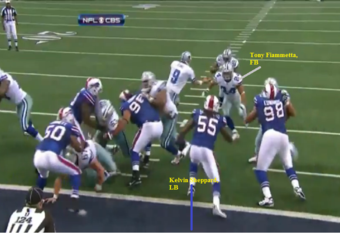 With this angle one can see just how well the Cowboys offensive line did against the Bills front four. As you can see above Sheppard is coming free and Fiammetta takes him head on and doesn't allow him to move.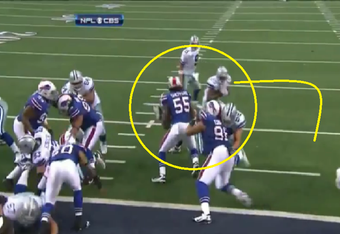 Fiammetta gets low on Sheppard which stymies his progress and allows Murray to sneak in on the left side of the line.
Murray also deserves credit for how aggressive he runs and how quickly he makes a decision on which hole to attack. He doesn't tip toe through the line and rarely dances to make a play. He attacks, hits the hole hard and drives his legs through each play.
Dallas is now ninth in the league in terms of rushing and they average a little over 125 yards per game.
-JH
Cowboys News and Notes