Auburn Football: Previewing the Samford Game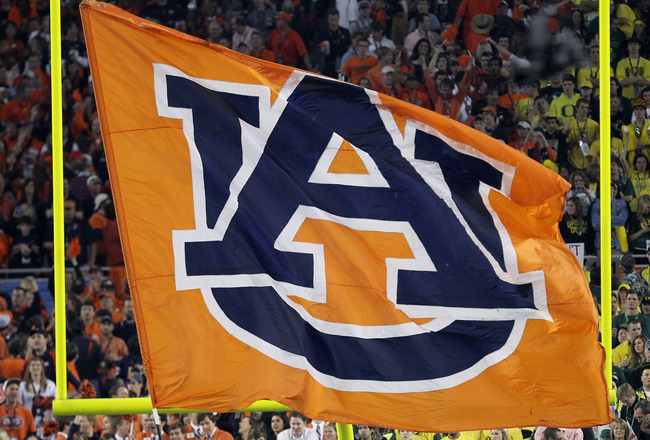 Ronald Martinez/Getty Images
The Auburn Tigers (6-4, 4-3 SEC) return to action on Saturday when they face the Samford Bulldogs (6-4, 4-4 SoCon) for homecoming. Kickoff is scheduled for noon CT and the game will be available to watch on pay-per-view.
Auburn looks to bounce back after suffering a 45-7 loss last week at Georgia. Samford is playing their final game of the 2011 season after defeating the Citadel 19-14 in their last game.
The Opponent: Samford Bulldogs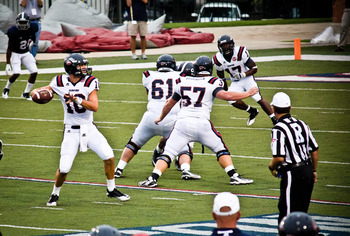 The Bulldogs, coached by former Auburn Heisman Trophy winner Pat Sullivan, are wrapping up their 2011 campaign after finishing conference play with a 4-4 record. Auburn is their first FBS opponent in 2011.
Samford has a solid starting quarterback in Dustin Taliaferro, who's thrown for 2,140 yards and 13 touchdowns. His primary target is Kelsey Pope, who has recorded 720 yards with five touchdown receptions this season.
The top runner is Fabian Truss, who's racked up 874 yards on the ground with seven touchdowns.
Tigers vs. Bulldogs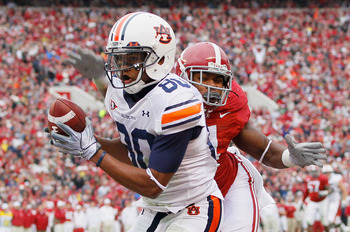 Kevin C. Cox/Getty Images
Auburn and Samford are meeting for the first time since 1993, but the Tigers lead the all-time series by a 25-0-1 margin. In that game in 1993, Terry Bowden coached the Tigers after serving as Samfords' head coach in 1992, when the teams also met.
Auburn has shut out Samford 18 different times, and has also won 19 straight Homecoming Games. This is the first time they've played a team from Alabama other than the Crimson Tide since they faced UAB in 1996.
Samford is 2-73-1 against teams from the SEC. Their most recent matchup was a 34-10 loss to Mississippi State in 2008.
Tigers Look to Bounce Back from Georgia Debacle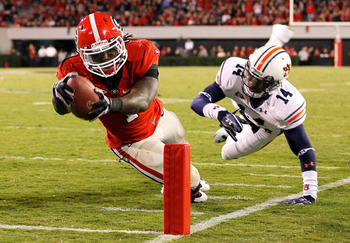 Kevin C. Cox/Getty Images
The Tigers will look to get back to the winning track against Samford after suffering their worst loss of the season to Georgia, 45-7. The loss did some harm for Auburn's chances of reaching a major bowl.
All eyes will be on how Auburn recovers while looking ahead to next week's game against Alabama. A sluggish showing won't do much for the Tigers' confidence heading into the Iron Bowl.
"This week is really big because of going through that situation," quarterback Clint Moseley said to WarEagleExtra. "It was tough for our team… The biggest thing for us, and the thing I really stressed to the guys in the locker room, was just owning up to your mistakes."
Auburn Legend Pat Sullivan Returns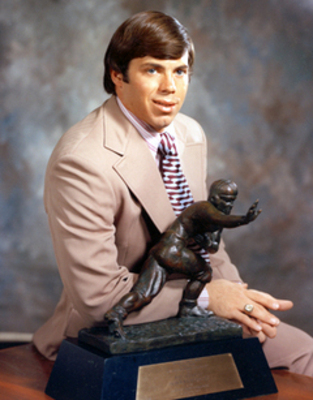 Samford is coached by Pat Sullivan, who became the first Auburn Tiger to win the Heisman Trophy when he took home the hardware in 1971. Sullivan is still the Auburn career leader with 53 touchdown passes over three seasons. He also coached quarterbacks at Auburn under Pat Dye from 1986-91.
As this year is the 40th anniversary of his Heisman Trophy season, Sullivan will be honored by Auburn before the game.
"Everybody knows what a phenomenal football player he was here and what he did for Auburn University," head coach Gene Chizik said. "What he did for this university and what he means to the fans… I'm thrilled for him to be celebrated in this way."
"I really don't want it to be about me," said Sullivan to the Birmingham News. "I want our team to enjoy it, hope they play well, then I'm going to look forward to seeing all of my guys, some of them I probably haven't seen since the Oklahoma game (his last at Auburn). That's a long time ago. I'm sure there will be a lot of emotion."
Sullivan has a 25-29 record in his fifth season as Samford's head coach.
Michael Dyer Keeps Running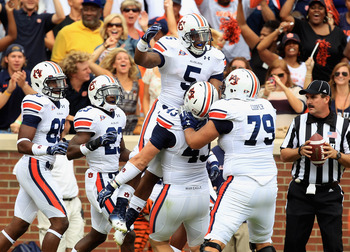 Streeter Lecka/Getty Images
Michael Dyer did not have the best game against Georgia, but he did reach a milestone by cracking the 1,000 yard mark for the second straight season. Dyer is now one of four Auburn players to run for over 1,000 yards in two consecutive seasons.
Auburn not being a BCS contender has limited Dyer's profile on a national scale, but he's still done a lot to prove that he can still put up big numbers even without defenses focusing on Cam Newton.
Expect Dyer to bounce back in a big way against Samford while he awaits a date with Alabama's rugged run defense next week.
Tigers Move on Without Bell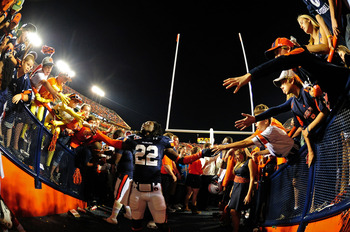 Scott Cunningham/Getty Images
Auburn will move into the final stretch of the season without one of their top defensive players in cornerback T'Sharvan Bell.
The junior suffered a knee injury against Georgia and will miss the rest of the 2011 season. He led Auburn with seven pass break-ups and was tied for fourth with 45 tackles.
"It's big in terms of leadership," Auburn coach Gene Chizik said to the Columbus Ledger-Enquirer. "I think his game over the last three weeks has improved, no question about it, but the level of leadership he gives to our defense is probably the biggest hit we're going to take."
Tigers Aiming for Bowl Berth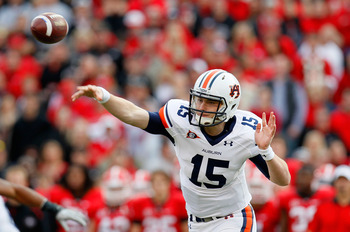 Kevin C. Cox/Getty Images
Auburn 's loss to Georgia likely pushed them further down the pecking order of SEC bowl teams. Heading into Saturday they are behind the two division winners (currently LSU and Georgia), Alabama, South Carolina and Arkansas.
Currently, it seems the most likely destinations are the Gator Bowl in Jacksonville or the Chik-fil-A Bowl in Atlanta. An upset of Alabama combined with some other losses by the teams mentioned above could move Auburn up into the Outback or Cotton Bowl.
Defeating Samford won't do much for Auburn's bowl status, but a shocking upset to the Bulldogs obviously won't help.
Prediction: Auburn 42, Samford 7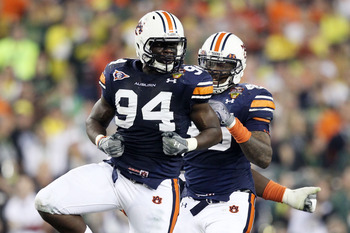 Christian Petersen/Getty Images
Samford is an average FCS team, so anything less than a convincing win for Auburn would have to be considered a disappointment. The Tigers should take control early and try avoid the sluggish performance they posted against Florida Atlantic.
The coaching staff is likely hoping to put the game away early so they can rest the starters in preparation for Alabama.
Keep Reading

Auburn Football: Like this team?