Tennessee Football: The Phenoms Ain't Phenomenating in Big Orange Country
November 15, 2011
Kevin C. Cox/Getty Images
As Casey Stengel once put it so eloquently, "Our phenoms ain't phenomenating!" That sums up the season this year so far for the Tennessee Volunteers football team.
 
The coaches have rarely called the right plays or prepared the team well. An offensive line that was highly recruited and has now played together for nearly two full years is about as horrible as UT has ever seen, especially in terms of run blocking.
Tennessee can't seem to come up with a game plan to keep their defensive backs from getting toasted multiple times a game. Opponents have simply adjusted at halftime from trying to throw the ball to focusing on the run or vice versa and have been blowing the team in Orange off the field in the second half, yet the Vol staff seemingly cannot make a similar halftime adjustment that works for them.  
Great coaches overcome adversity, make adjustments on the fly, formulate game plans that work, keep their teams in the game where a turnover could be a difference maker, and don't preside over teams that fold and wilt in adversity. As one of General Neyland's maxims states, "When the breaks don't go your way, put on more steam."
To be fair, Tennessee has had flashes of decent play in this dismal season in which they're winless in the Southeastern Conference, the first time in Tennessee football history that a team has gone 0-6 in the league. 
In general, though, the UT receivers have been missing critical catches, kickers (except the ones that are pressed into service from the student body less than an hour before kickoff) have been disappointing, runners have been hitting the line like Nerf balls bouncing off a brick wall, everybody has had trouble holding on to the ball, and no leaders on either side of the ball have emerged. 
There is not just enough experience and intelligence out on the playing field for Tennessee in real time. This team has regressed instead of improving. It's simply not being coached up. When you have little talent to start with, that's a recipe for disaster.
The UT defensive schemes could definitely be better. The 5-2-4 alignment just doesn't work with the speed in the SEC, especially when the Vol linebackers don't have the speed to match. Too many passes have been completed by opponents all season long along the edges. Tackling is almost non-existent in the secondary.
How much of all this is Head Coach Derek Dooley's fault? The mantra is that youth, inexperience and injuries have been the bugaboo. However, the frosh and sophs on the field this Saturday night in the final home game of the season against Vanderbilt now have more game experience than most juniors do at most schools, as they've played 10 games already.
Adding insult to injury, Tennessee isn't just losing games, it's losing them badly, getting blown off the field in the second half in most every contest. Even the wins haven't been very decisive against very weak competition. The Vols haven't been less competitive since Bowden Wyatt was fired in 1962.
If Tennessee loses to Vandy, it will have lost seven conference games for the first time in school history. That's not a record anyone wants to have.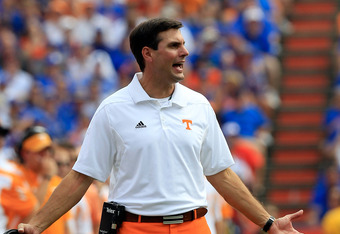 Sam Greenwood/Getty Images
A loss to Vandy will end the Vols' bowl chances. In that event, what would they have to play for in Lexington the Saturday after Thanksgiving against a hungry Kentucky team that has its best chance in decades to end UT's 27-game winning streak over them?
Would Dooley survive a 4-8 season, with his only wins being over Montana, Cincinnati, Buffalo and MTSU? If he does, he will have to admit that he simply has a staff that isn't good enough to compete in the SEC and look for wholesale replacements. Terry Joseph, his DB coach, never played a down of college football.
Harry Hiestand's OL is the worst in memory on The Hill. Neither of the coordinators seems to be able to put together a full game.
The running backs are being coached by a graduate assistant. Maybe that's why UT has had such poor rushing performances all year.
Dooley has nothing at all to sell on the recruiting trail except playing time. Since most every other coach promises that, too, why would a top recruit come to a program being coached by someone who is winless as a head coach when tied or losing at halftime, winless against ranked teams as a head coach overall and virtually winless even against teams with winning records?
On top of the fact that Dooley can't sell recruits on the idea that he can win championships or is even a proven winner at all, he also can't sell anyone on the premise that he or his staff can coach them up into the NFL.
New UT Athletics Director Dave Hart, freshly hired from Alabama by UT Chancellor Jimmy Cheek, who came to Knoxville after a long tenure in agriculture in Florida, has a huge decision to make on the direction of the biggest program on campus.
To make matters worse for Hart, men's basketball is in a down cycle now, too, with Cheek's firing of a popular multiple championship winner and program promoter, Bruce Pearl, whom the NCAA later suspended from coaching for three years.
Never before in modern history have the football and men's basketball programs, the two biggest revenue producers, been this far down at the same time.
Tennessee's budget remains in the top five nationally. It is one of only a dozen programs in America that turns a profit, even with payoffs to fired coaches thrown into the mix. Vol fans certainly are getting the poorest return in the country from their donations.
Hart must recognize reality. Tennessee is second all-time to Alabama in the SEC in football. The Big Orange basketballers are second all-time to Kentucky in the SEC. No other conference team by far has done as well in both sports combined in the history of the league than the Volunteers have, with their winning tradition of excellence on the football field and on the hardwood.
With the entrance of Missouri and Texas A&M into the SEC next season, Tennessee is in danger of becoming an also-ran in its own league, on top of having become irrelevant nationally both on the gridiron and in men's hoops. A generous ranking would put them 10th out of the 14 teams in either sport at best, and perhaps much lower in both sports.
Tennessee athletics are at a crossroads. New UT President Joe DiPietro made it clear in a luncheon speech to the Knoxville Quarterback Club last month that he was willing to spend whatever was necessary to make the Volunteers competitive again.
For a school that has shown a reluctance to open the pocketbook wide enough to hire proven championship winners in their last hires, he may get the chance to put his donors' money where his mouth is and be forced to do so sooner rather than later at that, before Vol fortunes decline any further.