College Football Predictions Week 12: Zultan's Fearless Forecast
November 16, 2011
Reese Strickland/Getty Images
This past Saturday the Big Z suffered the most humiliating defeat in the famed prognosticator's history, going 5-5.  But many of you went right along with the all-seeing seer during the fiasco known as Week 11 Upsets Galore. 
Zultan packed up his new crystal ball along with a sassy assessment, returning both to the Overlook Brothers—demanding a full refund. 
It was bad, very bad. Oregon unceremoniously threw Stanford down the Cardinal stairway to BCS heaven while Boise State succumbed to TCU in its own blue, blue haven. Both teams were favored, both played at home and both lost.
This was after the Big Ten self-destructed. 
Zultan was reeling like a drunken sailor clinging to the mast during a hurricane. Purdue upset Ohio State, Penn State, of course, fell to Nebraska—the piece de resistance, however, was Iowa's fall to Michigan State at home.
Mom is still in full denial, pretending that the game has not started. She sits in her little chair in front of the television watching the test pattern. It is an old, old TV. Sad, very sad.
So are you ready for Week 12?  There are only a couple of weeks left in the regular season, so click here to make your picks.  A word of caution: Whatever team you think is going to win in the Big Ten, pick the opposite.  
Game 1: Minnesota Gophers at Northwestern Wildcats (Big Ten)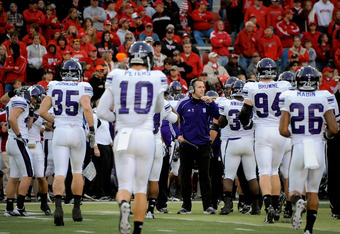 Eric Francis/Getty Images
Northwestern (5-5, 2-4) needs one more win to become bowl eligible. You can bet the Wildcats believe that this game against Minnesota (2-8, 1-5) will give them that final push over the top. At this point in the season, Minnesota is just playing for pride and progress. Although the Gophers are improving, they will not overcome Northwestern in Evanston.
Pick Northwestern to win at home.
Game 2: Indiana Hoosiers at (15) Michigan State Spartans (Big Ten)
After defeating the Iowa Hawkeyes inside Kinnick Stadium, all Michigan State (8-2, 5-1) has to do is win out to find itself in the first Big Ten Championship game on Dec. 3. That means no let down when Indiana (1-9, 0-6) comes calling on Saturday in East Lansing. To say Indiana is struggling this year is a vast understatement. The Spartans should handle the Hoosiers handily. But then—will they?
Pick Michigan State to win at home.
Game 3: (16) Nebraska Cornhuskers at (18) Michigan Wolverines (Big Ten)
After escaping Penn State last Saturday, Nebraska (8-2, 4-2) must travel to Ann Arbor to face Michigan (8-2, 5-1). While the Cornhuskers got a good bounce last weekend, they probably will not be so lucky in Week 12. Michigan has improved exponentially on defense over last season, meaning the Wolverines should be able to contain the Nebraska running game. Zultan, going without the crystal ball crutch, feels strongly that the Wolverines will bite the Cornhuskers hard.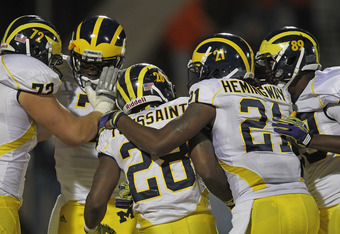 Jonathan Daniel/Getty Images
Pick Michigan to win at home. 
Game 4: (17) Wisconsin Badgers at Illinois Fighting Illini (Big Ten)
Wisconsin (8-2, 4-2) seems to have righted its ship, which slipped off course during Weeks 8 and 9 when the Badgers lost consecutively to Michigan State and Ohio State on the road.  Both were final-second losses. But last week, Wisconsin settled into their scoring routine against Minnesota, winning easily, 42-13. This week the Badgers travel to Illinois to face the Fighting Illini (6-4, 2-4). Illinois is smarting after losing at home last weekend to Michigan 31-14. The Illini started their season undefeated, ranked in the top 15 in the nation, but have lost their last four games, and it looks like they will lose one more. 
Pick Wisconsin to win on the road.
Game 5: Iowa Hawkeyes at Purdue Boilermakers (Big Ten)
Wouldn't you know it? Iowa (6-4, 3-3) must travel to Purdue (5-5, 3-3) to play the Boilermakers on their home field just when Purdue is peaking. The Boilermakers upset Ohio State last weekend 26-23 in overtime. Who knew? Normally, this game would be an easy check mark on the Hawkeyes' schedule. This is no longer the case, however, because Danny Hope has his Boilers aiming for a bowl game for the first time since 2007. Purdue is good in 2011—no longer a Big Ten patsy for any team. Still, Iowa is the better team with much more offense to offer up. Mom, this one's for you.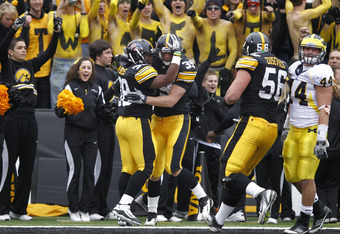 Joe Robbins/Getty Images
Pick Iowa to win on the road.
Game 6: (21) Penn State Nittany Lions at Ohio State Buckeyes (Big Ten)
There is not much left to say about Penn State (8-2, 5-1), which lost its first Big Ten game last week to the Nebraska Cornhuskers. The road is going to be a painful conclusion to what started as another solid Nittany Lion season.  Ohio State (6-4, 3-3) will not be in a forgiving mood after being outplayed and outscored by the Purdue Boilermakers last Saturday. The Buckeyes went down to defeat 23-26 in overtime. Ohio State will be looking to bounce back this week against a distracted Penn State squad. 
Pick Ohio State to win at home.
Game 7: (13) Kansas State at (23) Texas (Big 12)
In this instance, the advantage of the higher ranked team, Kansas State (8-2, 5-2) over Texas (6-3, 3-3), is neutralized on the Longhorns' home field. Last week, Kansas State hung on to win 53-50 in quadruple overtime in Manhattan. One thing Bill Snyder's group never lost, however, was its poise. Texas, on the other hand, was busy losing on the road to Missouri 17-5. The Longhorns did not score a touchdown throughout the game and that has not happened since 2004.  This week, however, the game will be played in Austin, Texas at the Longhorn's Memorial Stadium—their last home game of the season. This one looks to be a defensive battle from start to finish, meaning the team with the best offense will win by a touchdown.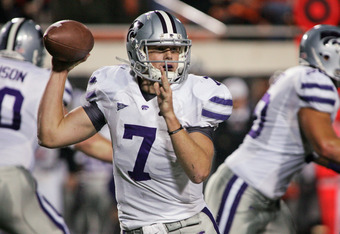 Brett Deering/Getty Images
Pick Kansas State to win on the road.
Game 8: (5) Oklahoma Sooners at (22) Baylor (Big 12)
Things in the BCS got really interesting after this past weekend. The Big 12 matchup between Oklahoma (8-1, 5-1) and Baylor (6-3, 3-3) took on new significance because the Sooners certainly cannot afford another lapse before Oklahoma must face Oklahoma State on Dec. 3. Baylor will host the Sooners in Waco, Texas. The opportunity to knock off the No. 5 team in the nation would take some of the sting of disappointment out of a season, which Baylor fans hoped would be considerably better for the Bears. The main problem for Baylor all year, however, has been inconsistent play. The Bears will play well this Saturday—but not well enough to overcome the powerful Sooners.
Pick Oklahoma to win on the road.
Game 9: USC Trojans at (4) Oregon Ducks (Pac-12)
The Oregon Ducks (9-1, 7-0) took back the bragging rights of the Pac-12 as well as the BCS inside track by upending the Stanford Cardinal inside Stanford Stadium 53-30. This weekend, the Ducks will host USC (8-2, 5-2) at Autzen Stadium in Eugene, Oregon. The Trojans are ranked No. 18 by the AP—banned from postseason play. While Oregon was dismantling Stanford, USC was crushing Washington 40-17. Southern Cal will arrive with only one thought: defeating the Oregon Ducks, and it should make it very interesting.  However, unless the Ducks' heads won't fit in their helmets, Oregon should attend to business and keep its BCS championship hopes alive.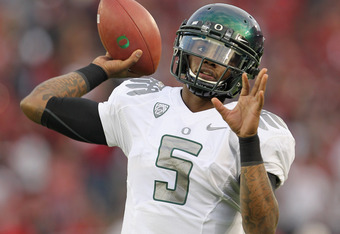 Ezra Shaw/Getty Images
Pick Oregon to win at home.
Game 10: (10) Boise State Broncos at San Diego State Aztecs
As the kick sailed wide right, Boise State (8-1, 3-1) watched its BCS title hopes run inevitably down the drain. The efforts of quarterback Kellen Moore aside, the Broncos lost in the fading moments of the game Saturday, once again victims of an errant kick. Such is life in college football. This weekend, Boise State travels to San Diego to face the Aztecs (6-3, 3-2) in a Mountain West Conference contest. Under normal circumstances the Broncos would be sure-footed and determined winners of this game, but after their loss last weekend, you must wonder how they will bounce back after such a loss.  
Pick Boise State to win on the road.
The Results from Week 11 (the Doomsday Hurrahs):
Despite his horrendous record in Week 11, only 17 of you did better than the Mighty Zultan. Still, it is hard to imagine anyone guessing that Boise State, Stanford and Ohio State would all lose—so those with only two losses are highly intelligent beings probably beamed in from another solar system. Welcome to Earth, brothers.
To the rest of you, kudos!  You were better than the Big Z in Week 11.  Be sure to take part in Week 12 because Zultan is going commando-less—without a crystal ball to back up his picks.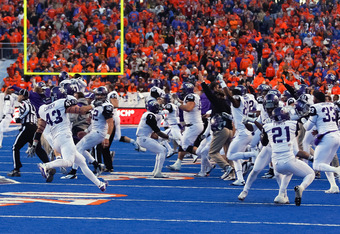 Otto Kitsinger III/Getty Images
8-2
Scott Suntken – Minneapolis, MN; The Deto – Atlanta, GA
7-3
Patrick Elliott – Ottumwa, IA; Ryan Gott – Newton, IA; John Zortman – Phoenix, AZ
6-4
Jason Armstrong – Iowa City, IA; Jason Brown – Hampshire, IL; John Darland, Jr. – Cedar Falls, IA; John Fraenkel – San Francisco, CA; Michael Hall – Andrews, TX; Mike Lindsay – Fairfax, VA; John O'Deen – Cedar Rapids, IA; Ken Ripp – Eau Claire, WI; Chris Seberg – New Brighton, MN; Steve Stalhut – Red Oak, TX; Carl Stine – Kingman, AZ; Brett Wright – Monona, IA.