The New Era: Why F1 Needs to Look After Its Young Stars
November 15, 2011
Lars Baron/Getty Images
The potential driver lineup options for a Formula 1 team are endless. The new driver juggernaut churns out at least half a dozen new candidates every year to rival the already seemingly endless list of hopefuls all aiming to get a coveted seat in the fastest cars in the world.
Unfortunately, the short-term mindset of this sport, along with its brutally competitive and financially orientated agenda, means that only the top handful of wealthy teams can afford to cherry pick their drivers and maintain their status quo. This has ultimately left a number of talented young hopefuls over the years on the outside looking in, or leaving this division of motorsports early in pursuit of drives and success in alternate formats.
The situation this winter is no different, with a number of young drivers anxiously hoping they avoid the ax.
There has been a lot of talk both in the paddock and in the press about the situation in the midfield, specifically at three teams: Force India, Williams and Torro Rosso.
The situation is simple. Force India have three drivers they need to fit into two spots, with the promising German Nico Hulkenberg wanting a race seat for next season. At Williams, there is much talk of a return for Kimi Raikkonen while the futures of both Rubens Barrichello and Pastor Maldonado are uncertain—however, the Venezuelan has the financial advantage. At Torro Rosso, both Daniel Ricciardo—currently on loan at Hispania—and Jean-Eric Vergne want the spots of the current duo Jaime Alguesuari and Sebastien Buemi.
That leaves potentially 10 drivers for six spots, and that's before we include the unconfirmed spot at Renault alongside Vitaly Petrov, the spot at the newly named Marussia—formerly Virgin—alongside Timo Glock and the two spots at Hispania.
That's now 10 spots, but we know it's not going to be the case that the 10 drivers mentioned above will all get a seat. Some will have to continue testing, and others may leave for good. Let's try, however, to fill the gaps, and I'm going to do it in the way I would like to see it happen.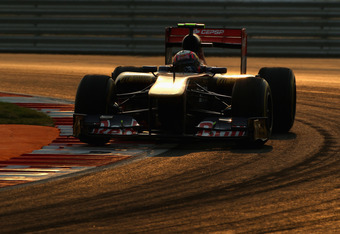 Clive Mason/Getty Images
The easiest spot is at Renault, because if Robert Kubica is fit he will replace Bruno Senna. Renault have struggled in the second half of the season—with or without Nick Heidfeld, who I thought was harshly replaced—and so I believe the issue is down to the car, though I don't think either Petrov or Senna have covered themselves in glory.
Petrov is, however, guaranteed a seat, so if Robert comes back Bruno will make way. If he isn't fit that opens the door for Bruno or the losers from the re-shuffles at Williams, Torro Rosso and Force India.
I'm going to make it clear, I think both Nico Hulkenberg and Jaime Alguesuari deserve seats next season. I am impressed with both and think they are both talents that F1 should try its best not to lose. Jaime is outperforming Sebastien Buemi this season and is also younger and has spent less time at Torro Rosso. I can't see them restricting both Ricciardo and Vergne to either a loan to a lower team or testing next season, so as harsh as this sounds, I would let Buemi go and partner Ricciardo with Alguesuari.
Nico impressed me in his first season at Williams, and I thought that replacing him with Pastor Maldonado for financial reasons was a complete shame and summed up the bad side of Formula 1. The problem is that a return to Williams is off the cards, so unless Renault took a punt, he's stuck at Force India.
I would give him the seat however, probably in place of Sutil, who has a mixed press reaction and has been at the team for a long time in F1 terms without really delivering success. I would partner Di Resta with Hulkenberg and move on to Williams.
Williams has had a disastrous year, and their priority has to be the car. However, I don't think either of their drivers makes the grade anymore. Rubens, despite his popularity, has always been a number two, and I don't think he's at his best anymore, while Pastor is there for the money. If I could remove that from the equation, he would have no reason to be there.
My ideal situation would be to bring in both Kimi Raikkonen and Adrian Sutil and give a much-needed shot in the arm to the ailing team and help them back on the path to their former glories.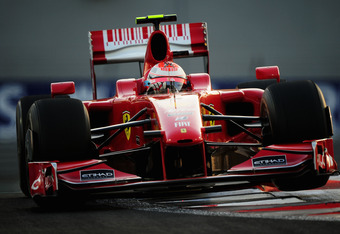 Clive Mason/Getty Images
So to sum up, then, here's my ideal F1 2012 season driver lineup for the midfield teams that haven't filled their slots:
Force India: Nico Hulkenberg and Paul Di Resta.
Williams: Kimi Raikkonen and Adrian Sutil.
Torro Rosso: Jaime Alguesuari and Daniel Ricciardo.
Renault: Vitaly Petrov and Robert Kubica/Sebastien Buemi.
The experience of someone like Rubens at Marussia or Hispania could really help them, while the likes of Vergne and Senna really need time behind the wheel to develop. Another point to consider is that it's unlikely that Webber at Red Bull, Schumacher at Mercedes or Trulli at Lotus would go on beyond 2012, particularly if they keep being beaten by their younger teammates.
There is plenty of potential in Formula 1, and regardless of the way that it eventually sorts itself out, it would be a great shame if we were to lose young drivers before they've even had a chance to reach their peak.
That is, however, the ruthless nature of the sport.