College Basketball: UCLA Basketball off to Inauspicious Start
November 15, 2011
Mike Ehrmann/Getty Images
Three straight Final Four appearances from 2006-2008 are starting to seem as distant of a memory as Bill Walton, Lew Alcindor and John Wooden.
Since 2008, the Bruins have failed to advance to the second weekend of the tournament. In 2009, they missed the tournament altogether.
There was a glimmer of hope in January-February of last season. Wins over USC, St. Johns and Washington State saw the Bruins finish second in the Pac-10, but a hot-shooting Oregon team knocked the Bruins out in the first round of the conference tournament, while Florida knocked them out for good.
Still, optimists said UCLA was improving. They had won 13 of their last 16 regular-season games, and they were young.
Every player on UCLA last season was a junior or younger. In other words, everyone could have been back. Instead, Tyler Honeycutt and Malcolm Lee decided to declare for the NBA draft. An odd move, indeed; Honeycutt would be selected 35th overall, Lee 43rd.
As a result, the Bruins were returning only 63 percent of their scoring, but, they had the leadership of Reeves Nelson and Lazeric Jones, and the development of Joshua Smith as reasons to be hopeful for a continued turnaround.
The Bruins opened up their season Friday night against Loyola Marymount at the Los Angeles Sports Arena (Pauley Pavilion is under construction). There, they lost to an LMU team that was 2-14 in the WCC last season.
They didn't just lose, they were physically dominated. Lazeric Jones was held to three points. Joshua Smith—five points and four rebounds. A bad loss indeed; one that had Coach Ben Howland state this: "We have a long way to go."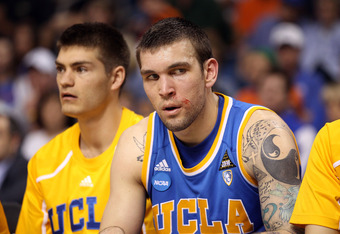 Mike Ehrmann/Getty Images
The loss may pale in comparison with another loss for UCLA. On Monday, leading scorer Reeves Nelson was suspended indefinitely for conduct detrimental to the team. His status will be re-evaluated at a later date.
There is a legitimate concern about where UCLA is going to get its energy and points. The Bruins ranked 79th in Ken Pomeroy's offensive efficiency rankings last season with Nelson, Honeycutt and Lee. As of today, none of those players is suiting up for the Bruins.
Additionally, Reeves was a leader and spark plug. He was a high-energy player who wore off on his teammates. As he went, so did the Bruins.
It appears things can't be off to a worse start for UCLA. They lose two of their best players early to the NBA draft. A renovation to Pauley Pavilion has the Bruins playing in the L.A. Sports Arena and the Honda Center in Anaheim, negating any home-court advantage. Then, they open up with a loss to LMU and subsequently suspend their best player.
Howland has done a great job the past decade at Pittsburgh and UCLA. It may all pale in comparison to the job he will have to do this year in order to make the Bruins a dangerous team entering March Madness.