NHL History: Best Captain Ever of Each NHL Team, Part I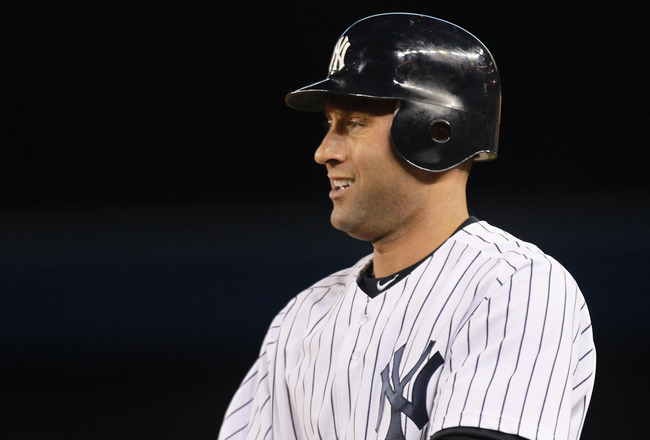 Derek Jeter epitmozes a team captain in Major League Baseball
Nick Laham/Getty Images
Other sports have captains, but nowhere is the designation more significant than in the NHL.
For one thing, captains take a tangible role in having officials talk to them about things like official rulings and other team messages. But it is so much more than that.
Arguably, no team sport relies as much on team chemistry. Hockey has few "plays" and teams must read and react off one another to unexpected things on the ice.
The NBA also has that, but players' resulting movements are more natural than on ice skates and an individual player can score in isolation much more easily. Thus, fewer NBA players have more impact on those teams.
The team concept is deeper in the NHL. It is why teams do more things together, from young players living with veterans to the whole tradition of teams growing playoff beards.
That makes the captain more needed, and hence his selection is more represented: Joe Thornton wears the "C" on his sweater for the San Jose Sharks, and the word "captain" is almost as likely to be said as not when his name is mentioned.
So who are the greatest captains in each team's history?
Historical accounts from others have biases that make them unreliable. Thus, I am hardly qualified to answer that for teams whose history predates my own hockey viewership.
I saw little hockey before 1989, the beginning of the Wisconsin Badgers Drive for Five title season. Living in a non-NHL metro area, I saw little NHL hockey for the decade that followed.
But almost no one is really qualified to say how much a given player meant to his team anyway. Can anyone really tell how much difference one captain to another meant to his team on the ice and off it?
We know enough to look for three things: Stanley Cup titles (or other playoff successes for those franchises without them), regular-season team success and individual production.
Those measurements can be enhanced, but what we see with our own eyes when we are old enough to understand the context of the situation matters most. By those standards, here is the best all-time captain for Anaheim through Detroit, with others to follow.
Anaheim Ducks: Scott Niedermayer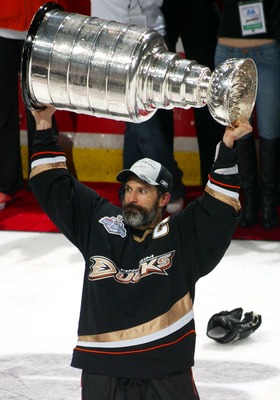 Bruce Bennett/Getty Images
The franchise originally known as the Mighty Ducks of Anaheim won the Stanley Cup just once, in 2007.
That alone might be enough to make the captain of that team their franchise's best. But Scott Niedermayer is a Hall of Fame player, besides.
In the two seasons as Ducks captain leading up to the title, he won a Norris Trophy as the league's best defenceman, missing just three games combined while scoring 28 goals and 104 assists. He had 32 points and won the Conn Smythe once in 39 playoff games in that span.
Boston Bruins: Bobby Orr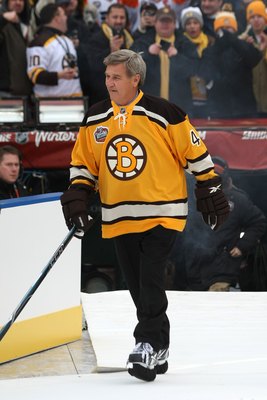 Elsa/Getty Images
Technically, Bobby Orr was never captain of the Boston Bruins.
Johnny Bucyk was the captain for Orr's rookie season and his last three. Oddly enough, while Bucyk was putting up very good numbers in the years in between, the Bruins had no official captain.
Easy solution: Orr was their best player and revolutionized his position. If you were to assemble the all-time Bruins team, he would be captain.
He is the only defenceman with nine hat tricks or an Art Ross Trophy (he has two) for leading the league in scoring. He won a Calder Trophy for rookie of the year, then took the next eight Norris Trophies, picking up three consecutive Hart Trophies along the way.
But he was not just a talented player no one could contain. He worked hard, finishing as the NHL's plus-minus leader a record six times and won the Conn Smythe both years the Bruins won the Stanley Cup.
Buffalo Sabres: Lindy Ruff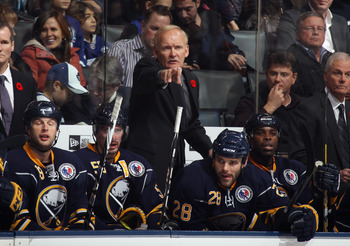 Bruce Bennett/Getty Images
No one epitomizes leadership of the Buffalo Sabres like Lindy Ruff.
Most of it is as coach of the team, not captain. He led the team to their deepest playoff run in 1999, won the Jack Adams Award for the NHL's best coach in 2006 and has been a finalist multiple times.
But on the left wing and blue line, he was known for being hard-nosed and a leader. He was captain from 1986-1989, during which he played 190 games, scored 14 goals and had 48 assists.
Calgary Flames: Jarome Iginla
Mike Ridewood/Getty Images
As we have all seen from the NHL Network commercials, Lanny McDonald was the captain of the Calgary Flames when they won the Stanley Cup in 1989. Since that was the only year the franchise won the Cup and McDonald hit three major milestones that year—1000 games, 1000 points and 500 goals—picking McDonald seems easy.
Of course, there were two other captains for the Flames that season. Both were far more productive than McDonald (18 points in 51 games), who was scratched for three games of the Stanley Cup finals (four points in 14 playoff games).
Sorry, but a team's best-ever captain cannot be someone who, unless the criteria included ridiculous mustaches, would not have been better than an alternate in a one-captain system.
Enter current Flames captain Jarome Iginla. He has gotten his team within one game of a title and has been among the league's best players during his entire career, all played with Calgary.
Carolina Hurricanes: Rod Brind'Amour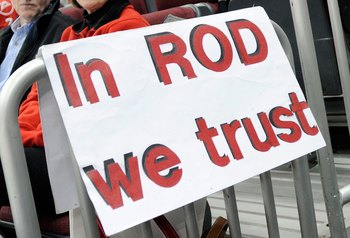 Grant Halverson/Getty Images
Again, we have a franchise with only one Stanley Cup, although when they started off as the Hartford Whalers, they could not win the Holy Grail of Hockey because they were in the WHL.
Hence, the search begins with the captain of the Cup-winning team, Rod Brind'Amour. Unlike most of the other choices, he is qualified enough for there to be no need for further debate.
Brind'Amour was nearing the end of his career as he led his team to the 2006 Cup, but he was still an elite player. He won the Frank J. Selke Award as the NHL's best defensive forward that season and the next, and he scored 18 points in the 25 games during that playoff run.
Chicago Blackhawks: Jonathan Toews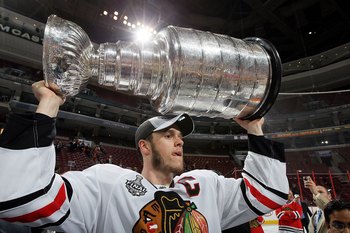 Jim McIsaac/Getty Images
No, this is not a case of being a prisoner of the moment. Jonathan Toews is really the only choice for the Blackhawks' all-time captain.
For one thing, while the Blackhawks are now in their 10th decade as a franchise, they have only four Stanley Cup championships. Even the fact that with the weight of a 49-year Cup drought and a rookie goalie is impressive enough to consider him on the all-time list.
However, one would expect a three-year captain and four-year player to be surpassed by one other captain, right?
Goalie Charlie Gardiner was captain of the first Blackhawks Cup championship team in 1934 and had a seven-year career. Next!
Johnny Gottselig was the captain of the next champion in 1938 and had about 100 more points in his entire career than Toews already has. Even in a lower-scoring era, he does not deserve the all-time distinction more.
But Bobby Hull and Stan Mikita were on the 1961 team and are certainly more deserving. Except Hull was never the Hawks' captain and Mikita was years away from the honour.
Ed Litzenberger, who had about 150 more points over his entire career than Toews has in four seasons, is simply not worthy of consideration.
While I made an exception for Bobby Orr with Boston, they had no captain at the time and Orr was in a class by himself on the Bruins. Neither Hull or Mikita can say either of those things.
Colorado Avalanche: Joe Sakic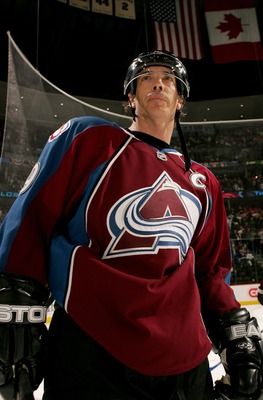 Doug Pensinger/Getty Images
Finally, an easy one!
The Colorado Avalanche were the Quebec Nordiques before 1995, joining the NHL from the WHL in 1979. While they had several playoff appearances in Quebec City, they never won the Stanley Cup.
Thus, the stint in Colorado is the one that must be examined. Since sure-fire Hall of Famer Joe Sakic was captain for both the 1996 and 2001 champions, his selection is a no-brainer.
Columbus Blue Jackets: Rick Nash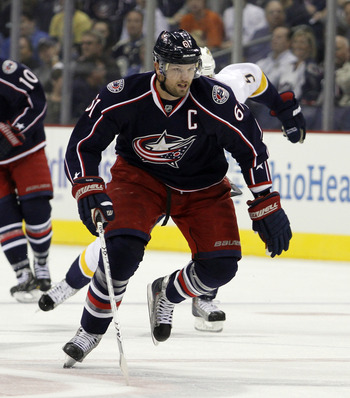 Justin K. Aller/Getty Images
The Columbus Blue Jackets are only in their 11th NHL season. Thus, they have only had five team captains.
Only Rick Nash and Adam Foote have held the post for more than two seasons, and only active captain Nash has been an elite player at the time wore the "C" on his sweater. His first year (2008) also included the team's only playoff appearance.
Dallas Stars: Mike Modano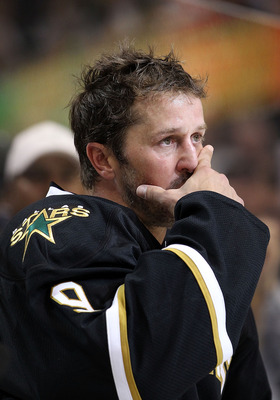 Ronald Martinez/Getty Images
The Dallas Stars did not earn their Stanley Cup championship until 1999. I can even argue they only benefited from an easier schedule that allowed them to get home ice throughout the playoffs and take away the opposition's speed on the slowest ice in the league every spring.
Regardless, there is no doubt they were the among the best teams in the Western Conference for a couple of seasons. That team was better than any in Dallas before or since and surpasses any Minnesota North Stars team before the franchise relocated.
Either way, the best player in franchise history was Mike Modano. He was drafted before they left the State of Hockey and captained the team that made the Stanley Cup Finals in 1999 and 2000.
Detroit Red Wings: Nicklas Lidstrom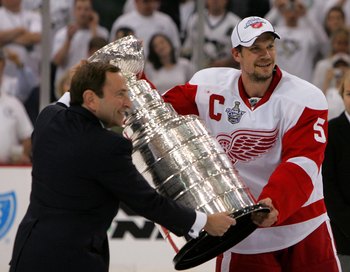 Bruce Bennett/Getty Images
What an embarrassment of riches. Detroit has three great captains among the greatest of all time league-wide...
1. Gordie Howe, who I consider the greatest player of all time because he had more physicality and longevity than Wayne Gretzky, was captain of this team. This would seem to make him a sure choice, but he was not captain when the team won any of its 11 Stanley Cups.
2. Steve Yzerman was frequently referred to as the "Ultimate Captain" and was at the helm for three titles from 1997 through 2002. He was a great two-way player, but I had to pass him by for his teammate.
3. But Nicklas Lidstrom was the first Cup-winning captain born outside of North America, and breaking any barrier always requires a little more. A seven-time Norris Trophy winner, Lidstrom gets my vote for best defenceman of all time for a larger longevity advantage over Bobby Orr than Howe had over Gretzky.
Keep Reading