MLB Free Agency 2012: Jason Varitek Could Be Ideal Back Up Catcher for Tigers
November 15, 2011
Rob Carr/Getty Images
The Detroit Tigers are in the market for a back-up catcher, and who better to target then a grizzled world series veteran like Jason Varitek.
In 2011, the Tigers leaned on Alex Avila as their every day back-stop; and I do mean every day.  Avila played in 141 games, rarely getting a day off. 
He responded with a great year.  It was a pleasant surprise and a much needed boost for Detroit.  He provided consistent offensive production from a position in the lineup that had once been a black hole.
I'm talking to you Gerald Laird. 
Avila hit .295 with 82 RBI, 19 homeruns and 137 total hits, and was selected to his first all-star team as the starting catcher.  He also won the 2011 Silver Slugger Award for catchers.
But the wear and tear of catching all those games caught up to him as the 2011 regular season ended. 
Avila needed to be rested, but the playoff-bound Tigers had no alternative.  Victor Martinez could catch, but with his chronic knee problems, the Tigers didn't want to risk it.
Avila was a warrior.  Despite fatigue and his own gimpy knees, he continued to play and contribute, although it was obvious that he was not the same player.
The Tigers have World Series aspirations for 2012 and they need Avila to be a big part of that.  He has to be rested more often.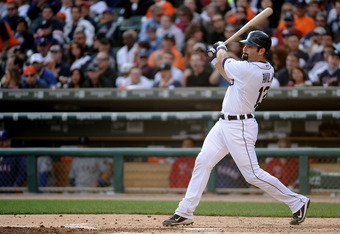 Harry How/Getty Images
Going into free agency, a back-up catcher is on the Tigers' radar.
Names like Jose Molina, Matt Treanor, Ramon Castro and (gasp) Gerald Laird have been tossed around as potential signings.
True, anyone of those players could come in and give Avila an occasional rest, but I think the Tigers would benefit from more than simply a body.  What if they could sign a back-up that could actually produce when called upon and bring much needed leadership to the Clubhouse.
Remember the 2006 Tigers. 
They were not expected to do much, but a grizzled veteran pitcher by the name of Kenny Rogers provided experience and leadership.  That year Rogers particularly affected a young and inexperienced pitching staff (featuring Justin Verlander, I might add).  Jason Varitek could do the same for the offense.
Rogers taught those Tigers how to be professional baseball players and how to win games. His lessons paid off, as the Tigers advanced to their first world series since 1984.
The 2012 Tigers will not be the upstart team that the 2006 bunch was.  However, this team is in need of veteran leadership just the same.
They have great veteran players. But not the kind of players that are vocal, or capable, of whipping guys into shape when needed.
Varitek is the type of player that could fill both of these roles for the Tigers.
He is 40-years-old and has been a stalwart behind the plate for Boston.  He has caught many playoff and World Series games.  He has seen and done it all, as far as being a major league catcher.
Not only that, he was the voice, heart and soul of a Boston Red Sox team that was arguably the best of the 2000's.
After the Red Sox' regular-season meltdown, Boston seems be bound and determined to blow up their franchise and start from scratch. They have already jettisoned their coach, general manager and All-Star closer. David Ortiz is likely next, followed by Varitek.
Varitek makes sense for the Tigers financially as well.  I am sure they could sign him for less than the two million dollars he made last year, after hitting just .211 in 68 games.
He has been primarily a backup since 2009 and has dealt with a variety of injuries, particularly knee issues, over his career.
But the Tigers would not be looking for him to split games 50/50 with Avila. He would be an asset if he could give the Tigers just 70-80 starts. 
Where he would really earn his pay is in the knowledge he could pass on to Avila and the leadership he could provide in the Tigers' clubhouse.
Who knows, with a reduced role and a fresh start, perhaps Varitek's numbers would improve also.
One thing is for sure, Varitek is a competitor and a winner. This could be his last shot at reaching the World Series, so I'm sure he wants to sign with the right team.  Given the Tigers' talent and their needs, he would be hard pressed to find a better fit.