Arizona Cardinals QB Controversy: John Skelton Only Option, Says Ken Whisenhunt
November 15, 2011
Rob Carr/Getty Images
The Arizona Cardinals may have a quarterback controversy brewing in the minds of the fans and media, but if you ask Ken Whisenhunt—and people did—his answer is simple: Controversy? What controversy? Skelton is the only starter the Cardinals have right now. Nothing more to discuss.
It's not quite what you may think; Whisenhunt simply refused to address the speculation at all until Kevin Kolb was cleared to play, but you have to wonder if there isn't more to it.
Coming into the Eagles game, Kolb was the starter, no questions asked, as long as he was fit enough. The Cardinals waited until the last possible moment for him to get fit and categorically stated that he would get the nod if healthy.
Following Skelton's second win, however, Whisenhunt is more cautious.
The Cardinals head coach was quizzed extensively on who may be starting in Arizona going forward. According to ESPN's Mike Sando, Whisenhunt simply deflected the questions.
"Where we are right now, it doesn't matter," said Whisenhunt. "Until we get Kevin back out there and practicing and we can assess where he is after having missed a couple of weeks, you can't even talk about that, to be honest with you."
They are hardly the sort of words which ignite a QB controversy, but neither are they the sort of words that should leave Kolb confident that he will regain his starting position when he recovers, an unfortunate situation that Kolb is altogether too familiar with.
Kolb, who has still not been cleared to practice, looks increasingly less likely to take to the field against San Francisco with every passing day. Whisenhunt's comments may just be a way of keeping both players motivated so both are ready to play if called upon, but his choice of phrase is nonetheless vague.
Many commentators have suggested that there is no controversy in Arizona; once healthy, Kolb will again be the starter. Whisenhunt invested a lot in Kolb and in many ways tied his own future to the success of his multimillion-dollar man. Many believe that he simply cannot afford not to give Kolb a chance going forward—I was one of those people not long ago.
Their points make sense; Whisenhunt has to stand behind his guy when both of their jobs may depend on it. However, simply put, Whisenhunt didn't say that.
His words, while hardly definitive, leave the door wide open for Skelton, not Kolb, to start, even after Kolb returns to training.
Whisenhunt has always liked Skelton, always believed in him and always been complimentary of the way he played, so it came as a surprise to many when the Cardinals brought in Kolb, not an older, more affordable quarterback to hold the fort for a few seasons while they mentor Skelton.
With two wins on the season and looking more poised and confident every play, Whisenhunt may well have big decisions to make in the not too distant future.
"Some of the throws that he misses, you see him be upset because his footwork or his technique was bad when he knew he was anticipating something," Whisenhunt said. "But the one thing I'll say about John is whenever you bounce back from something bad, like he did a couple of times [against the Eagles], he led long drives and made some big plays in those drives, it says a lot about the mental toughness of that player. That's a great quality to have at that position. You have to have it."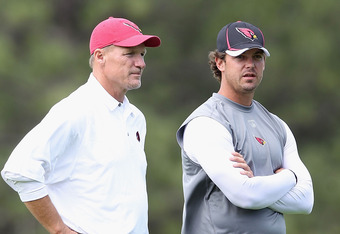 Christian Petersen/Getty Images
By refusing to name Kolb as the sure starter once he returns and offering praise to the second-year Skelton, Whisenhunt, who is known for choosing his words very carefully, has given everyone a lot to think about and has certainly left plenty of room for discussion and debate. 
The fans have been pretty vocal in their support for Skelton, and numerous Cardinals reporters, myself  included, are being forced to admit that two wins in two games means that Skelton should now be given the chance to earn the job full-time.
What the future holds is still far from clear.
Kolb's injury notwithstanding, both men have a legitimate reason to believe that they will see playing time going forward. The coaches, not known as the sort to speculate openly, have been usually tight-lipped about which player gets the call.
There will no doubt be speculation about who will start until the players take to the field. Even then, every move, comment, win or loss will be scrutinised and debated ad nauseam by the fans and media alike until some definitive statement or action is made. Whatever Whisenhunt chooses will be questioned.
Legitimate or not, there is a controversy in Arizona, even if only amongst the fans.