Cleveland Browns: Pat Shurmur Says Field Goal Was a No-Brainer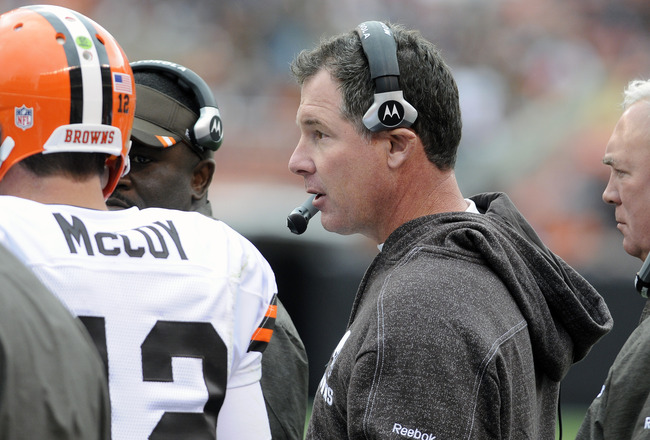 Jason Miller/Getty Images
Cleveland Browns head coach Pat Shurmur says going for the field goal in the final minutes of last week's contest between the Cleveland Browns and the St. Louis Rams was a "no-brainer."
Phil Dawson missed the field goal, which was deflected by Rams' James Hall after the botched snap that glanced off the foot of Cleveland's Alex Mack.
It is understandable that after failed attempts to run the ball into the end zone that Shurmur was left only with the option to kick the field goal. The field goal is not what numerous sports writers and fans are questioning, they are questioning the play-calling, six straight running plays without one attempt to pass into the end zone.
Shurmur stood by his decision in an interview on Cleveland.com, saying:
I'd do it again that way because I think you can run the football in the end zone as well. We were having some success with some of the schemes we were running and making yards with the backs we had in the game. Just because you run the ball doesn't mean you're giving up.
Yes, the Browns were having some success with the running backs who were playing, no one is questioning that. What they are questioning is the hand-off to tight end Alex Smith who was playing fullback on such a critical play and dropped the hand-off. Joshua Cribbs recovered the ball, or game over at that point.
When Shurmur was asked about the debacle with Smith, he stated that he had called a hand-off to Owen Marecic, who had been replaced by Smith due to Marecic being shaken up on a previous play.
I knew who was in the game, and I chose not to stop the play. And partly because I couldn't get to an official and then I couldn't get to Colt to communicate (because the helmet radio was cut off by then). Alex knew he was getting the ball and Colt knew he was giving it to him and they're football players. You run a lot of plays in the game that the backup has to execute that he may not have done.
Matt Sullivan/Getty Images
Shurmur says that he chose not to stop the play partly because he could not get the attention of an official and could not communicate with
Colt McCoy
. This leads me to believe that he would have thought of stopping the play if these conditions had not existed. However, when asked if McCoy should have called a timeout, this was his answer:
"No, because Alex knew he was getting the ball," said Shurmur. "They did it all right except for the exchange."
McCoy had 20 completions in 27 attempts for over 200 yards, facing a Rams secondary without key players due to injuries, so why not at least one pass to the end zone for a possible touchdown?
"There was times when we got down there before the half and threw it and we didn't make it, right?" said Shurmur. "We took a shot Evan and you got a facemask, which backed us up and made the field goal. All those things that happen during the game, that plays into a little bit the way the strategy at the end as well."
This statement raises a major red flag, if something does't work, discard it. Yes, the Browns have been rather non-productive in the red zone, however, McCoy has thrown for 10 touchdowns. Against a team with a secondary that has been devastated with injuries, the coach chooses to set aside the passing game, become one-dimensional, and fall back on conservative play-calling in a game many considered a must-win.
Although I find numerous statements by Shurmur to be baffling and of great concern, his statement about McCoy being allowed to audible is the most concerning. This statement is also in contradiction to Colts' answer during his postgame interview, which can be listened to at the Cleveland Browns website. McCoy is asked if he thought of changing the play, and if he has that option. His answer to both was a simple "no."
Shurmur said it's not true that McCoy isn't allowed to audible in that situation. "He's the quarterback," said Shurmur. "But in that situation we were trying to run the football."
So, Shurmur decides to stick with the running game because of failed attempts earlier in the game to pass into the end zone. He states that he called a running play for a fullback that wasn't on the field and he might have changed it if he could have gotten the attention of an official. However, Colt should not have and felt good about the chances of the running backs he had playing the game, hence the hand-off to a tight end.
All this talk about learning, growing, improving and being on the same page. It looks to me like they are not even in the same book!
*All quotes from Cleveland.com
This article is
What is the duplicate article?
Why is this article offensive?
Where is this article plagiarized from?
Why is this article poorly edited?

Cleveland Browns: Like this team?