Alabama Basketball: 9 Reasons Why the Tide Will Surpise the SEC This Season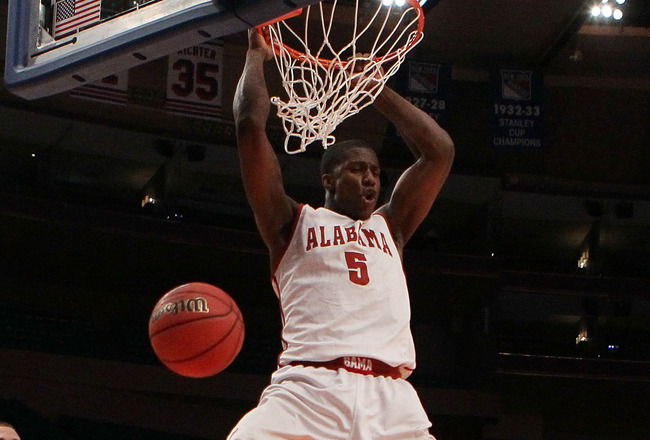 Jim McIsaac/Getty Images
The 2010-2011 season was a bittersweet one for Alabama basketball.
Anthony Grant's team went 19-0 at home, won the SEC West, but failed to make the NCAA tournament and ended their season with a loss in the NIT final.
Two games into the 2011-2012 campaign, the Tide looks to have carried over the intensity that drove them through the second half of last year.
The word surprise might be the wrong one for most, but let's face it, when it comes to Alabama, the majority will automatically think you're about to talk football.
Alabama won't have the benefit of sneaking up on anyone this season, but the Tide's identity as a power in the SEC has been missing for some time.
Let's talk about how they'll get that back.
Coleman Coliseum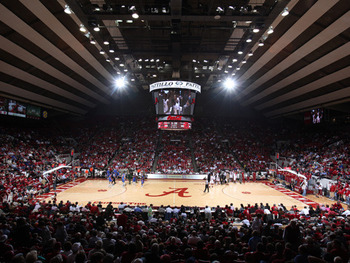 22 straight wins here currently. Sixth longest streak in the nation.
It may not be known as the Plaid Palace anymore, but Coleman Coliseum is becoming one of the toughest places to play in the country.
Just think, 19-0.
That was Alabama's home record last season. Every team that came into Tuscaloosa left with another giant L in their schedule, including 12th-ranked Kentucky.
Games were selling out consistently last season, and through two early games, the crowds look great again.
Normally, this early in the season, the attendance is below 10,000 for basketball games, but the first two contests have averaged right around 11,000.
Fans of basketball powers would laugh at that, but at a football driven school in the middle of a potential national title run, it's a great number.
The energy and effort from Anthony Grant's teams at Alabama have been recognized and appreciated by the fans.
Sellouts are becoming more common, especially during the meat of the SEC schedule.
Defense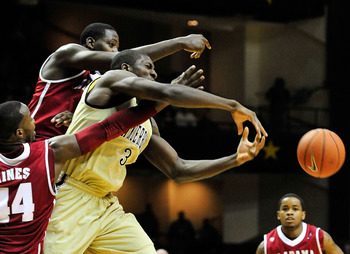 94 feet of intensity.
Grant Halverson/Getty Images
You hear it in all sports.
Defense win championships, and like the Tide on the gridiron, the hardwood Alabama team puts its focus there.
Last season the Tide defense was the best in Alabama history, along with being the best unit in the SEC and one of the best in conference history since defensive statistics began being recorded.
Alabama ranked in the top 10 in the five major defensive categories, averaging just under 10 steals a game while holding opponents to less than 39 percent from the field.
It has been the constant since Anthony Grant stepped on campus and has been the savior of this team through re-occuring offensive dry spells in games last season.
The effort on defense will allow the Crimson Tide to be in every game it plays outside of coming across a team vastly more talented than them.
One question will be how the talented newcomers fit into this defensive machine. Alabama has been starting two freshmen alongside the trio of Tony Mitchell, Trevor Releford and JaMychal Green.
Can Rodney Cooper, Levi Randolph and Trevor Lacy off the bench bring the smarts and effort needed to shut opposing teams down?
I think so. Grant would recruit a kid who isn't going to put forth that effort.
Alabama will miss the defensive rebounding and shot blocking of Chris Hines and the hard-working Andrew Steele.
The final thing is who will be another presence inside along Green? Seven foot center Moussa Gueye was to be that part, but the sophomore tore his ACL in a preseason pickup game.
Can Alabama's other seven footer, sophomore Carl Engstrom fill that void?
Freshmen on the Perimeter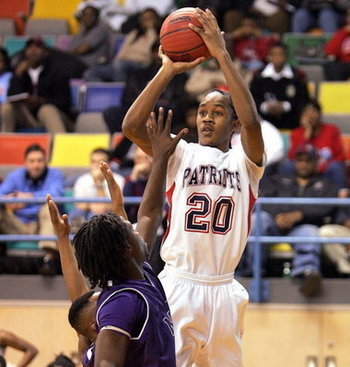 Levi Randolph is one of three talented Alabama freshmen.
Alabama was not much of a threat from the perimeter last season, and their lone weapon from outside, Charvez Davis, graduated.
Enter the freshmen three: Levi Randolph, Rodney Cooper and Trevor Lacy.
All three have tremendous high school resumes, and all three can knock it down from the outside.
If Alabama can get any shooting improvement from point guard Trevor Releford, then the Tide's ability to stretch the floor will pose many problems for their opponents.
JaMychal Green has already shown an early ability to knock down a mid-range jumper along with the occasional three.
Alabama's Green Giant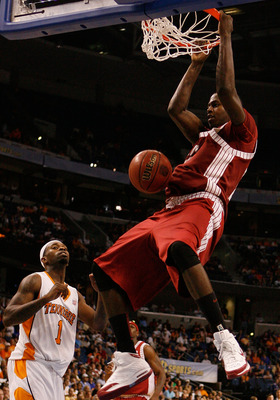 Chris Graythen/Getty Images
While Alabama offensively was inconsistent last year, it was through no fault of JaMychal Green.
His ability to score on the post has been stellar, but his ability to face up defenders and knock down the jumper only makes him more formidable.
Green was a first team All-SEC selection last season, averaging over 15 points and seven rebounds per game.
Over the summer he competed for USA Basketball in the World University Games. He was second on the team in scoring with 12.6 points per game and helped lead the team to a 7-1 record.
JaMychal's biggest concern is his ability to get in early foul trouble. It was a plague at times last season and with not much depth behind him on the post, Alabama needs him to play a bit smarter this time around.
Guard Play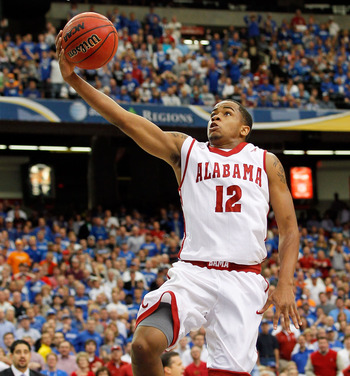 Kevin C. Cox/Getty Images
You will have a hard time convincing me that there is a better point guard in the SEC than Trevor Releford.
As a freshman last season, he directed the Tide like a seasoned veteran, becoming the piece Alabama needed to keep it together on the court.
His ability to beat defenders and find lanes to the basket is uncanny, but his lockdown defensive prowess is where he probably shines best.
In fact, he led the team in steals with 60 a year ago.
He led all SEC freshmen with his assist-to-turnover ratio and can either be the scorer or set up the next man.
Releford only hit 19 three pointers last season for a percentage of below 28. While you don't want him going bombs away, an improvement in his perimeter game would boost the Tide greatly.
The freshmen trio of Randolph, Cooper and Lacy really boosts the Alabama backcourt.
Electrifying Plays

This is how you get the crowd going.

Sometimes a team needs a charge.
The crowd wants a reason to stand up and cheer.
Electrifying plays will do that.
Whether it's a well-timed three-point shot, a monster block or a high flying jam, all teams need to be able to make these plays happen.
For Alabama, they seemed to become a regular occurrence.
The sight of Tony Mitchell flying through the air to slam the ball home is a scene that can send Coleman Coliseum crowds into a frenzy.
He can do it, JaMychal Green can do it and, last season, Chris Hines got in on the action.
Look for a lot of these moments again this year. Alabama's relentless defense often leads to fast break opportunities, and these situations to ignite the home faithful.
They're easy points more often than not and can sometimes demoralize an opponent.
The West Is an Easier Path Than the East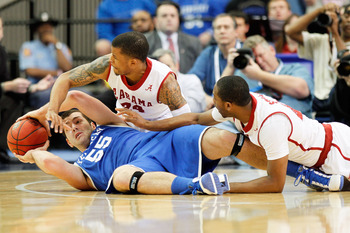 Kevin C. Cox/Getty Images
Alabama was picked to finish fourth overall in the SEC this season.
It's overall because the SEC is not split into divisions this year.
I say the West is an easier path simply because Alabama will still be playing a Western-themed schedule.
That means Alabama will only face what looks to be the three teams ahead of them: Kentucky, Florida and Vanderbilt. Both Vandy and Florida are home games while the Tide travels to Lexington this season.
It's not that Alabama's path will be easy, but it appears, on paper, to be a lighter route than the one teams traditionally in the SEC East will face.
I have a hard time believing that Mississippi State and Arkansas can compete with Alabama this season.
Simply put, if Alabama plays to its ability this season, it should be in pretty good shape when it comes to the league standings.
Early Season Focus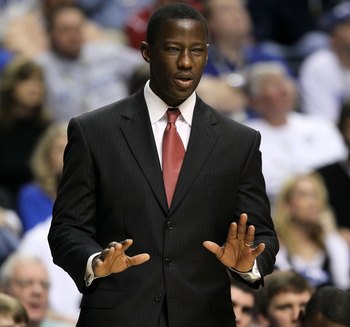 Andy Lyons/Getty Images
Last season Alabama dug an early season hole for itself that it never fully got out of.
The Crimson Tide season started with a thud in the Paradise Jam tournament with three losses to Seton Hall, St. Peters and Iowa.
This time around Alabama is playing in the Puerto Rico Tip-off with hopes launching their campaign to a different tune.
Alabama opens the tournament against Maryland, will then face the winner of Colorado and Wichita State, and then a third game to be announced.
Maryland may be a traditional ACC power, but is certainly a team Alabama is capable of beating, and should beat, along with two teams in the second game.
Alabama defeated Colorado in the NIT a season ago in a very tight contest and ran out of gas against Wichita State in the final in Madison Square Garden.
It is essential that Alabama does not lay another early season tournament egg, but my gut says this team is dialed in early.
They know the damage last season's disastrous start caused them and are not looking to replicate it in Puerto Rico.
Tony, Tony, Tony's Has Done It Again and It Feels Good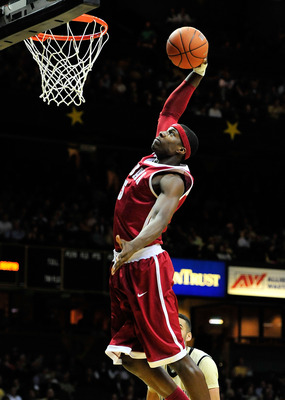 It feels good, yeah.
Grant Halverson/Getty Images
Early '90s R&B references aside, Alabama's Tony Mitchell is the Crimson Tide's most explosive player.
The 6-6 junior had four double-doubles a year ago and led the team with 63 dunks.
Mitchell should see more time at his natural position this season on the wing and, in Alabama's fast paced game fueled by creating turnovers, should flourish.
He will have to step up his presence inside to help with the youth and lack of depth for Alabama down low.
If Mitchell can put together any sort of consistent mid-range game, he will be a very dangerous player for Alabama, outside of the potency he already brings to the table.
Keep Reading

Alabama Crimson Tide Basketball: Like this team?