BCS Rankings Projections: How to Use the Top Bowl Games to Create a Playoff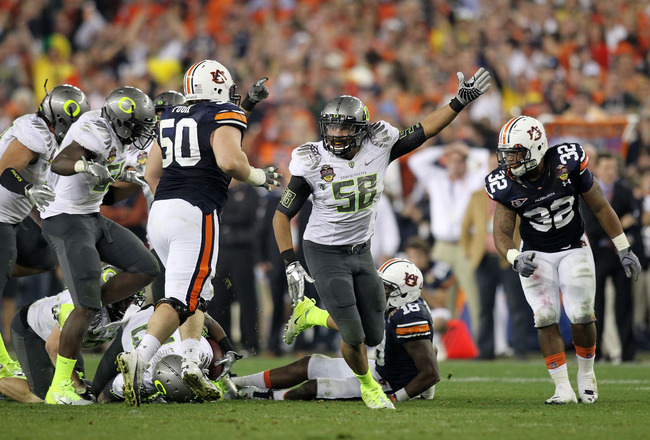 Jonathan Ferrey/Getty Images
As we get closer and closer to the end of the season, it seems as if we're unalterably on course for some sort of BCS controversy.
Unless LSU and Oklahoma State win out, there's going to be more than two teams that deserve a shot at the national championship.
This seems to happen more often than not, and it always leads to questions about the future of the BCS, the fairness of the current system, and how things can be improved to allow more teams an opportunity to compete for a title.
It's no secret that the other divisions—the FCS, Division II and Division III—all have a playoff system, deciding everything on the field. So if Appalachian State, Eastern Washington, Northwest Missouri State, Grand Valley State, Mt. Union College and Wisconsin-Whitewater can all decide their differences on the field, why can't Ohio State, USC, Alabama, Florida, LSU and all the rest?
To be clear, we don't need to abolish the BCS in order to accomplish this seemingly simple goal of a playoff system. It can actually be done within the current framework of the BCS, with a few changes, of course.
So how do we alter the current formula to create a 16-team playoff system in the FBS? Here's our plan.
Playoff Selections: Earned Access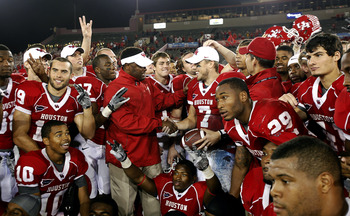 Bob Levey/Getty Images
First and foremost, we have to determine a system to select the 16 teams that will participate in the playoff system each season.
One of the biggest strikes against the current BCS system is the lack of access for the smaller programs. That problem is easily solved by instituting a system of "earned access."
Earned access is a little different than automatic berths that we see In the basketball tournament or the FCS. For our model, we'll use a modified version of the Division II football system.
In Division II, a conference champion earns access to the playoffs if it doesn't otherwise qualify only if it is the top-ranked team from its conference and is ranked above a certain level at season's end.
With only 16 spots open for our new-look BCS playoff, we'll obviously need to weed out some of the conference champions that the vast majority of the nation doesn't think belongs in the postseason. (Cincinnati, we're looking at you.)
We need to keep in mind the independents, too. Notre Dame is currently a BCS-AQ program, even without being in a conference. If Notre Dame finished eighth or higher in the final BCS rankings in the current system, it receives an automatic berth. We'll lower that to 12th and include every independent program in the mix.
Playoff Selections: BCS Rankings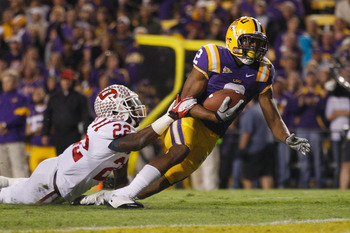 Chris Graythen/Getty Images
We'll keep the BCS rankings system as it is, for now (altering how teams are ranked is a whole other can of worms).
The Top 25 teams in the country will still be ranked every week past Week 7, and our earned access rule will be applied to any conference champion that finishes the season in the rankings. If you win, and you're ranked, you're in.
In most years, that yields seven or eight teams (ACC, Big East, Big Ten, Big 12, Pac-12 and SEC plus one or two from C-USA, MWC or WAC).
Unfortunately, that means the other conference champions will be left out, but at the end of the day, does anyone want to see Western Michigan and Louisiana-Lafayette?
That being said, if teams like WMU and ULL are good enough to find their way into the BCS rankings, fine. They're in. But most seasons, that won't be the case.
Using the current BCS rankings as an example, that would give us seven conference champions (ACC, Big Ten, Big 12, C-USA, MWC, Pac-12 and SEC). How do we select the other nine times?
Simple enough, we take the highest-ranked nonconference champions left in the BCS rankings.
Now, to prevent a regionally or conference-heavy tilt to the playoffs, we're going to have to limit the teams from each conference—just like the current BCS.
Since we added more spots than the current 10, we'll increase the conference limit to three teams. That's not too much to ask, is it—finish in the top three in your conference while being ranked in the BCS?
Playoff Seeding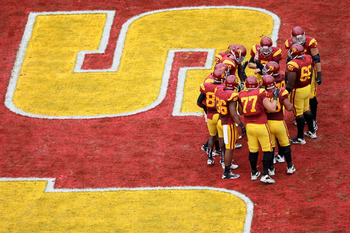 Stephen Dunn/Getty Images
Seeding should be rather straight forward.
Using the final BCS rankings, we will seed each team. The conferences will maintain their traditional BCS bowl tie-ins, so we will break it down into four "bowl groups."
The Rose Bowl Group: Big Ten and Pac-12
The Sugar Bowl Group: The SEC and Big 12
The Fiesta Bowl Group: Two At-Large Spots
The Orange Bowl Group: The ACC and Big East
The conference champion from each of the "big six" will be placed in opposite games, so that if each wins its first-round game, it'll still earn a spot in its traditional bowl.
For instance, if Michigan State and Oregon win the Big Ten and Pac-12, respectively, then Michigan State will play Team X in round one while Oregon plays Team Y in round one, with the winners meeting in the Rose Bowl. That way, if MSU and Oregon win their opening games, the Big Ten and Pac-12 still have their places in the Rose Bowl.
It would also be a good idea to not have two conference champions face each other in the first round of any given year. Unless we find ourselves with more than eight conference champions in the final BCS rankings, that shouldn't be a problem.
The First Round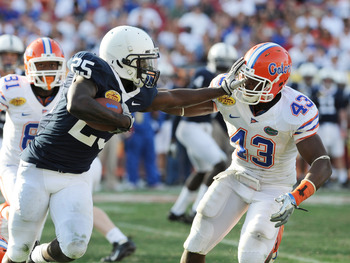 Al Messerschmidt/Getty Images
We live in the era of bowl games and big money attached to each one. It will be very difficult to find eight bowl games to simply eliminate each season if we just added eight "first-round playoff games" to the schedule. Our guess is there won't be many bowls that voluntarily fold.
So why not invite them into the new BCS playoff system?
Take the top-eight bowls outside of the current BCS set-up: the Capital One Bowl, the Cotton Bowl Classic, the Outback Bowl, the Chick-fil-A Bowl, the Gator Bowl, the Insight Bowl, the Alamo Bowl and the Champs Sports Bowl. (These were the eight top payout non-BCS bowls for the 2010-11 bowl season.) Now plug them into the BCS system, and make them first-round games.
The BCS television contracts alone would allow most of these bowls to not only increase potential payouts, but increase television viewership as well.
Face it, if your team isn't playing in the Outback Bowl, you're probably not going to watch, right? But you might if it's a playoff game.
Most of these bowls also have conference tie-ins, and there would usually be opportunities for many of them to maintain those relationships.
So now that we have our first round set up, we can play the games, resulting in eight winners.
See where we're going with this?
The Second Round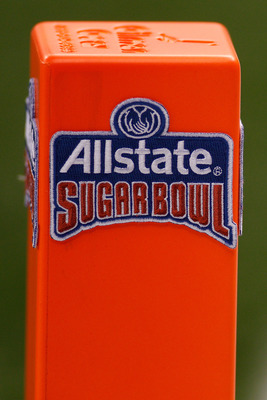 Chris Graythen/Getty Images
Now that we've whittled it down to eight teams, we're ready for our "traditional" BCS bowl matchups.
The most obvious argument about this setup is the open question of whether or not, for example, the Rose Bowl would accept becoming what amounts to a national quarterfinal game.
The simple answer is yes, if it means having the Big Ten and Pac-12 champions face each other in most years.
Millions of viewers will still tune in to watch two titans battle it out in Pasadena on New Year's Day each year. Who wouldn't want to see Michigan and USC tangle after conference championship seasons? Would you turn off Alabama and Texas in the Sugar Bowl simply because it wasn't going to be the final game for the winner?
Didn't think so.
The Semifinal Round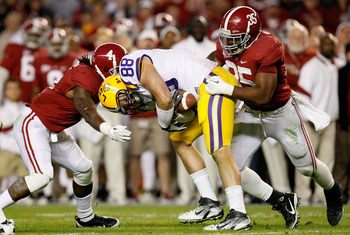 Kevin C. Cox/Getty Images
After our four traditional BCS games, we're going to have four winners. That means we're going to need a pair of BCS semifinal games to figure out who is going to play for all the marbles.
We're willing to wager that there will be many NFL stadiums who wouldn't mind hosting a big college football game in mid-January. Most of those stadiums are empty by that time of the year anyway, and adding a little extra concessions revenue won't hurt anyone (except the guy buying a 12-ounce beer for $9.50).
This would also provide the BCS an excellent opportunity to have two "traveling" games each season, selecting difference NFL stadiums each season and possibly adding a little cold weather to the mix.
It's only fair, right? If the teams from the north are expected to come play in the heat, shouldn't the teams from the south play in a good, old-fashioned, time-honored snow bowl? Show of hands: Who wants to see Florida play Notre Dame at Lambeau Field in January?
The BCS National Championship Game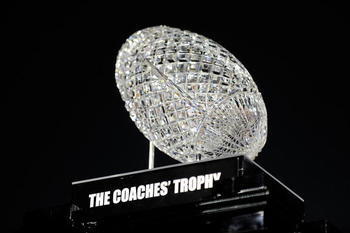 We've finally arrived at what we should have been arriving at for the past 120 years: a true national championship game.
Last year, there were three NCAA programs that could claim true national championships: Eastern Washington, Minnesota-Duluth and Wisconsin-Whitewater. Auburn may have won a championship, but the BCS Championship is determined by polls as much as it is by on-field play.
A much more legitimate and widely accepted way to determine a champion is by a playoff system—and that's exactly what we've outlined here.
So Why Not?
Christian Petersen/Getty Images
One of the big "concerns" of the NCAA and parroted by big-program university presidents across the nation is the "academic impact" on student-atheltes.
Really?
Anyone who has ever heard some of the top FBS football players give an interview know full well that Speedy McTacklebreaker isn't at Dear Old U to get a good education that will lead to a promising career in quantum mechanics. Is the addition of four games going to destroy the futures for these young men?
The next evolution of that argument is to say, "not every college football player is there just to play football or will go to the NFL."
True. But it's even more true in the FCS, and Division II, and really true in Division III. If the FCS can have a 20-team playoff, D2 a 24-team playoff, and D3 a 32-team playoff without sacrificing education, can't the FBS have a 16-team playoff without relegating the athletes to remedial English classes?
Come to think of it, some remedial English classes for FBS athletes wouldn't be a bad idea...
Regardless of the argument, the answer is surprisingly simple. There are, this very day FBS football players at schools like Michigan, Notre Dame, USC, Texas, Northwestern, Vanderbilt, and many others that play football at a very high level, yet still "mysteriously" earn degrees—some even with Latin honors.
Notre Dame leads the FBS with a 96 percent graduation rate for its varsity football players. The Irish usually play 13 football games each season. Would the addition of three more really cause that number to plummet, as the NCAA would have us believe?
Our bet is this new system will still produce the same number of well-educated graduates as the current system, and it would instill a sense of fairness that has been long absent and sorely needed in the top level of college football in this country.
Keep Reading