Kansas Jayhawks Basketball: How No. 11 Kansas Can Take Down No. 2 Kentucky
November 15, 2011
Jamie Squire/Getty Images
1318 days.  
That's how many days it has been since head coaches Bill Self and John Calipari took to the sidelines to square off against each other.  At the time, John Calipari was coaching the Memphis Tigers in a national championship game against the underdog Kansas Jayhawks.  Kansas would end up winning that game in overtime, 75-68.
Tonight, the two head coaches meet again under different circumstances.  Bill Self is still at the helm of the Jayhawks but with a team that is much younger, thinner and inexperienced than the 2008 national championship team.
John Calipari now leads the Kentucky Wildcats after making it to the Final Four last season.  His Wildcats are extremely talented and would like nothing else but to beat another historical powerhouse in the Kansas Jayhawks to kick off the season.  
While most Jayhawk fans had written this game off as a loss long ago, many were surprised to see the explosiveness of this young squad last Friday against Towson.
But that was against Towson.  If you want to be the 11th ranked team in the nation, you're going to have to tussle with the big dogs eventually.  Tonight, the big dogs are here in only the second game of the 2011-2012 season.
Do I think Kansas can beat Kentucky?  Yes, but a lot will have to go in the Jayhawks favor in order for that to happen.  UK is reloaded from a year ago and has looked pretty solid thus far.  
As much as most fans—both in Kansas and the rest of the nation—dislike John Calipari, he brings in some of the best recruits in the country.  Obviously, it helps that Kentucky is—historically speaking—one of the best programs in the country.  Most likely, Calipari will use quite a few of his true freshman.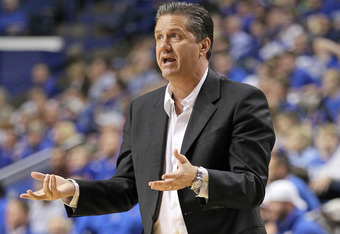 Andy Lyons/Getty Images
Kansas doesn't have that luxury.  With three of Kansas' true freshman ineligible for the 2011-2012 season—and one already transferring to Fresno State—this KU squad is one of the thinner teams we've seen in quite some time.
If Kansas wants a shot at taking down the No. 2 Kentucky Wildcats, KU must execute these things tonight:
Thomas Robinson has to stay out of foul trouble early.
This is one of the most crucial aspects of tonight's game.  With T-Rob being the all-around best athlete on this team, his presence in the paint must be felt for the majority of 40 minutes.  Last Friday, Robinson found himself with two fouls against Towson—a completely inferior team—and was forced to come to the bench in the opening minutes of the game.  
The minutes he sits on the bench are the minutes Kentucky could blow a large lead open in this game.  Kansas needs Robinson to control the paint and relieve the pressure off of Jeff Withey.
Naadir Tharpe needs to keep up his productivity. 
If Tharpe can play like he has in the exhibition matchups and the game against Towson, Bill Self will feel a lot better when he has to give Tyshawn Taylor or Elijah Johnson a breather.  He saw his minutes drop with the return of Taylor and Johnson but was able to come into the game and play effectively during his 19 minutes last Friday.  
That said, he's a young kid who showed us he could make freshman mistakes (nine turnovers against Fort Hays State).  But, on the biggest stage of his life, Tharpe has the opportunity to show us his potential.
Jeff Withey must make his free throws.
Withey has become a huge part of the KU frontcourt and will need to continue his improvement tonight against Kentucky.  While T-Rob will get most of the attention, whenever Withey gets the ball down low he should often get hacked and sent to the line.  Why?  Because he showed us in the two exhibition matchups that he is currently barely a 50 percent free-throw shooter.  
If you haven't realized how big of a factor Jeff Withey has to be for Kansas this season then you will tonight.  It's crucial that the 7-footer gets big in the paint, blocks shots and makes his free throws when he goes to the line.  Don't be surprised if he goes to the line 15 or more times tonight.
Kansas must limit turnovers.
It's a pretty simple and repetitive statement, but Kentucky isn't a team that Kansas can afford to make mistakes against.  If KU repeatedly turns the ball over, the Wildcats will capitalize.  
Considering Kansas lost the majority of its scoring power from last season, this isn't a team that will be able to go shot-for-shot against a team as well-polished as Kentucky.  Simply put, a high number of turnovers will result in a Wildcat victory.
How do I feel about this game?  I feel that Bill Self has a game plan in which he knows—if properly executed—the Jayhawks can win.  That said, I think Calipari and the Wildcats have a strong upper hand this early in the season.  What Kansas fans would really want to see is Bill Self outcoach John Calipari like he did in 2008.  
Kentucky looks like the clear favorite to walk away with the victory, but don't write off the Kansas Jayhawks just yet, as many reporters already have for the season.  Overall, it should be a fantastic game with two successful head coaches and a boatload of talent.
The No. 2 Kentucky Wildcats will host the No. 11 Kansas Jayhawks tonight at 8 p.m. on ESPN.