Steelers vs. Bengals: 10 Observations from Week 10's Win in the Jungle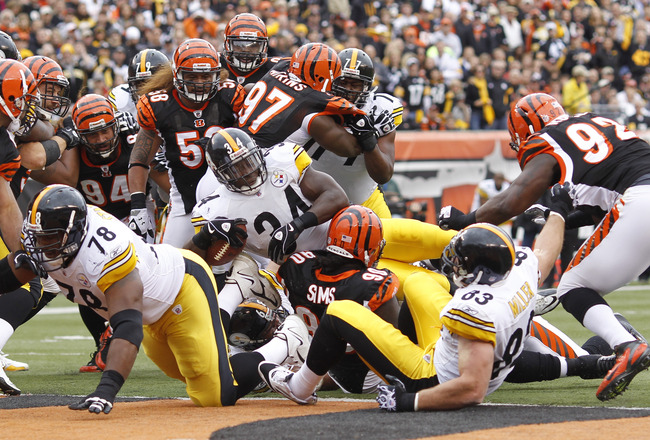 Joe Robbins/Getty Images
A week removed from a heartbreaking AFC North loss to the Baltimore Ravens, the Pittsburgh Steelers traveled to Paul Brown Stadium for a pivotal contest against the Cincinnati Bengals. A win had the potential to propel the Black and Gold back into the division lead.
A loss would have dropped the Steelers to 0-3 against division opponents and possibly into the midst of a thick AFC Wild Card race.
Thankfully for Steelers Country, the hills of Western Pennsylvania were filled with rejoice over a pivotal win.
While Pittsburgh goes ahead of Cincinnati in the standings, the Bengals fought back from an early deficit and proved that their 6-3 record is indicative of a cat whose claws are very much intact. Any notion that the young upstarts would go away quietly were dispatched when the team rebounded to tie the game in the second half.
However, any thoughts of championship contention in Western Ohio were also brought to proper perspective with a barrage of late turnovers against an experienced defense.
After giving up the game-winning touchdown to Joe Flacco and the Ravens last week, Willie Gay and the Steelers defense stepped up their game to deny rookie Andy Dalton in the fourth quarter. The cornerback's key interception essentially ended the contest.
For those Black and Gold-blooded friends who enjoyed Pittsburgh's successful "Jungle Rumble," here are 10 observations from Sunday's win.
A.J. Green's Amazing Catch
Joe Robbins/Getty Images
Who can recap this game without referencing the amazing grab by A.J. Green in the final seconds of the first quarter? It was an amazing display of concentration, positioning, body control, sure-handedness and raw talent.
It also left the receiver lying on the ground with what was reported later as a hyper-extended knee. That's great news for the Bengals, who need the dynamic play-making of their leading receiver down the stretch in what promises to be a contentious race AFC Wild Card race.
While it was his only reception, the play was made with Troy Polamalu and Ryan Clark covering. Forgive me for saying, but these two aren't exactly Joshua Hayes (that's me!) and friend covering here!
For the most part, NFL receivers have a value in direct correlation to the quarterback throwing them the ball, and it is enhanced to a degree by their own ability to separate from coverage and catch the ball.
About once a season, you see a remarkable play that causes a simple "shrug," as if to say, "well, what else could have been done?"
For making the play of the game and showing Steelers fans what a dangerous Bengals receiver looks like (Chad, you tried so hard...), the Black and Gold can only have admiration.

Watch the play again. It's worth it. Really.
Andy Dalton: Huge Upside, Still a Rookie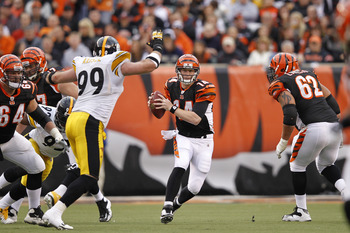 Joe Robbins/Getty Images
In yesterday's contest, fans got exactly the Andy Dalton they should have expected. He showed signs of brilliance, making plays against one of the NFL's finest defenses in his most difficult start to-date. Also, in key situations, he demonstrated room for improvement, namely in his decision-making with the game's final outcome on the line.
A mixture of good and bad, Dalton's first outing against Pittsburgh can be summarized with one word: okay. Consider:
Good: Andy Dalton led the Bengals back from a 14-0 deficit.
Bad: Dalton's offense had two three and outs to start the game, allowing Pittsburgh to take a commanding first quarter lead.
Good: The quarterback's touchdowns were both magnificent. His opening score showcased his trust in play-making receiver A.J. Green, and his second was the result of patience before perfectly laying the football into Jermaine Gresham.
Bad: The rookie's interceptions came at the game's most critical juncture. In the fourth quarter, his last pick with just over two minutes remaining and his offense driving was a bad read, and Willie Gay took advantage.
Good: Dalton made plays in the offense even after the departure of his prime target, showing the ability to work with the talent surrounding him.
Bad: Barring a few miraculous catches, Dalton would have completed less than half of his throws and could have easily started the game 2-of-12 passing.
So, what does it all mean?
Andy Dalton has huge upside, and it showed in the game. Dalton is a rookie. That also showed.
"Buy Another Day" Willie Gay
Jared Wickerham/Getty Images
Last week, I made my thoughts clear about the general tendencies and liabilities regarding cornerback Willie Gay. He is a liability in the secondary.
I stand by my reaction. The citations given regarding his performance in critical games, as well as the fact that opposing offenses often target him on key downs, still lead me to believe that the team would benefit from exhaustively looking for another defensive back.
That said, Gay shut me up for one week. Actually, considering the bye week, he shut me up for 14 full days!
If he can string together a list of successful games and plays without the gallery of highlights showing him trailing in coverage, I'll be persuaded to reconsider my opinion.
His interception to seal the game late in the fourth quarter was the most critical play of—potentially—the most important game of the Steelers season. It cannot be understated. That wasn't his only contribution, as an earlier tip of the ball resulted in Lawrence Timmon's interception AND his pass deflections brought the Bengals punting unit onto the field at least twice.
Thanks for the huge plays. Way to earn your paycheck this week, "Big Play."
Speaking of big plays, the interception was his first since 2008; these are not contributions Willie is making nearly enough. Sure, the whole defense has failed to force turnovers.....this season.
For the maligned corner, it was a perfectly timed effort in followup to his lackluster showing (and not just on the last second touchdown) against Baltimore.
My analysis on his abilities in the secondary was formed over years; one great game doesn't change the fact that Gay's game needs to continue to improve. Even his defenders can admit that.
Antonio Brown May Be (Is) the Most Important Steelers Receiver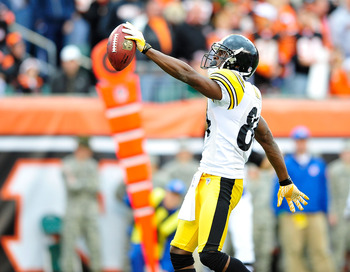 Grant Halverson/Getty Images
So, it's 3rd-and-19? No sweat! We have Antonio Brown.
Mike Wallace is an amazing force, a threat to torch a defense on any given play while having developed into a first down weapon. He is the fastest player on almost any field he graces, and the respect he demands from secondaries certainly opens up opportunities for other receivers.
Even with this consideration, could Antonio Brown be the most important receiver on the Steelers offense?
Wallace is the statistical leader, earning argument for being "most important."
Hines' tutelage has given the youngsters the wisdom and skills for success, though his own production doesn't merit his entry for consideration.
Emmanuel Sanders is a young rocket in the same form as Brown, but Antonio has since eclipsed him in playing time, health, looks and numbers.
And, Jericho Cotchery—let's be honest—is a great third weapon who is biding his time down the depth chart in the 'Burgh, hoping to assist in another Super Bowl run. He's a "Steelers guy," gritty and tough, able to make the big catch in place of the aging Hines. That will be critical in the days ahead.
Antonio? He's the leading pass catcher for three straight weeks (yards), a key target for Ben on third down (which he converts from any distance) and a scoring threat with intangibles that were on display for everyone to see before the season started.
Those who picked up on his skills could see the upside, but who imagined this? Antonio Brown is continuing to prove himself as a potential replacement for the team's most recent Super Bowl MVP.
Cutting the Fat: The Bengals Can Play!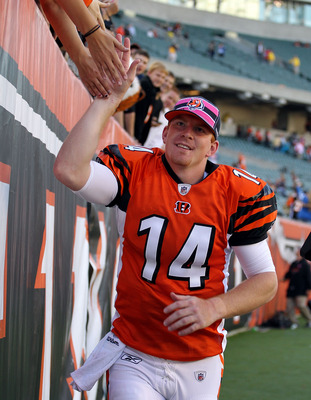 Andy Lyons/Getty Images
For a young team with a 6-2 record getting a first quarter punch in the mouth that had to seem unfamiliar (to them, but not Cincinnati), it would have been easy to pack it in.
After all, 6-3 would still be way beyond expectations in what was supposed to be another season of "Bungle-ville." And, who could expect a rookie quarterback to win his first ever contest against the Black and Gold, sinner an angry Steelers squad?
Down 14-0, Cincinnati looked like a pretender. Moments later, a few key plays—namely a huge passing touchdown from rook to rook—and the Bengals had life. By the start of the second half, they forced a tie.
Even in a losing effort, Cincy showed great promise. At the very least, they'll be a tough out for any opponent they face.
In a conversation weeks back, my co-workers and I questioned if the 4-2 Bengals were overachievers. In truth, I still believe their record is inflated even at 6-3. For someone who predicted a 2-14 season along the Ohio River, the Bengals playing more to their orange stripes than the black ones is a huge surprise.
Yet, despite wondering if they're as good as their place in the standing, I think the words of the wise co-worker fit perfectly to summarize why there is sudden success in an NFL town that was supposed to be an NFL wasteland in 2011 (to paraphrase):
"They're not overachieving. Now, they can finally achieve. Getting rid of a quarterback who didn't want to be there—who threw high and wasn't ever what he was prior to injury—for a young man looking to make a name for himself was always going to be better. You want players who want to win. Cutting the fat by getting rid of two loudmouths and bringing in a rookie phenom is also improving. Having coordinators who see this new infusion of talent as an opportunity and a coach who wants to keep his job. Last year, they had guys who didn't care. They went 4-12. Now, they've won that many games this year already...."
"...so tell me Josh, how are they overachieving?"
As stated, I do believe the Bengals have benefited from the schedule. But, they sure can win, and they can definitely play!
How are they overachieving? Instead of looking at the notion as a negative, let's be positive about it. Answer: getting rid of the guys who didn't give a crap. That's how they're overachieving, a.k.a. winning! And, they don't have to apologize for it either.
After seeing yesterday's effort, it's become clear to me that they're not simply overachieving. Cincinnati just finally has a team that cares to achieve!
Ben Is Playing His Best Football Right Now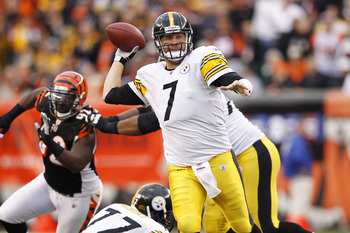 Joe Robbins/Getty Images
Many Steelers fans predicted a career season for No. 7 in 2011. Had his production in the first month of the campaign matched his recent totals, Roethlisberger's stat sheet would be staggeringly great!
Since a loss in Houston, the offense has looked unstoppable in spurts. The unit is developing into a cohesive brand, and Big Ben is benefiting with the best quarterback play of his NFL career. There are a number of reasons.
The line is improving, Ben is staying healthy, and chemistry is being developed between quarterback and receiver.
Able to still hold the ball and extend plays when necessary, Roethlisberger has added a dimension to his game by finding open receivers and delivering the ball quickly and accurately.
And, the classic gunslinger with a brain (sorry, Brett), Ben is doing a better job of picking his chances and making more big plays than bonehead ones when things break down.
Since Week 5, the QB has had a sublime six-week stretch. Extended over 16 games, here is where Ben would be at season's end with his recent level of play: 4, 450 yards, 35 TD, 10 INT.
Not too shabby. Those expecting Ben's greatest statistical season needed only to wait until October.
What One Key Play Can Do...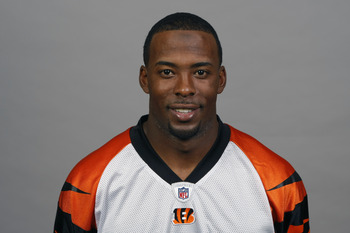 Handout/Getty Images
The Steelers won the game, minimizing the impact of one key play in retrospect. Yet, with the Bengals having a chance to tie the game late, many fans may forget the one down that prevented the AFC North duel from becoming a division dud.
The man making the key contribution to the Bengals was Andrew Hawkins, who used his length to make a critical first quarter catch.
The situation: It's 14-0 Pittsburgh.
The Steelers offense has scored on both of their first two possessions. The Bengals defense, exasperated by the events unfolding and winded after two whoopings, are watching the offense's third drive.
Rookie Andy Dalton is struggling to complete a pass against the Steelers secondary. After two straight three-and-out series to start the contest, the first two downs net a mere five yards again.
For the third straight drive, the Bengals face 3rd-and-5. It's the third straight drive in which Cincinnati faces an immediate third down.
Without a conversion, the game's competitive phase will be hung in the balance quickly. The scoreboard begs to get out of hand!
If the play never happened: Nothing changes. The beatdown continues.
The Bengals get stopped on third down, punt to Antonio Brown and the Steelers likely take over near their own 30-yard line against the exhausted Cincy defense. If nothing else, the first quarter ends 14-0, and the Bengals get the ball back deep in their own territory in the second quarter.
However, considering the circumstances, the odds of Pittsburgh breaking the game open (17-0 or worse) are high.
The play: On 3rd-and-5, Andy Dalton throws to the tall Andrew Hawkins, who reaches out and grabs the ball for a first down at the Steelers' 49-yard line.
On the key play, Hawkins' catch on an average (at best) throw by Dalton nets the Bengals first movement of the sticks in the game. Moments later, A.J. Green makes a miraculous catch to cut the lead to 14-7.
The impact one play can quietly have on the rest of the game cannot be understated.
The Offense MUST Put Games Away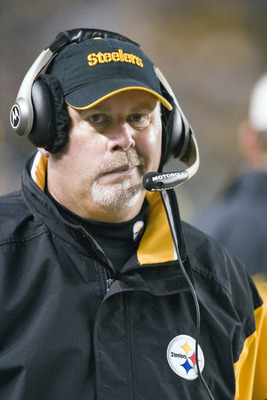 Michael Fabus/Getty Images
It has become a theme.
Up 17-13 against the Jaguars, a predictable second half offense was being called by Bruce Arians. The Steelers didn't score a point after halftime, and the Jaguars had a chance to rally for a miraculous win behind rookie quarterback Blaine Gabbert.
Ben Roethlisberger responded to the half of anemia, publicly requesting additional time in the no-huddle. Of note in the no-huddle is that Ben calls his own plays. Or, another way of saying it is that Bruce Arians doesn't call the plays.
Two weeks later, the Steelers could have run out the clock on New England. Deep in Patriots' territory, the team didn't gain additional yardage, and a field goal that would've iced the game couldn't be attempted. Tom Brady got the ball one last time in striking distance of victory, down 23-17.
Last week, the trend finally bit the Steelers. Unable to get a final first down to end the game against Baltimore or get close enough for the field goal, Pittsburgh pinned the Ravens at their own 8-yard line. While the winning touchdown drive was inexcusably surrendered by the defense, the predictable stagnant offense did nothing to put the contest in the bag.
And, Sunday. Up 24-17, the offense begins to break down. On their final drives, the Steelers went to a predictable format late in game: the RRP offense. Translated, that stands for run, run, pass. True to form, the strategy failed, and the Bengals got the ball back with a chance to tie the score on a defense that had just worked hard and given the offense a chance to win.
If the offense continues to fail to win games, they'll do more than failing to win. They'll lose. The whole team will lose. Opportunities are born of execution, and Arian's predictable playcalling is a different type of execution altogether, if you catch my drift...
In that same vain, while it may be non-traditional, I say, "Bring what 'brung' ya!" The offense needs to win games by sticking to what works for the previous 55 minutes. Adhering to traditional rules that tell teams how they are "supposed to run out the clock" is simply not working.
What Turnovers Can Do!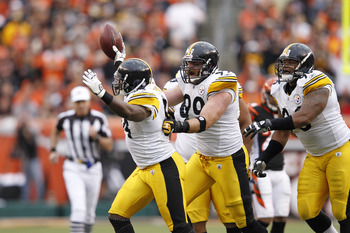 Joe Robbins/Getty Images
"....is predicated on forcing opponents into making mistakes."
How many times have I heard descriptions of the Dick LeBeau Steelers defense end with that phrase? Too many to recall.
About time, then!
Considering Sunday's game in Cincinnati was the first contest all season that the Steelers forced multiple turnovers in a lone affair, it's no wonder the team is 7-3.
In truth, the turnover drought is partly bad timing or, moreover, bad luck. For example, how many balls have hit off of defenders' mits, including the oft-reliable No. 43, and how often has Troy blown up an opponent's backfield mere microseconds after the exchange of football from quarterback to runner has been complete?
Still, almost doesn't count. By that token, it was a relief to see the defense finally force the mistakes necessary to secure a solid win (on the road, no less) against a key division opponent.
Considering the magnitude of the win, especially with how much would have been at risk with a loss, Gay's interception of Andy Dalton in the fourth quarter is the Steelers' most important play so far in 2011.
Hopefully, the multi-turnover game is a sign of things to come for a team that prides itself on taking the ball away.
Hello, Bye!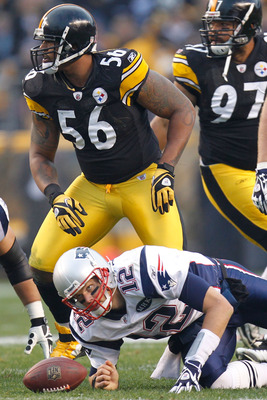 Gregory Shamus/Getty Images
With a chance to get healthy and rested so late in the season, Steelers players surely echo the sentiment after 10 straight weeks of popping pads:
"Hello, Bye!"
Optimism should be high in the Steel City. The Steelers won, while the Ravens endured a key loss. Pittsburgh sits atop the AFC North, a position that will depend on the outcome of a key battle between the Bengals and Ravens next week.
On a bright note, one of them has to lose! Or, if they both tie, neither wins!
The team stands at 7-3. They're getting better, but they have no reason to be apathetic. There are things to work on:
Forcing turnovers.
Running the football in key situations, especially at the end of games.
Winning games on offense.
Keeping the defensive line healthy and able for the upcoming long haul (we hope). Against Benson and the Bengals, there were a few too many running lanes in the second half.
And, well, I'm sure fans can name many more!
Oh, and how about getting that guy standing over Tom Brady in the caption healthy?
With a week off to contemplate the start of 2011 and dream of an immaculate finish, here's to an interesting season to-date and what promises to be an intriguing winter in Steelers Country!
Keep Reading

Pittsburgh Steelers: Like this team?