Florida Gators 2011: It's Time to Think of the Future and Bench John Brantley
November 14, 2011
Streeter Lecka/Getty Images
The Florida Gators finished their SEC schedule on Saturday with a loss to South Carolina. The loss brought the Gators record to 3-5, the first time the Gators have finished under .500 in the conference since 1986, and one of the worst seasons in conference since 1979,Charley Pell's first season as head coach. Similar to this season, Pell was a first-year coach with all new coordinators and new offensive and defensive schemes. 
The Gators now face having to win one of their next two games to become bowl-eligible. Barring a catastrophe they will beat Furman on Saturday and go into senior day against Florida State already bowl-eligible.
With a bowl game almost assured, it is time to think of next year. 
Something can be made of John Brantley's loyalty to his team and the university. Coming in as the Gatorade national player of the year, Brantley chose Florida over Alabama, Oklahoma and Texas. In choosing Florida, Brantley was willing to sit behind Tim Tebow for the foreseeable future.
After red-shirting and waiting until his junior season, Brantley was thrown into an offense that was not suited to allowing his success. Brantley struggled and the wrath of Gator Nation came down on him. 
Finally for his senior season, an offensive coordinator brought in a pro-style system that would show off Brantley's talents as a passer. Through four games he enjoyed moderate success but was never asked to win a game on his own.
After starting the Alabama game off with the best start of his career, minus a pick-six, a high ankle sprain would sideline the quarterback for the next two games. In his absence the Gators lost both games, and since his return the team is 1-2.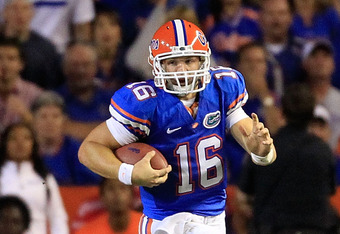 Sam Greenwood/Getty Images
The question that begs asking is, what does keeping Brantley in do for the Gators future? With nothing to play for other than pride, why not let the quarterback battle start now rather than during spring practice?
Yes, Brantley has shown loyalty, but not to this coaching staff. He committed to Urban Meyer and sat for three seasons to play for Meyer and his coaching staff. This coaching staff should be committed to the future of the football program, and Brantley is not the future. 
John Brantley is also not anywhere close to being healthy. Sending an already immobile quarterback out behind a porous offensive line and having him take snap after snap out of the shotgun with no real running threat will not win games. An ankle injury has made Brantley a sitting duck as Xavier Nixon struggles to block anyone that lines up across from him.  
The move is made even more important being that neither Jeff Driskel nor Jacoby Brissett are prototypical pro-style quarterbacks. This much was seen in Driskel's playing time against Alabama, and Brissett's playing time from the LSU game on.
The chance at getting these players starting quarterback snaps this season is invaluable. To be able to have one of these two start against Florida State in the comfort of the Swamp rather than at Doak Campbell Stadium next season would be a great opportunity to learn and grow. 
Starting Brantley at this point is only setting the future quarterback back another three games. The coaching staff has an opportunity to let two talented freshmen quarterbacks work and grow in the system at actual game speed.
The very same move was made on defense. The Gators started a total of eight sophomores and freshmen on the defensive side of the ball, and the defense has, for the most part, carried the team this season. The defense will be better next season because they have gained experience. 
Giving both Driskel and Brissett valuable and meaningful playing time this season will lessen the growing pains they and Gator nation will endure next season.
Yes, some may say as Herm Edwards, "You play to win the game," but an injured John Brantley gives you the same chance of winning as two healthy, talented freshmen. 
It is unlikely to happen, but Muschamp and Weis should make the move and give their freshmen the chance to start the final three games of the season. Put this season behind you and take on the motto of "Next year starts now."