Philadelphia Phillies: 6 Prospects They Should Never Have Traded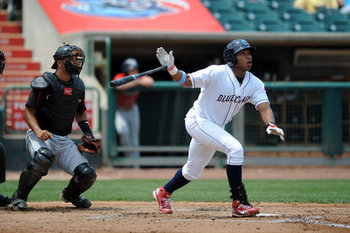 Regret.
GM Ruben Amaro doesn't seem to care to much for that word. He has pulled off some of the biggest blockbuster trades in team history during his brief tenure as head honcho of the Philadelphia Phillies.
Roy Halladay, Roy Oswalt, Cliff Lee, Hunter Pence and others are all top talent that have been acquired via trade. Talent like that doesn't come cheap.
The Phillies have dealt some of their top prospects in the hopes of winning another World Series. That obviously hasn't happened yet and we are left with a staggering payroll loaded with some of the worst contracts in baseball (see: Howard, Ryan).
What prospects would look great in Phillies pinstripes at this point or in the future? Here are six prospects the Philadelphia Phillies never should have traded.
Jarred Cosart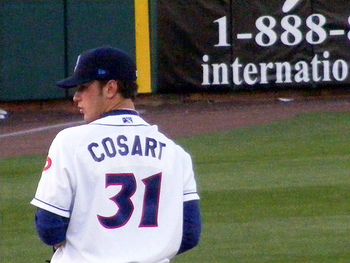 The Philadelphia Phillies traded away Jarred Cosart (among others) to the Houston Astros in the Hunter Pence deal. Pence was the best player on the Astros, so you'd better believe that they expected a lot of potential in return.
Even if their GM is Ed Wade.
MLB.com created a nice ranking of the top prospects that were recently traded away and RH pitcher Jarred Cosart is No. 3 on the list. Cosart is the 36th-ranked prospect in baseball and is immediately the top prospect in the Houston Astros farm system.
Cosart was listed as the Phillies' minor league pitcher with the "best fastball," according to Baseball America. Cosart is extremely young and has the 6'3" frame to be a workhorse.
Cosart can hit the high 90's with his fastball and he has shown the endurance to keep his velocity deep into games. Being clocked at 98 mph in the eighth inning in 2011 is evidence of that.
Cosart has consistently been able to keep his powerful fastball low in the zone. His "stuff" makes him a top-of-the-rotation MLB pitcher.
His curveball has a lot of movement but he needs more repetitions before it is major league-ready. His change-up still needs a lot of work before it is a reliable third pitch. Look for Cosart to crack the starting rotation for the Astros by 2013.
If the Phillies are unable to re-sign Hunter Pence, Phillies Nation will be wishing that they held onto Jarred Cosart.
Gio Gonzalez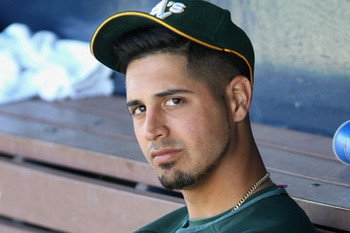 The Philadelphia Phillies acquired Gio Gonzalez along with Aaron Rowand in 2005, but then they traded him and Gavin Floyd in the infamous Freddy Garcia deal.
Floyd was supposed to be diamond in the deal but he quickly faded and now Gonzalez is a real player.
Garcia had a record of 1-5 with the Phillies as their new ace. The one win has affectionately become the "$10 million dollar win," as that was his salary that season.
Gonzalez has become an outstanding pitcher for the Oakland Athletics. Check out his numbers from the past two years:
2010: 15-9, 3.23 ERA, 200 IP, 171 K's
2011: 16-12, 3.12 ERA, 202 IP, 197 K's.
2011 was the first year that Gonzalez was arbitration-eligible. I'd say he is a bargain at $420,000. The 26-year-old lefty turned out to be the diamond in the rough for sure.
Travis D'Arnaud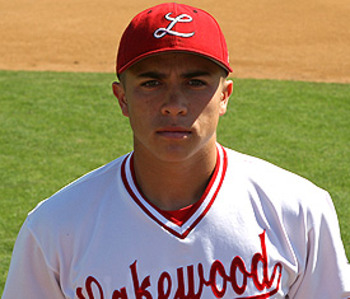 Travis D'Arnaud is only 22 years old and has already proven himself to be a solid all-around catcher. The former first-round pick has hit above .300 three times already, and even hit 21 HR in 2011.
D'Arnaud was always projected to be a power bat and he finally is filling out his 6'2" frame. He has played his way into becoming the 36th-ranked prospect by Baseball America pre-2011.
I'm pretty sure the Phillies are happy with Roy Halladay, but I'm also pretty sure that Ruben Amaro would've liked to include someone else in the deal besides D'Arnaud.
Jonathan Singleton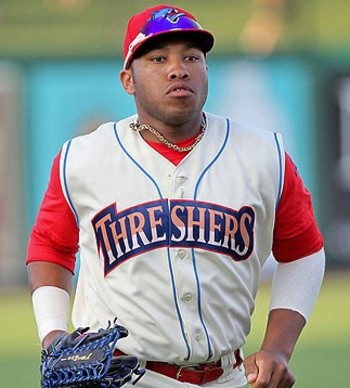 Phillies Nation has taken a long look at the Hunter Pence deal and asked the legitimate question, "Should Ruben Amaro have kept Singleton and traded Domonic Brown instead?"
Brown has been the top prospect in the Phillies organization since 2009, but Singleton has emerged as one of the best young power-hitting prospects in baseball.
Before being traded, Singleton, not Brown, was ranked as the "best power hitter" and "best strike-zone discipline" of all Phillies minor leaguers by Baseball America. Singleton hit .333 in 35 games with 4 HR and 16 RBI for the Astros minor-league affiliate after being traded.
He has the frame, power and plate discipline to be an All Star-caliber player for the next decade.
Josh Outman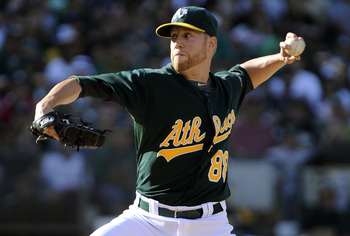 Thearon W. Henderson/Getty Images
You can be assured that the Oakland Athletics felt that moving Joe Blanton was more of a salary dump than an intention of acquiring talent, but that's exactly what they got in Josh Outman.
The lefty has battled injuries a bit, but he has proven that he is a reliable starter for a MLB team.
Outman has a 3.75 ERA in three seasons and his salary would fit in quite nicely with Lee, Halladay and Hamels.
Joe Blanton, "eat" your heart out.
Anthony Gose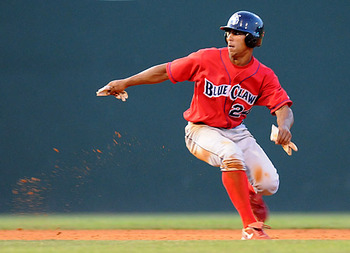 The Philadelphia Phillies are quite close to the luxury tax at this point and still have to find a way to re-sign Cole Hamels. Shane Victorino will be a free agent after this season and there is a possibility that the Phillies may not be able to afford their Gold Glove CF.
Anthony Gose would certainly be a suitable replacement for Victorino... if he were still in the organization.
Gose has consistently hit around .260 (not great), but he plays a superb outfield and he is one of the fastest players in baseball. Take 2011 for example: Gose stole 70 bases in 85 attempts while being hampered with a leg injury; absolutely ridiculous numbers (Rickey Henderson-esque).
Gose has a cannon for an arm and would immediately be a Gold Glove-caliber CF in MLB.
Can you say "do-over?"
Keep Reading

Philadelphia Phillies: Like this team?