2011 Georgia Bulldogs: Mark Richt Proved That He Is the Right Man for the Job
November 14, 2011
Kevin C. Cox/Getty Images
Here we are, in the middle of November, and the Georgia Bulldogs are sitting pretty in the SEC East.
Who would have thought that this team was going to be 8-2 after ten games after its performance against Boise State in week one? Most didn't, including me, who had predicted them to finish 9-3 in the regular season.
After that poor performance against Boise, I thought that the season was over. Even though it was only one game against a non-conference team, I just could not see how Georgia could win the SEC East based on how they played that night. However, their game against South Carolina gave me some hope.
Although they lost at home, they played hard against a completely healthy South Carolina team that was the reigning SEC East champion. They not only played hard, but played well enough to win by a comfortable margin. Unfortunately, mental errors cost them the game. It was just like the Georgia teams in the past two years.
Mark Richt at this point was almost on his way out the door. Fans had lost their patience with him and many believed that he was going to fired soon. There were few outside the athletic department who were still loyal to the man who had returned the Bulldogs to football prominence.
Unlike many other coaches in the same position though, Richt did not stop trying. In fact, he put even more into his team. He did not accept defeat, but sought victory. Granted, the schedule became much easier after the close loss to USC, but there was a noticeable change in the Dawgs' attitude. They played to win.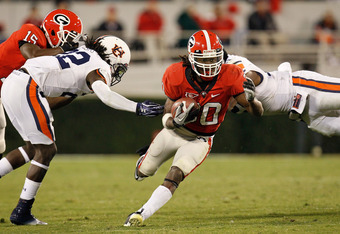 Kevin C. Cox/Getty Images
Starting with a cakewalk in Coastal Carolina, the Georgia Bulldogs went on to win seven straight games. Their defense suddenly became one of the top in the country, holding opponents at or under 20 points in six of those seven games. Their offense, which was thought to be somewhat suspect with all of the youth involved, scored when it needed to and scored at least 20 or more points in all seven of those games.
If there was one asterisk that was to be added to those stats, it is that the opponents Georgia played were mediocre at best. It was because of this that many, even some Georgia fans, thought that Georgia's success was only a result of their schedule. This past week they had a chance to prove that they were for real.
Beginning at 3:40 ET, the Junkyard Dawgs made a statement. They mauled the 20th ranked Auburn Tigers, the defending National Champions. In all four quarters of the game, the offense, the defense, and the special teams played almost flawlessly. We can now say that Georgia is the best team in the SEC East and one of the hottest teams in the nation.
Why has this team turned itself around? Mark Richt is one reason. He kept his cool. He didn't overreact, but instead kept his head. His example was then followed by the rest of his team, who rallied around their leader. He motivated his team to perform to their highest ability and has hired the right assistants to help the team. Todd Grantham has shown that he is one of best defensive coordinators in the SEC.
In their big games, Richt has made all of the right decisions. In the Florida game, he went for fourth down three times in the game. They converted on all three attempts. Against Auburn, he called a timeout with thirty seconds left to try and add more points to the scoreboard. Although they weren't able to score, calls like that prove that he is in it to win it.
The old Mark Richt would have run the clock out and gone into half time content with the score. The new and improved Coach Mark Richt made a riskier call that almost panned out. Championship coaches make decisions like that. Les Miles, Steve Spurrier, Gene Chizik, and Urban Meyer have all made calls like that in the past, and now Mark Richt is joining in.
To all those naysayers at the beginning of the season, just look at the team now. How many other coaches could have done the job like Richt has? He is coaching like a winner, and now his team is playing like winners.
Georgia has the right head football coach in Mark Richt.