Pacquiao vs. Marquez 3: What About Marquez's Style Is so Tough for Pacquiao?
November 13, 2011
Harry How/Getty Images
Another Manny Pacquiao vs. Juan Manuel Marquez fight, another controversy. What is it about the style of Marquez that makes him so hard for Pacquiao to beat?
It seemed like everything was going Pac-Man's way this time. He had the momentum, greater familiarity with the weight division, a striking age advantage, a foe who seemed to be declining.
But once again, Marquez stole Pacquiao's thunder. It was not a good performance for Pacquiao, no matter what the end result was.
Pacquiao looked vulnerable, and his punches didn't seem to possess the same snap they usually do. For the first time in their series, Pacquiao didn't even record a knockdown. Pacquiao may have out-landed Marquez, but the landed punches weren't impressive. I thought Marquez was landing the harder punches. So did the group of people I was watching with.
Maybe we're too tough on Pacquiao. He did win another fight against a top-five pound-for-pound fighter. He has beaten everyone that they put in front of him, and the HBO team seemed convinced that Pacquiao deserved to be the winner.
But in my mind, Marquez was the one who came out on top. He entered the fight a 9-to-1 underdog according to some sources. He sure as heck didn't look like that in the ring.
His counter-punches were crisp, his power and size advantages were evident, and most importantly, he made Pacquiao look bad.
What About the Style of Juan Manuel Marquez is So Difficult for Pacquiao?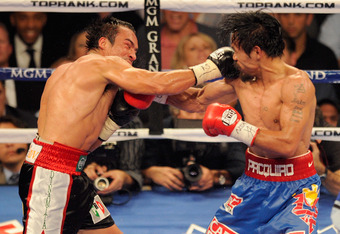 Ethan Miller/Getty Images
In my mind, it's a few things.
1. Timing
Juan Manuel Marquez, like Marco Antonio Barrera before him, has an excellent sense of timing. Not just in that he can know where a fighter will be by the time his fist reaches there, but because he can hit an opponent in the middle of an opponent's motion, when he is least expecting it.
Pacquiao has an unusual tempo. His steps aren't uniform, and he throws from many angles. It's baffling enough to make many exceptional fighters look like ordinary men.
But somehow, Marquez has Pacquiao's timing figured out. He throws at the right time. He anticipates Pacquiao's motion. If anyone made an extraordinary fighter look ordinary last night, it was Juan Manuel Marquez for what he did to Pacquiao.
2. Toughness
There have been faster and bigger guys who couldn't stand up to the style of Manny Pacquiao for half as long as a 38-year-old Juan Manuel Marquez did Saturday night. Even guys who have never been knocked out, like Shane Mosley, faltered against the power of Pacquiao.
Sure, Marquez has gone down many times in his career, but the more I see him, the more I think that those punches must have been the kind that knocked out other guys. Marquez simply can't be shaken. He has the chin of a champion.
Scratch that. He has a chin that's better than most champions'. The opponents he has faced without being so much as staggered is an impressive roster befitting of a Hall-of-Fame fighter.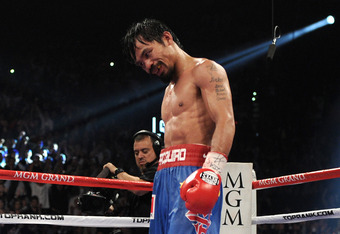 Harry How/Getty Images
3. Composure and Self Belief

Tonight, you got the sense that Juan Manuel Marquez really thought he deserved to win the fight. To many observers, it seemed like Marquez had gone out of his way to learn English just so he could land this opportunity, yet after the fight, he was so distressed he didn't even want to stay in the ring.
I've seen guys who think they deserved to win fights that they clearly didn't. Glen Johnson did that last week.
Juan Manuel Marquez, however, was not pretending. He genuinely thought he deserved to win the fight, and who can blame him? Every time Pacquiao came firing, Marquez hit back. Yes, Pacquiao landed again after that, but I personally thought Marquez's punches had more force behind them. His landed ones were cleaner.
Not many guys can go in with a guy like Pacquiao and not be totally shattered, physically and psychologically. Juan Manuel Marquez can. This should be obvious after 36 rounds of neck-and-neck boxing.
4. Superior Craft
Criticize Nacho Beristain for telling his fighter he was ahead on the scorecards. That's fair game. A lot of people agree with what the HBO commentators said about that.
But you can't criticize Nacho Beristain for the way he has turned Marquez from a Mexican also-ran (next to Barrera and Morales) into one of the world's premier fighters. Beristain has helped prolong the shelf-life of Marquez into a career that has now reached near-extraordinary proportions. He just pushed the world's top-ranked fighter to the limit, all while fighting in an unnatural weight division.
Ethan Miller/Getty Images
You can't do that without being an exceptional practitioner of the great sport of boxing.
5. Durability
With the way their careers have gone, you'd be forgiven for thinking that Erik Morales and Marco Antonio Barrera were several years older than Juan Manuel Marquez.
Think again.
The 38-year-old Marquez is older than 37-year-old Barrera and 35-year-old Morales, yet he is the only one with a legitimately viable boxing career—one that was extended by at least a few fights with Saturday night Pacquiao tilt.
We've seen resilient, much younger warriors like Antonio Margarito, Miguel Cotto, Oscar De La Hoya and Ricky Hatton succumb to the world-class power of Pacquiao. Marquez hasn't yet. Thirty-six rounds later, and he looks better against Pacquiao than he did in their first round against each other.
Manny Pacquiao Will Never Obliterate Marquez
We must all accept this fact. Marquez has Pacquiao's number for many reasons, including the five I just listed. For Pacquiao partisans, it can be frustrating, but as fans of the sport, we must be grateful for the kinds of battles that Marquez helps give us the privilege to see.
Just like Ali wouldn't have been Ali without Frazier, Pacquiao wouldn't be Pacquiao without Marquez. The two bring out the best in each other. That's what a great rivalry is all about.