Manny Pacquiao Beats Marquez: Why This Sets Up a Floyd Mayweather, Jr. Showdown
November 13, 2011
Ethan Miller/Getty Images
Manny Pacquiao's controversial win over Juan Manuel Marquez Saturday night is the perfect lead-in to a long-anticipated superfight with Floyd Mayweather, Jr.
Why?
Because Pacquiao looked very vulnerable tonight, and that's the kind of thing Mayweather wants to see.
Most boxing observers realize that Mayweather's end has been the one that seems more wary of a potential Pacquiao-Mayweather showdown. His drug-testing demands were a bit over the top, and actions like arbitrarily deciding on a venue and date before talking to Pacquiao come across as nothing but petty gamesmanship.
But if Mayweather wants to find a perfect time to have a showdown with Pacquiao to affirm his legacy, that time is now.
Pacquiao didn't fight poorly Saturday night. Marquez was in great form and challenged Pacquiao's normal attack-first style more than anyone has since Pacquiao last fought...well, Juan Manuel Marquez.
But it's clear that Pacquiao looked vulnerable tonight. He looked vulnerable in his last fight too, against Shane Mosley—not getting a knockout when he was clearly in control of the fight.
Somewhere, deep down, Mayweather must know that he needs a win over Pacquiao to cement his legacy. There is no better time for that than now.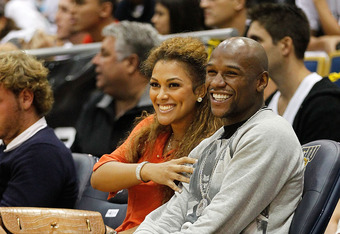 Mike Ehrmann/Getty Images
Mayweather has looked exceptional in his last few bouts. He was impressive over Victor Ortiz and looked dominant against Shane Mosley (was that really his second-most-recent bout? Wow!). Mayweather is in good form right now, and at age 34, he's not getting younger.
Mayweather dominated the guy who pushed Pacquiao to a very tough 12-round decision tonight, and given Pacquiao's apparent difficulties with counter-punchers—a reputation that cemented itself on Saturday—a counter-puncher like Mayweather should be chomping at the bit for the chance to solidify his legacy as one of the greatest fighters of all time. If Mayweather can beat Pacquiao, he will be just that.
As Manny Pacquiao said in his post-fight interview, bring on the fight!