2012 MLB Free Agency: Astros Sign 3 to Minor League Deals
November 13, 2011
Jason Miller/Getty Images
Since it has been a slow news week on the Astros front, I thought I would take a look at the three free agents the Astros have signed. Of course, the Astros are not in a position to spend big bucks in free agency. The ownership situation should be resolved this week one way or the other. Still, the Astros are a young team that is going to continue to go young.
Keeping that in mind, when teams sign guys to minor league contracts we usually call them NRI (non roster invitees). All teams sign these guys if for no other reason than to provide decent competition during spring training. Usually, these players don't make the team, but every once in a while you find a gem that can help you on the bench or in the bullpen.
Brian Bixler - Utility Infielder, Outfielder
Bixler has played for the Pirates and Nationals over the past several seasons. His natural position is shortstop which signals the fan base that the Astros are not confident that they can re-sign Clint Barmes. They have Angel Sanchez in the fold, but no one is really all that confident in his ability to play regularly. The good news is that Bixler profiles as a good defensive shortstop. The bad news is that he profiles as a terrible hitter.
Of course, he happens to be one of those guys that seems to perform well in AAA. People in the business usually call these guys AAAA players. That means they have done all they can in AAA, but struggle at the big league level. Bixler has 260 plate appearances at the big league level. He carries a .187 average in those appearances.
In predictable Astros fashion, he has whiffed in over 31 percent of his plate appearances while walking in only almost six percent of those appearances. He profiles as a plus defender and base runner, but there is no way he should play anywhere regularly. Since it is only November, we can hope that a better replacement for Barmes (should he sign elsewhere) will come along.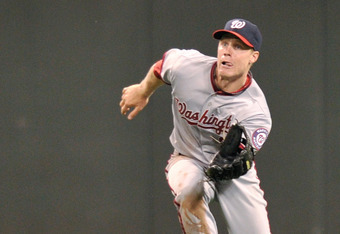 Jamie Sabau/Getty Images
Likely Role - Starting Shortstop in Oklahoma City
Travis Buck - Corner Outfielder
Buck looked like a starting corner outfielder when he came up with the A's in 2007. That would be a great guy to have around. Unfortunately, he hasn't come close to that since. Still, if you add up his career numbers you get the following breakdown: .246/.320/.408.
If the Astros get that from Buck then he'd likely make the team as a fourth or fifth outfielder. Last year, he produced a .617 OPS with the Indians. He profiles better than Bixler, but he still is a high strikeout and low walk guy. He does bring power to the table, but without the ability to make contact consistently he won't be much of a factor.
Likely Role - Competing for Fifth Outfield Slot
Nick Stavinoha - Corner Outfielder
He slugged 28 home runs and drove in 109 runs last season. The trouble is it came for the Cardinals AAA team. When you look up AAAA player in the dictionary, his picture comes up. His big league numbers include a sub-.600 OPS and a walk rate that makes Brian Bixler look like the second coming of Barry Bonds
I suppose it doesn't hurt to take a chance that he can figure it out. After 278 plate appearances I would probably rather see them give Koby Clemens or someone else in their own minor league system a chance. Clemens really doesn't have a defensive position. Neither does Stavinoha, but hey it doesn't cost them anything to take a look.
Likely Role - Hitting cleanup for Oklahoma City.