TCU vs Boise State: Does Upset Loss Affect Kellen Moore's Legacy, Heisman Hopes?
November 13, 2011
Otto Kitsinger III/Getty Images
Boise State's 35-36 loss to TCU hurt the Broncos badly. It may have hurt QB Kellen Moore's legacy and Heisman hopes as well.
It's not lost on Boise State fans that any outside hope of a berth in the BCS National Championship Bowl went out the window when the clock struck zeroes. It's been an uphill battle for the Broncos and Horned Frogs both, to earn respect on the national stage.
It's always been the same argument. Their schedule just isn't strong enough.
With that in mind, Boise State has always had to do more and do it better than everyone else. They've had to have unimaginable numbers and consistent blowout victories. They're not allowed a down week as other teams often get.
Unfortunately, the story isn't dissimilar for Boise's legendary quarterback Kellen Moore.
His Heisman Hopes May Now Be Gone
I've had about as much disdain for the Heisman Trophy voting as I have for BCS selections. There's far too much emphasis placed on things the players themselves cannot control, such as the record of their team and the quality of their competition.
I understand the notion that true leaders find ways to lead their team to victory, but sometimes that's just not possible. One man does not a great team make, and sometimes those around the star athletes fail to hold up their end of the bargain.
It takes a team to win games, yet Heisman Trophy winners are often given the biggest boost in the voting based on what their team accomplished rather than solely on what they accomplished themselves.
Moreover, Kellen Moore could do nothing about the teams on the schedule. That the Broncos have only faced one team that is currently ranked was not his choice. That they play in a Mountain West Conference that still doesn't draw enough respect on a national scale is not his doing.
Yet those things will weigh against him.
When the voters look over Moore's total body of work, will they see that in this loss he was not even the best quarterback on the field, let alone the best player in the country?
I believe Kellen Moore is a better overall quarterback than TCU's Casey Paschall, but today Paschall had the better numbers and got the win. While Moore threw for 320 yards and two touchdowns, Paschall threw for 473 yards and five touchdowns. And got the win.
I'm not saying it's right, but will the voters see that Moore was unable to engineer a game-winning drive against the 61st-rated pass defense in the country and use that as a means to deny him the hardware?
Will they determine that he has been a fantastic quarterback against lesser competition, but had one great game against a ranked opponent (Georgia) and faltered against an unranked opponent, and thus is not Heisman material?
This is a very tough year for Heisman hopefuls. With Andrew Luck leading Stanford to a (so far) perfect season, RB Trent Richardson battering his way through a vicious SEC schedule and a slew of tremendous players stealing away the spotlight on any given week, it's tough to make a clear choice for the trophy.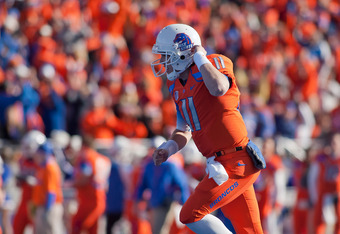 Otto Kitsinger III/Getty Images
This loss may have placed Moore a notch or two down the list and seriously hindered his Heisman hopes.
His Legacy May Contain an Asterisk
This game brings one other little tidbit to light. Over the last five years, Boise State has faced TCU three times. In that time span, the Broncos are 1-2.
As phenomenal as Boise State was while playing in the weak WAC conference, they were 1-1 against TCU. The one time they have played as conference mates, BSU lost.
In other words, Kellen Moore has engineered some fantastic performances, but he just couldn't beat TCU. He's won more games than any quarterback in FBS history, but he couldn't really beat TCU.
That might not be fair, but it's true. Yes, he did get a 17-10 win on January 4, 2010, so it's not fair to say he couldn't beat TCU. He couldn't beat them consistently, though. They had his number more than he had theirs.
Is it fair to pin a player's legacy on his performance against one team?
Probably not, but it will be remembered. It will be remembered that Boise State and TCU held some of the fiercest battles in college football. They have been the Ali-Frazier of mid-major football.
Only in this case, TCU is Ali and Moore's Broncos would be Frazier. As great as they have been, they were only unable to upend the Horned Frogs one time.
That's part of his legacy, too. All of the wins, all of the tremendous performances and all of the attention that he's helped bring to Boise State are the bigger part of his legacy. But this is part of it, too.
Kellen Moore should go down as one of the greatest quarterbacks in college football history. What he's done at Boise State has been something to behold, and it's not quite done yet.
He will eventually find his way into the NFL. I don't doubt that he'll have success playing on Sundays. He's certainly got the talent and intelligence to succeed at that level.
But today's loss took something away from him. It may have taken away the Heisman Trophy, and his long-term legacy will always be remembered with the added note, "but he couldn't beat TCU."