Euro 2012: Are France and Karim Benzema Genuine Contenders?
November 12, 2011
Mike Hewitt/Getty Images
Okay, I'll start by admitting that despite the excitement, Euro 2012 is still a pretty long way off. As it stands, it's only the middle of November, and an awful lot of football will still be played over the course of the season, in the Champions League, Europa League, across the various leagues in Europe and, of course, the playoffs for the Championships themselves.
I know this.
But whenever you start to realize that there's a major tournament just around the corner, even if we have another few months until it all gets underway, you can't help but start to think about it. It's in those quieter moments during the day that the mind starts drifting naturally towards predictions as to what's going to happen, and how it will all pan out. And this is despite the fact that my country (Scotland) aren't even going to be playing at it.
So who are the contenders?
Many would argue that Spain remain unstoppable and will need essentially to go out of their way to fail—the tournament is theirs to lose.
Others might argue that Germany's young, ever-improving side, who were so impressive in the World Cup in South Africa and who stormed their qualifying group without dropping a single point, are on the verge of making the step up. They'll be capable of combining the quality and enterprise their team seems to have in abundance with the sheer ability to come through and win that we've come to associate with German sides over the years.
Then there's the Netherlands, who despite Spain's seemingly uncontested reputation as the greatest side in the world (a title that they merit, I would add) were only beaten by a goal late in extra time in the final in Johannesburg in 2010. Surely their luck will turn at some point?
But one side who might be flying under the radar to some extent at the moment are France. The disastrous end to Raymond Domenech's tenure, culminating in the players strike at Knysna and their calamitous exit at the group stage from what was far from the most difficult of groups, has meant that on the whole, people are—perhaps wisely—reluctant to be too confident about their chances.
Yet since Laurent Blanc left Bordeaux to replace Domenech, France have been quietly but confidently going about their business. Yes, his record of 10 wins, four draws and just two defeats in the 16 international games since he's been in charge may be more solid than it is spectacular. Moreover, a qualifying group in which Bosnia and Herzegovina were their biggest rivals for first place might not necessarily have proved the sternest test of their ability as a team.
But even if at this stage any optimism on France's part is more cautious than anything else, there's reason to believe that they're beginning to make genuine progress as a team, and that by the time the summer does finally come around, they'll be in a position to mount a serious challenge in Poland and Ukraine.
Just look at the players.
Fair enough, this hasn't always been the best way of making a case for a team to be contenders for a tournament. How many times has a team that looked so good on paper failed to deliver at all when it really mattered? Didn't France have a quality squad—on paper—for the World Cup back in 2010?
Well, yes. But no.
While France's squad had obvious quality, one of the problems with the group aside from the obvious lack of cohesion and serious leadership problems (both on and off the pitch) was that they lacked any real dynamism, energy or even enthusiasm. Many of the players were coming towards the end of their careers—Henry, Anelka, Cissé—and there was almost a sense of complacency coming from players who'd achieved so much in their careers, and who weren't really willing to make the effort required to succeed at the international level.
But when you look at the current squad, you begin to get the impression that things have changed. For a start, and perhaps most importantly, Karim Benzema (a surprise omission from the 23-man group that traveled to South Africa) seems finally to have found his feet with Real Madrid, and has been in sensational form since the start of this season. If he's not scoring, he's creating goals, and he looks set to become the focal point of a French attack that has seemed so lacking since Thierry Henry's decline at international level.
Then there's Samir Nasri. In search for a real successor to Zinedine Zidane, France can now confidently turn to Manchester City's attacking midfielder in the hope that he'll be able to provide that spark and ingenuity that's been missing since Zidane left the international fold, and when you consider that Nasri will most likely be playing alongside the impressive Jérémy Ménez and Franck Ribéry, who seems finally to be returning to the form that saw him become so highly rated a few seasons ago, France have an attack that should pose even the best sides some serious problems.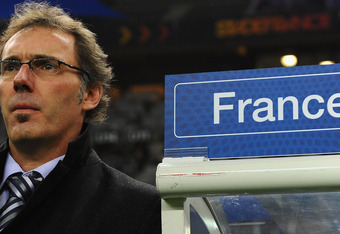 Mike Hewitt/Getty Images
Even in reserve, France can look to the likes of Loic Remy, Mathieu Valbuena, Marvin Martin, Yoann Gourcuff, Kevin Gameiro and others... it's an impressive list.
France's midfield also looks strong, with the almost metronomic Yann M'Vila providing a regularity and a consistency in the centre of the park that's so important for any successful side. But while his defensive game is impeccable, M'Vila offers more than many of his peers in the defensive midfield position and has an attacking side to his game superior to that of Jeremy Toulalan, or even Lassana Diarra.
The defense is one area of the team that might be considered more of an issue, given that there are still a number of players looking to really make their name on the world stage, many of whom haven't even been capped that many times. But when you look at the players concerned, it starts to take shape as a pretty formidable back four, with plenty of options giving Blanc some decisions to make in the run up to the tournament itself.
Two from Rami, Sakho, Mexes and Koscielny should make up a solid central defensive partnership. Left-back is a strong position with Gael Clichy, Patrice Evra and Eric Abidal all in competition for a place in the starting lineup.
On the other side, Bacary Sagna will most likely remain the top choice, with Mathieu Débuchy and Anthony Réveillere running him pretty close. The key may well be to settle on a back four and give them enough time to gel together.
One thing that is for sure is that despite Steve Mandanda's strong start to the season, Hugo Lloris is the undisputed No. 1 goalkeeper, and a player whom Blanc knows he can rely on to pull off incredible stops when called upon. Even if the defense does prove to be shaky, Lloris has proved his quality time and time again, and there's little reason to think he won't continue to play the same way. Teams don't win tournaments without world-class goalkeepers—just think of Iker Casillas or Gianluigi Buffon—and Lloris is someone who fits that bill perfectly.
All things considered, France should have the quality as a team for them to be considered genuine contenders for the European Championships, even if it might be considered a surprise for them to overcome Spain, Germany or the Netherlands.
But as we've seen before, it's all very well just to list the players and argue based on the squad that a team is good enough to succeed. France will have to make sure that the quality they have in abundance on paper translates into a winning team on the park, and that they can function properly as team.
No more controversy. No more dressing room bust-ups. And no more strikes.
If they can steer clear of the sort of problems that have plagued them in the past, they're going to be in with a genuine chance.
But this is still November. There's still a long, long way to go.