Carrier Classic 2011: Michigan State Sunk by Youth, Overwhelmed by No. 1 UNC
November 12, 2011
U.S. Navy/Getty Images
The USS Carl Vinson provided one of the more awe-inspiring athletic locales in recent memory Friday night as the No. 1 UNC Tar Heels defeated the Michigan State Spartans decisively 67-55. The Spartans were able to bring it within a respectable margin near the end, but were outplayed handily for the majority of the contest.
MSU got out to an early lead due mostly to Carolina's inability to hit low-post shots and an exceptional effort on the offensive glass by the Spartan big men. Most notably, senior Draymond Green finished with 18 rebounds, seven of which he collected on Spartan misses. He was the only player for either squad to pull down double-digit boards.
Even with this domination on the glass, however, Green could only manage a 6-for-19 shooting effort, showing little improvement in his offensive game from last year aside from a soaring two-handed put-back late in the game.
In his first game as starting point guard for MSU Keith Appling looked the part, and only spent 19 minutes on the floor due to foul trouble throughout. He would eventually foul out on his third charging call of the night with a disappointing zero assists, four turnovers and five points. Redshirt freshman Travis Trice picked up some slack for Appling, logging three assists and three steals to go along five points in 20 minutes on the hardwood.
Probably the most positive thing Spartans fans can take away from Friday's game is the immediate impact of true freshman Branden Dawson on the offensive end. Dawson put in the Spartans' first two points to begin his career, and showed the ability to score inside against the formidable Tar Heel presence down low. 
After going to the floor near the end of the first half with what appeared to be a serious knee injury after slipping on the Quicken Loans logo at center court, Dawson was able to return and put together a more than respectable game in his Spartan debut with a crowded stat line of 10 points, seven rebounds, two blocks, two steals and an assist in the Spartans' best all-around performance.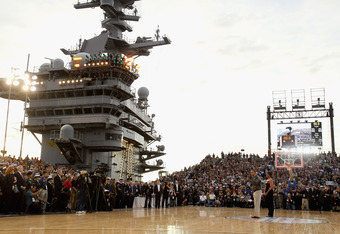 Ezra Shaw/Getty Images
Brandon Wood, the Spartans transfer from Valpo, was all but transparent in his debut while putting in seven points to go with one assist. Senior swing man Austin Thornton put forth an abysmal effort, shooting 0-for-5 from long range and 0-for-7 overall. Chances are Thornton is not looking to play on a boat again any time soon as it was clear his shot was affected by the unusual environment more than others, most of whom did not seem too bothered by the unique setting.
Tom Izzo will likely be shuffling his starting lineup around until he finds a group that meshes better than the five who led off the game on Friday, potentially placing big-bodied Derrick Nix in the mix after he outperformed the rest of the Spartan bigs overall. Adreian Payne again showed flashes of potential, specifically with two late power slams, but Nix's positive presence under the basket when he was given opportunities was hard not to notice.
All in all, MSU showed much room for improvement, but remaining competitive against the nation's top team will serve well to keep them motivated moving forward in this young season. Inexperience, both individually and collectively, showed through in the form of blown fast breaks and untimely turnovers, but at times the green and white showed that they have the talent to remain competitive in the powerful Big Ten this season. 
The Spartans' road doesn't get much easier as they face off against No. 6 Duke on Tuesday for their second game of the season. The Blue Devils failed to finish strong against an overmatched Belmont team on Friday, and were barely able to hang on in a surprising one-point victory against the Bruins of the Atlantic Sun Conference. Krzyzewski's bunch will likely come out on Tuesday with a vigor that the Spartans had better be prepared for, or it could get much uglier than this one did.