NFL Fines Steelers' Ryan Clark for Hit: Fines Lack Clarity on What's Legal
November 11, 2011
Jared Wickerham/Getty Images
Ryan Clark has been fined. Why? For playing football.
The commissioner's office lacks any direction when it comes to fining players for being violent while playing a violent game. For Steelers safety Ryan Clark, there have been back-to-back weeks of fines.
The Steelers were penalized 15 yards on unsportsmanlike conduct for multiple weeks in a row; Clark's bank account was penalized as well.
NFL commissioner Roger Goodell can act as judge and jury when it comes to handing down fines to his field hands. Yes, Clark will attempt to appeal the decision—but his appeal will be sent to Goodell.
Apparently, NFL players forgot to negotiate a system of checks and balances in the NFL. When signing an agreement with the owners, someone forgot to mention that there needed to be an adjustment to the dictatorship.
"King Kong Ain't Got Nothing On Me."
For all intents and purposes, Clark's hit on Baltimore tight end Ed Dickson was the only option he had of making the play. If there is no other way for Clark to make a play, what options does he have?
If he had connected helmet to helmet, which is how devastating injuries happen, then the fine would be completely understandable. That was not the case. Quarterback Joe Flacco led Dickson into the safety. In the old days, they used to call that "setting a receiver up."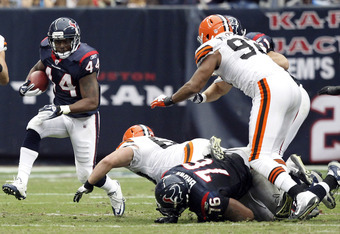 Bob Levey/Getty Images
As Ed Bouchette in the Pittsburgh Post-Gazette wrote: 
Clark said if he's going to get hit with such a big fine on what he and Tomlin and teammates believe was a clean hit, "I might as well put him to sleep for real" or take out the receiver's knee.
This sets up a precarious scenario. If it's still 15 yards either way, you might as well make those yards count.
Clark's play is eerily similar to a hit San Diego Chargers safety Steve Gregory made on Monday Night Football against the Kansas City Chiefs. No helmet-to-helmet contact, yet he was penalized on the field and fined $10,000 by Goodell. (Clark is an alleged repeat offender and therefore was given a higher fine.)
Should defenses be allowed to play two-hand touch?
There is absolutely no way either safety could have made a cleaner hit. If they tackled lower, a knee injury could have happened or the safety hitting might have received a neck injury.
Defenseless receivers cannot be hit. The league has gone so far in one direction that they might as well allow the two-hand touch on all wide receivers.
Ed Dickson is 6'4, 255 lbs. Ryan Clark is 5'11, 205 lbs. If Clark doesn't tackle Dickinson, or hit him as fast as possible, it sure makes it difficult. Clark can't let Dickson get his feet set, shift the ball to his good hand and regain his balance—or it's game on.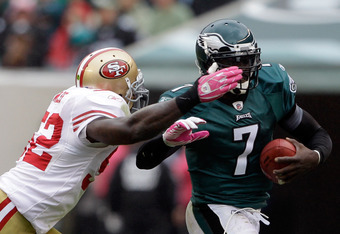 Rob Carr/Getty Images
The only way to even the playing field is by allowing the two-hand touch rule.
A Fine for Every Late Hit
Why doesn't every unsportsmanlike penalty result in a fine?
Every time a quarterback is hit late, there should be a fine. Every time a player gets hit out of bounds—or horse-collar tackles, face-masks, roughs the kicker, performs an illegal chop block—there should be a fine.
There's reason to believe that the league targets the Pittsburgh Steelers.
There has yet been a fine for an illegal chop block. Heck, they even allow legal chop blocking—just watch the Houston Texans play. Why stress "player" safety, when what's really meant is "offensive player" safety?
Vikings offensive lineman Brian Robison was fined ONLY $20,000 for kicking a Packers defender in the groin area.
Texans offensive lineman Duane Brown was fined ONLY $7,500 for punching Jacksonville linebacker Clint Sessions.
There aren't even penalties given to wide receivers who crack block defenseless defensive players.
Crack blocking occurs when an offensive player targets a defensive player who is not looking—particularly safeties and outside line backers. In fact, wide receivers get away with helmet-to-helmet blocks on defensive players.
If defensive players do not get fined or penalized for personal fouls, does that translate as a bad call by the officials?
To the Green Bay Packers it does.
Clay Matthews was penalized for hitting quarterback Christian Ponder too hard, but not fined. Assuming the league office watched the play and didn't fine Matthews, it must have been a bad call.
Jason Babin of the Philadelphia Eagles was penalized for roughing the passer against Jay Cutler and the Bears on Monday Night Football. Babin alleges he was pushed into Cutler—apparently the league agreed and he was not fined. Bad call.
The "bad call" cost the Eagles dearly. Instead of the Bears being forced to kick a field goal, Barber ran in a touchdown. The Eagles would go on to lose, 30-24. Those four points on the board made a world of difference.
The league must straighten out the way they fine and the way they penalize. Players clearly misconstrue one without the other. Safety for the offense, and not the defense, is a clear double standard.
Not that it matters—appeals just go to the one man who makes all the rules.