Toronto Maple Leafs: Will Brian Burke Pull the Trigger on a Trade Soon?
November 11, 2011
Bruce Bennett/Getty Images
The NHL tiers are starting to take shape.
NHL teams are starting to learn their shortcomings, and will look to patch their holes quickly. The first round of shakeups is just about here, and the Toronto Maple Leafs are in the thick of things.
I want to take a look at team needs and player desires. Brian Burke, in my mind, needs to make changed in order for this team to be successful down the road.
Rumours are always swirling around that Maple Leafs general manager Brian Burke is looking for a trade. But right now the team has been doing well and major changes might not be the best decision. Unless a dire need is met with a trade, it might not be worth bumping chemistry.
One of the team needs is proven scorer and the team should willing to give up several pieces to get it. This player would fit in the Leafs' top six forwards, and provide Toronto with even more depth up front as someone would move down the depth charts.
A few prospects or energy guys should be packaged into this deal.
Toronto should also trade away a defensemen in a potential deal, as we have a boatload of NHL calibre defensemen who could help out other clubs. Who is the best candidate? Probably Cody Franson.
Even though I think he is great and was put into a bad position when he was thrown onto his weak side. I get a feeling that Wilson doesn't like him, or he is not doing well in the system. Dion Phanuef, Luke Schenn and Mike Komisarek slot in on the right side. He should take Kommy's spot, taking less cap space and providing more offensive upside. But that's just me.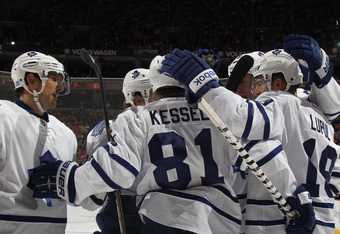 Bruce Bennett/Getty Images
Matt Lashoff looks to have some value, displaying an overall sound game, and he has little chance of ever cracking the Leafs' lineup. Trade bait anyone?   
Brian Burke should be ready to pull the trigger to bring a top forward to Toronto whenever the opportunity presents itself, even if the trade is a blockbuster.
One name that never seemed available till a resent drop in form is Carolina Captain Eric Staal. He was up there in the dream trades with the likes of Rick Nash and Ryan Getzlaf in years past (the guys every Toronto fan secretly wishes to be in a Leafs uniform year after year even though they know it will never happen), but that has all changed.
Staal has had a bad start to his year, with the likes of Jeff Skinner essentially taking over his role, and with Sutter as even more depth at center. Staal is no longer an untouchable. He has a huge cap hit, and with Carolina sticking to the cap floor, it leads one to think if it's a wise investment to have such a huge percentage of your budget in one player. Eric Staal is a leader and a face of their team, but maybe the team heads in a new direction? Bigger names have been moved.
Brian Burke personally scouted the Carolina-Boston game on October 18, according to ESPN's James Murphy. Could Burke have been interested in some Hurricanes players?
Maybe the team considers other centers, like Stastny or Weiss. They are always around, but do not seem like the game-changing players that Brian Burke covets. They aren't that much better then what the Leafs already have.
Stastny is good, but a slow skater. I don't like that but there are not many options out there. Is another Lupul/Gardiner trade going to occur, just out of nowhere players are brought in without any warning signs?
Whatever is going to happen, it needs to happen sooner rather then later. We need our best players to gain chemistry and become a cohesive unit before playoff time. Can you believe that I'm even talking about playoff time?
Let the good times roll in Toronto. Brian Burke is going to add a piece to push this team into contention and hopefully into a competitive playoff-calibre team. 
What are your thoughts?