Wilkes-Barre/Scranton Penguins News and Notes: Nov. 11, 2011
November 11, 2011
Last week, the Wilkes-Barre/Scranton Penguins finally broke their home losing streak and kept up a perfect record on the road, propelling them to the top of the AHL's East Division.
The week also saw the most player movement between Wilkes-Barre and Pittsburgh since the start of the season.
Who's up, who's down and how did the Penguins get into first place?
Keep reading to find out in this week's edition of Wilkes-Barre/Scranton Penguins News and Notes.
Penguins Shut Out Bears for First Home Win
The Penguins got their first win of the year at Mohegan Sun Arena last Friday night by defeating their intrastate rivals, the Hershey Bears, by a score of 4-0.
Colin McDonald had a two-point night with a goal and an assist, while Joey Mormina had a rare two-goal performance, including a shorthanded, empty-net goal in the final 2:43 of the third period.
Jason Williams also scored for the Penguins, and Brad Thiessen stopped 19 shots for the shutout.
In the Bears net, former Penguins netminder and 2006 AHL Goaltender of the Year Dany Sabourin was pulled after surrendering three goals on 13 shots. Braden Holtby came in during the second period and stopped all nine shots he faced.
Jim McIsaac/Getty Images
Pens Stay Perfect on the Road
The Penguins kept up their outstanding road record by taking a 2-1 shootout win from the Binghamton Senators last Saturday night at Broome County Veterans Memorial Arena.
After a scoreless first period, Zach Sill got the Penguins on the board in the middle frame. The Pens maintained their lead until late in the third period, when Mormina received an interference penalty and 10-minute misconduct. The Sens' Mike Hoffman scored on the following power play with 1:54 left in the third to force overtime.
The two teams ended up in the shootout, where the Penguins got goals from McDonald, Niko Dimitrakos and Bryan Lerg to wrap up the win. Binghamton only got goals from two out of their five shooters.
The winning continued in Norfolk on Wednesday night with a 4-2 victory. Ben Street had a three-point game with one goal and two assists, while Eric Tangradi had two goals.
Penguins captain Ryan Craig, making his return after knee surgery, had an assist against his former team. Thiessen made 25 saves on 27 shots for the win.
Robert Bortuzzo Makes NHL Debut
Defenseman Robert Bortuzzo earned his first NHL call-up to the Pittsburgh Penguins last week and played in Pittsburgh's matchup with the Los Angeles Kings. He played 10:38 and went scoreless in the shootout win.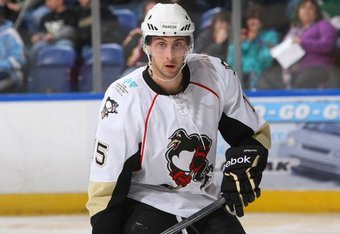 He has a plus-three rating in two games for Wilkes-Barre and missed the first part of the season with a knee injury sustained in the rookie tournament in September.
Eric Tangradi Called Up to Pittsburgh
Top Penguins prospect Eric Tangradi was called up to Pittsburgh on Thursday due to an injury to Tyler Kennedy.
Tangradi is second on Wilkes-Barre/Scranton with 12 points this year and first with seven goals. He has played 16 career games with Pittsburgh and has three points and 10 penalty minutes.
Pittsburgh coach Dan Bylsma siad Friday morning that Tangradi will play in the evening's game against the Dallas Stars, but it is not yet known how long he'll be up.
Come on Down…
Dustin Jeffrey and Steve MacIntyre were assigned to Wilkes-Barre/Scranton earlier this week on conditioning assignments.
Jeffrey has played six games with Pittsburgh this season and is scoreless. He is coming off a knee injury sustained last season while with the big club. He had 45 points in 40 games during the 2010-11 season, but went scoreless in Wednesday's game against Norfolk.
MacIntyre last played in the AHL in 2009-10 with the Rochester Americans, where he had two assists and 86 penalty minutes. He has played in just four games with Pittsburgh this year and has two penalty minutes.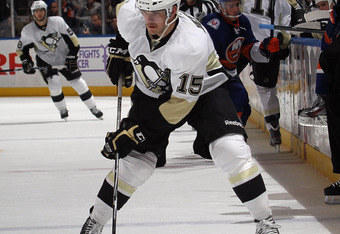 Bruce Bennett/Getty Images
He had nine penalty minutes in Wednesday's game.
In addition, Cody Chupp, Matt Rust and Ryan Schnell were sent to the Wheeling Nailers of the ECHL.
Chupp had two assists in six games for Wilkes-Barre, while Rust was limited to two games because of a hand injury and only managed a minus-one rating.
Schnell, who played 11 games with WBS last season and scored two goals, had a plus-one through three games this year.
Where There's Smoke…
Things got a little hot last week in Binghamton, and it wasn't because summer showed up in November.
Prior to last Saturday's game, the fire alarm at Broome County Veteran's Memorial Arena sounded, forcing fans and players from both teams out of the building. The arena was empty for about 25 minutes while the fire department investigated.
The cause of the problem was smoke in the arena's mechanical room, and thankfully, no one was injured. However, the start of the game was pushed from 7:05 p.m. to 7:10 p.m.
Current Record and Upcoming Schedule
Justin K. Aller/Getty Images
The Penguins are currently in first place in the East Division with a record of 8-2-2 for 18 points.
Their next five games are as follows:
Friday, Nov. 11: at Hershey, 7:00 p.m.
Saturday, Nov. 12: vs. Norfolk, 7:05 p.m.
Tuesday, Nov. 15: vs. Binghamton, 7:05 p.m.
Friday, Nov. 18: at Portland Pirates, 7:00 p.m.
Saturday, Nov. 19: at Manchester Monarchs, 7:00 p.m.
Watch and Listen
Fans can tune into the games on 102.3 the Mountain, the Penguins' flagship radio station. Tom Grace will call the action and Mike O'Brien will act as color commentator.
The games can also be viewed on AHL Live for the cost of $6 per game. A variety of season packages are also available.