UFC on Fox: Cain Velasquez' Chin vs. Junior Dos Santos' Takedown Defense
November 11, 2011
This Saturday night marks a pivotal achievement in the UFC's continued conquest for mainstream acceptance. For the first time in the promotion's history, the UFC will begin its primetime television deal with Fox by showing a marquee matchup between heavyweight champion Cain Velasquez and No. 1 contender Junior Dos Santos for the wonderful price of free.
Dana White is living his boyhood dream, bringing a heavyweight championship bout to free TV, reminiscent of the earlier golden years of boxing.
Nostalgia aside, this fight is arguably the UFC's most intriguing, evenly matched title fight available in any division—a contest that has been in the making for the last couple of years. Now that this historic fight is finally coming to fruition, how does it really boil down, and what is the key factor in this closely contested pick 'em fight?
The real UFC on Fox headliner is Velasquez' chin versus Dos Santos' takedown defense.  It's always been about these two disputed areas of their respective games; even back when these two should have went to war for No.1 contender status, when Brock Lesnar held the belt.
In reality, against any other opponent, either one of these guys matches up advantageously with a near perfect skill set—which makes it so difficult to pick a victor as they come close to scheduled blows at UFC on FOX.
Both possess high caliber striking—Dos Santos nurtured in the art of boxing and Velasquez in Muay Thai—capable of cutting the power off in any foes' lighthouse. Also, unlike a good portion of heavyweights, these two competitors have displayed impressive cardio for guys their size.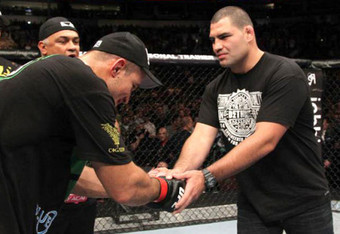 Both are younger men, with tenacious will and unwavering determination, who are simultaneously peaking at the same time as the legitimate best in their division.
Furthermore, neither man has tasted defeat in their UFC careers, nor have they truly experienced troubling opposition—like they will when they face each other.
So, what separates them in the octagon?
What makes the outcome of this fight a little more than a shot in the dark is the champ's chin and the challenger's wrestling defense. Each of these problem areas will more than likely determine who holds heavyweight gold when Joe Rogan starts his post-fight interview, depending on who can exploit the other's weakness and impose his own strengths.
There's no doubt that the window of opportunity is small for each fighter, but their respective camps will have revolved their strategies around these two points of contention. It shouldn't be too surprising either, considering both Velasquez and Dos Santos' previous performances in the UFC.
At UFC 131 this past June, the Brazilian's takedown defense exceeded expectation against one of the division's premiere wrestlers in Shane Carwin. After successfully sprawling against Carwin's takedown attempts, Dos Santos was able to utilize his devastating boxing for five rounds, battering his opponent's face into a bloody mess for a unanimous decision victory.
Needless to say, this performance silenced critics and proved to the world that Dos Santos has answers when paired up with an elite wrestler (admittedly, there's not enough empirical evidence to prove he has answers from his back once a wrestler succeeds and uploads vicious ground and pound).
On the other hand, Velasquez stood with Kongo—the last dangerous striker on his record— long enough at UFC 99 to get wobbled and rocked by two hard shots. To the champ's credit, his recovery was impeccable, allowing him the opportunity to immediately resort to his takedowns.
When comparing these two battle-tested warriors, Dos Santos clearly emerges the better man. Granted, this observational critique of Velasquez is based on an older version of what he has become after dominating his following opponents: Ben Rothwell, Antonio Nogueira and Brock Lesnar. But, until the fight happens, the proof is still in the pudding.
As a consequence to how evenly matched these guys will be on fight night, this is by far the most exciting fight the UFC could have orchestrated for such an important event.
Luckily for everybody involved—fighters, fans and promoters— this fight has no real losers, especially the fight fans.
From a fan's perspective, watching two guys in their prime fighting on the grandest stage for the greatest prize, reaches the pinnacle of all expectation, sealing the strong bond between spectator and sport. 
Assuming the night will be injury free and full of level-headed refereeing, there is no bad outcome to this main event.
Come one, come all: Mixed martial arts is being taken to the next level.