College Basketball Predictions: 10 Bold Predictons for California and the Pac-12
Harry How/Getty Images
The Pac-12 has not been much of a powerhouse conference as of late, but they still have California, Arizona and UCLA to look to during the 2011-12 college basketball season.
The Pac-12 is weak this season, and not a single top-15 team is in the Pac-12. There are still several teams bunched up near the top of the conference, however, and that will make for an interesting season.
This conference is wide open, yet Jorge Gutierrez and California have the edge if there is one.
Most Surprising Team: California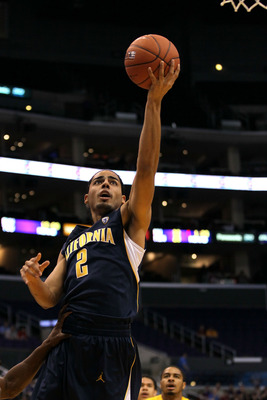 Stephen Dunn/Getty Images
The California Golden Bears are ranked No. 24 in the country, making them third in the conference. However, I see them taking control of the Pac-12.
Their main competition are schools like UCLA, Arizona and Washington. None of these schools has a clear advantage over the others, yet California has the best player.
Jorge Gutierrez is the leader of this team, but they also have Harper Kamp and Allen Crabbe, who were the top three scorers for them last season, averaging a total of 42.2 points per game.
These three give the Bears a good offensive attack, and makes them one of the best teams in the conference.
Most Disappointing Team: UCLA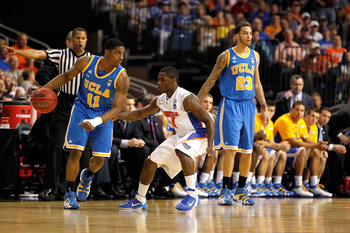 J. Meric/Getty Images
The UCLA Bruins clearly have the big men to be a good team, but they do not have the guard play at this time. With Tyler Honeycutt and Malcolm Lee gone, the Bruins don't have many talented guards..
This team will rely heavily on Reeves Nelson and the Wear twins who transferred from North Carolina.
Unlike other teams who rely heavily on big men like Baylor, UCLA's big men are not good enough to keep them afloat, despite having a decent point guard in Lazeric Jones.
I see a poor season for the No. 17 team in the country.
Game of the Year: Arizona at California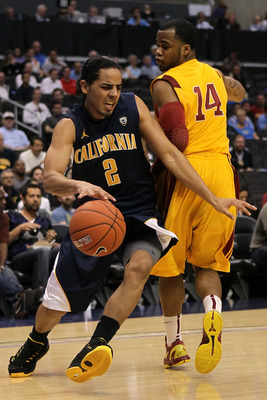 Stephen Dunn/Getty Images
As I said, I think California is going to come out and surprise just about everyone as they take the Pac-12 by storm.
The biggest test for the Golden Bears is Arizona. Derrick Williams and Momo Jones are gone, but this team still has a lot of talent.
The only time these two schools meet up is on February 2 in California. This game should decide which team wins the conference outright this season.
The biggest thing to watch is if Arizona can contain Jorge Gutierrez, who you are going to see on this list again.
Freshman of the Year: Josiah Turner, Arizona
http://media.247sports.com/Uploads/Recruit/45/7_407.jpg
Josiah Turner is going to play point guard for the Arizona Wildcats this season, but he is also going to be one of their leading scorers.
Turner is a score-first point guard who finds ways to get his shot off. He is big enough to ward off defenders and knock down jumpers, or he can drive through the lane and finish through contact. Near the rim he is hard to stop because he can score with either hand, and because he drives to the basket so ferociously.
If he can't find a way to score that usually means he has multiple defenders on him. He then uses his great passing skills and excellent vision to hand out some nice assists.
This kid can do it all, and he is going to have to for Sean Miller and the Wildcats this season.
Defensive Player of the Year: Jorge Gutierrez, California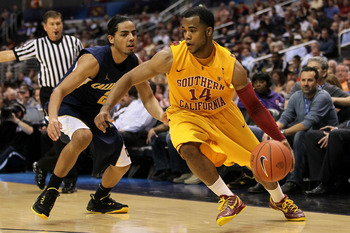 Jeff Gross/Getty Images
The best player in the Pac-12 in many aspects, Jorge Gutierrez also excels on the defensive end of the floor.
An excellent one-on-one defender, Gutierrez is always looking for weaknesses in his opponents to exploit. He plays hard and has a nose for the ball. While he doesn't light up the stat sheet he is known for being a defensive stopper, and he always seems to come up big at the right moment.
Gutierrez averaged 1.6 steals per game, but what was more impressive was his ability to disrupt his opponent. While he may not have been picking their pockets, Gutierrez would still pressure them enough for them to make errant passes, make bad decisions, etc.
Gutierrez doesn't have much competition for this award or the next, so he will win both.
Player of the Year: Jorge Gutierrez, California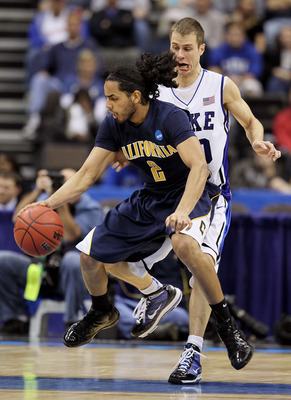 Andy Lyons/Getty Images
In a pathetically weak Pac-12, Jorge Gutierrez stands out. He does everything asked of him, and that will earn him quite a bit of hardware this season.
On offense he averaged 14.4 points and 4.5 assists per game last season. This was the first season he was a starter, but he had a huge impact. He can score or pass well, and his coaches love that.
Gutierrez also averaged 3.7 rebounds per game and 1.6 steals. He plays tight defense that forces bad shots, and he will also win Defensive Player of the Year as I talked about on the last slide.
There isn't a lot of competition for Gutierrez, and he will win this award in a landslide as well.
Winner of Conference: California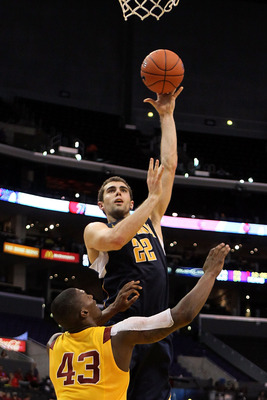 Jeff Gross/Getty Images
The California Gold Bears return their top three scorers from last season, and these three players will lead this team through a weak Pac-12.
Jorge Gutierrez, Harper Kamp and Allen Crabbe make up a solid core. While this team is not as big as some of the other teams in the conference they still have decent size and superior athleticism.
The Bears have the potential to only lose a few conference games, and that will seal a regular season conference victory for them.
Conference Tournament Winner: Arizona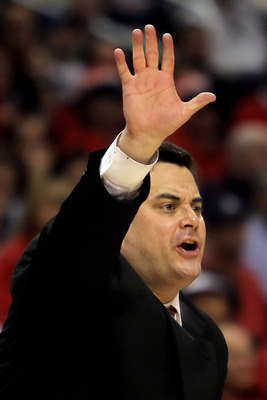 Jeff Gross/Getty Images
Sean Miller's Arizona Wildcats have proven that they can handle neutral environments very well. While California will probably lose to a bigger team like UCLA despite being the No. 1 seed, the Wildcats are very balanced.
Miller coaches well and that will give this team an advantage over any other Pac-12 team. He will have his guys prepared for this demanding tournament, and I see them winning in a weak Pac-12.
Number of Teams That Make the NCAA Tournament: 5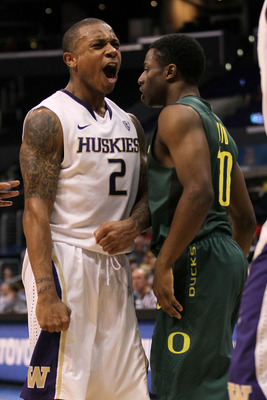 Stephen Dunn/Getty Images
The Pac-12 is weak this season, but so is the rest of college basketball. Once you get outside of the top 10 programs there is a steep drop-off in talent.
Because of this the Pac-12 will still find itself with five representatives in the tournament. They will be UCLA, Arizona, California, Washington and Oregon, with Oregon being a serious bubble team.
It's going to be tough for these teams to make it into the tournament, and when they do most of them are in for early exits as the talent they will have to match up against will be too great.
Team That Can Win It All: None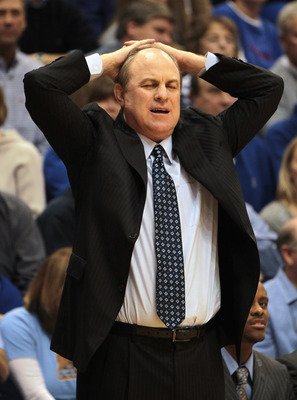 Jamie Squire/Getty Images
The Pac-12 teams are not ready to hang with the big boys. Not one team in this conference has the talent to make a deep run, and I can't see any of them even making it to the Elite Eight.
I think only one or two teams could make it to the Sweet Sixteen, and those teams would be California and Arizona.
Cal has some good players who make up a very solid core, while Zona has great coaching. However, neither team has a legitimate chance of winning it all, so I refuse to give any of these teams this spot on this list.
More Predictions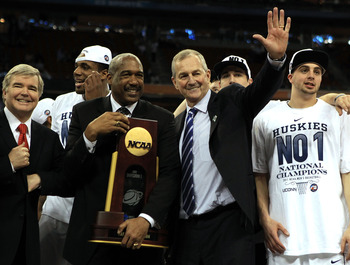 Streeter Lecka/Getty Images
This is only part three of a six-part series. I'm bringing you 10 bold predictions for the six major conferences over the next week. This is the schedule:
Monday 11/14- Big East
Wednesday 11/16- SEC
Friday 11/18- Big Ten
Josh Schoch is an aspiring sports writer dedicated to bringing you everything related to college basketball, the NFL, MLB, NBA, college football and much more. Follow him on Twitter.
Keep Reading