2012 MLB Free Agency: Top International Free Agents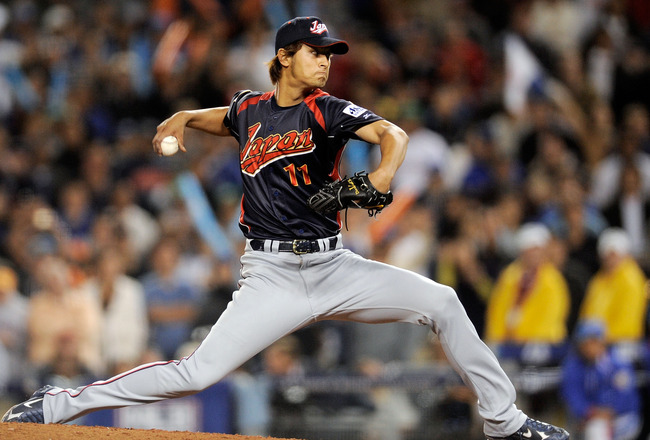 Kevork Djansezian/Getty Images
The 2012 MLB free agency pool is very deep in International talent. In years past, we have seen one or two international players coming oversees and making an impact, but this year could be very different. There is a lot of international star power out there, and players could be making their way to the MLB from different countries around the world. A lot of these players will be able to command contracts that give them big money and multi-year deals.
To better acquaint yourself with these players, here are some international stars who could be in the MLB next season.
Matt Murton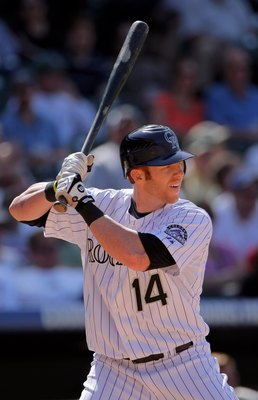 Doug Pensinger/Getty Images
Age: 30
Possible Destinations: Red Sox, Cubs
Outfielder Matt Murton is the only player on this list who has actually played in the MLB before. He was drafted 32nd by the Red Sox in 2003, in front of Jarrod Saltalamacchia, Andre Ethier, Shawn Marcum, Adam Jones and Drew Stubbs. The start to Murton's career with the Cubs wasn't terrible. In 2006, he found a starting job and batted .297 with 13 HR's in 144 games. From there, his career slowly went downhill and he soon lost his starting job. By 2009, he played just 29 games and has 52 at-bats for the Rockies. Then in 2010, he signed with the Hanshin Tigers, and like many players before him, including Colby Lewis, he turned to international baseball to polish his skill set and improve his value.
Murton did in fact improve his value in Japan. In 2010, he took the batting crown with a batting average of .349, and added 17 HR's and 11 SB's in 144 games. His 214 hits set Japan's single-season hits record, and now he is looking to return to the MLB. He's an on-base machine, and I can see him batting between .275-.300 for a team and adding and OBP of around .350 with 10-15 HR's. He won't provide star power, but he most likely won't require a large contract and could be a solid addition to a team looking to add an outfielder.
Tsuyoshi Wada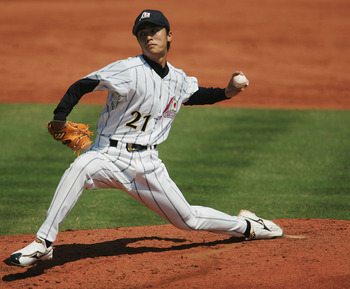 Jamie Squire/Getty Images
Age: 30
Possible Destinations: Nationals, Indians, Rangers
Lefty pitcher Tsuyoshi Wada has been progressively getting better each season for the Softbank Tigers in Japan. In 2010, he was 17-8 with a 3.14 ERA in just over 169 innings. That was his best season however, and he has had some shaky seasons where his ERA has been over 4.00 or 4.50, which could make him a risk for MLB teams.
Wada won't blow you away with his pitches either; his fastball tops at about 91 MPH and usually sits around 84-88 MPH, making it far below average. He makes up with it with his above average slider and change up however, and uses his pitches to strikeout a career average 8.3/9 innings. Unfortunately, Wada has also developed a reputation to be a pitcher who throws a large amount of mistake pitches and give up home runs, although he has immensely improved in this area. He gave up 11 HR's in 2010, as opposed to 26 in his rookie year 2003 and he has gotten lower numbers every year.
Another concern about Wada is his ability to log enough innings to be an MLB starter. Wada has only topped 180 innings three times, and the most recent year was 2007. Wada comes with his risks and concerns, but comes with a tremendous amount of potential, too. He will be a cheaper option that should provide solid seasons for his MLB suitor.
Suk-Min Yoon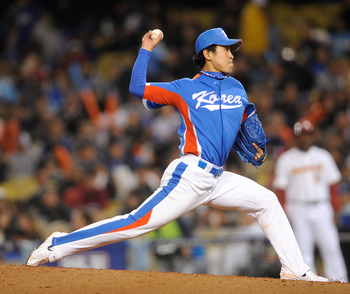 Kevork Djansezian/Getty Images
Age: 25
Possible Destinations: Anywhere
Yoon is a right-handed Korean pitcher who may be posted, in which case he could find himself on an MLB team. Yoon first emerged as a dominant pitching ace in Korea in 2008, when he was 14-5 with a 2.33 ERA. In 2009 and 2010, he had two seasons in which he found himself constantly switching between being his teams closer and being in the starting rotation. He started 29 games out of 50 appearances and posted an ERA of 3.63.
This past season Yoon re-emerged as the ace of the Kia Tigers and returned to form, posting a 17-5 record with a 2.45 ERA and 178 K's in over 172 innings. He also had some fantastic performances over the season, including three different occasions of throwing a complete game shutout.
Along with many other international pitchers, a concern with Yoon is his ability to log a good amount of innings if he enters the big leagues. The last time he had over 25 starts was in 2007, and the 172.1 innings he logged in 2011 were a career best. Another concern is his health. Not only would more innings put more strain on him, but he has had a history of nagging shoulder injuries, including ones that have sidelined him for a month or more and in one case in 2009, an injury that shut him down for the season.
Yoon has great potential and has a lot to offer, but teams will have to be cautious about the workload they give him to avoid any further injuries.
Hisashi Iwakuma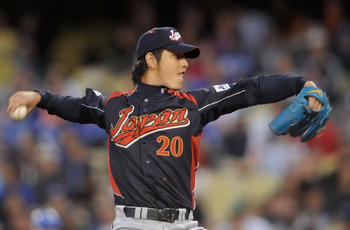 Kevork Djansezian/Getty Images
Age: 30
Possible Destinations: Rays, Twins, Indians, Astros, Angels, Mariners, Rangers
After last year's posting misfire where he failed to come to terms with the Athletics, Iwakuma will give it another shot this year as a free agent. Unfortunately, Iwakuma may have missed his chance. After a shoulder injury sidelined him for a considerable amount this year, his stock value has dropped. Even so, he is still a very good veteran arm with a great history, including a 2008 season of going 21-4 with a 1.87 ERA and out pitching Daisuke Matsuzaka and Yu Darvish at the 2009 World Baseball classic. Iwakuma is coming off a season of going 10-9 with a 2.82 ERA, along with logging 201 innings even though a shoulder injury kept him out for a couple months.
As for his Repertoire, he is a lanky 6-foot-3, right-handed pitcher whose fastball clocks in at about 91 MPH, even though it used to be 95 MPH before shoulder injuries affected his arm. He complements his fastball with an exceptional splitter, slider and two-seam. He has excellent command, with just 1.6 walks per nine innings in 2011, and he a ground ball pitcher who had 6.9 K's per nine innings this past season. He is aging, but as long as injuries don't ruin his career he has the tools to be a great MLB player and one of the more exciting pitchers of this year's free agency pool.
Munenori Kawasaki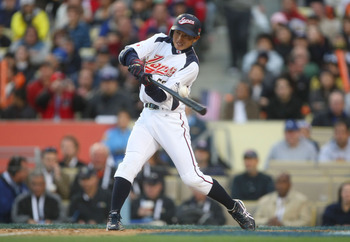 Stephen Dunn/Getty Images
Age: 30
Possible Destinations: most likely Mariners
Kawasaki is probably the least likely to sign in the MLB, but his relationship with Ichiro may be enough to lure him into Seattle. Kawasaki is known as a slap hitter who uses great control and bat speed in order to get himself on base. He is not a power hitter, and he has never hit more than four HR's or 31 extra base hits in his career. What may be most appealing to teams is his great speed. He led the Japanese Pacific League with 44 stolen bases in 2009, and had 30 in 2010. He also is an above-average defender at shortstop, third and second base. He is a two-time golden glove winner in Japan, has great instincts, and is a versatile fielder who can play any position in the infield.
If he comes to the MLB, he will most likely go to the Mariners due to his relationship with Ichiro, but that doesn't rule other teams out. He can be a great utility infielder who will play good defense, steal bases and should be able to bat well enough to keep his average between .280 and .300. But even if he only bats .250, he may still find himself an everyday starting role.
Yoennis Cespedes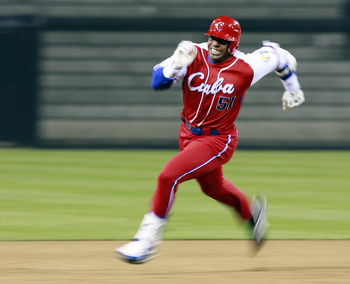 Jeff Bottari/Getty Images
Age: 26
Possible Destinations: Yankees, Phillies, Marlins, Cubs, Nationals, Pirates
After Cespedes hit free agency this past week, he has been the most scouted international free agent. He is being described as a "five-tool player" with immense power potential, plus-plus speed, a canon arm and premium defensive ability in center field. In 2010-2011, Cespedes put up a .333/.424/.667 batting line with 89 runs, 33 home runs and 99 RBI in 90 games. He broke the single season home run record in Cuba, and was an all-star center fielder.
Unlike a lot of players earlier on this list, Cespedes won't be cheap. He may command a contract larger than Aroldis Chapman got. He is expected to get a multi-year contract that may be worth more than $30 million. It's a lot of money to spend on an international free agent, but teams with money to spend like the Yankees, Phillies, Marlins, Pirates and Cubs will all be handing out big deals to try and obtain his services.
Yu Darvish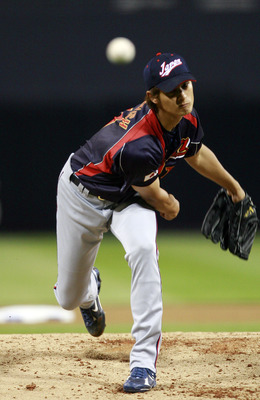 Jeff Bottari/Getty Images
Age: 25
Possible Destinations: Yankees, Red Sox, Rangers, Cubs, Blue Jays
Yu Darvish will be the most coveted and expensive international free agent of the offseason. Darvish is just 25, but has already had a handful of incredible seasons. He was 18-6 with a 1.44 ERA and had 276 strikeouts in 232 innings in 2011. He also had 10 complete games, six shutouts, and an amazing WHIP of just 0.83. His fastball ranges from 91-94 MPH and can top at almost 97 MPH, and he also has a fantastic 80 MPH slurve. He compliments these pitches with a series of secondary pitches, including a two-seam, cutter, changeup, splitter and cutter. He also has an athletic 6-foot-3, 220 pound frame.
Darvish has reached his ceiling in Japan. He won't put up these numbers in the majors, but he has the potential to perform like an All-Star pitcher for the rest of his career in the MLB. With his posting fee, his contract may go up to $100 million or even higher, but there are teams with money to spend that will happily take him in. For big spending teams like the Yankees, be cautious and remember Kei Igawa, but also know that this guy is no Kei Igawa, and that his potential is practically limitless.
Keep Reading

Seattle Mariners: Like this team?