IMPACT 11/10: Roode Turns Heel, Turning Point, 2 Title Matches, My Debut (Humor)
November 11, 2011
I'm going to start by saying that I have ordered a Crimson t-shirt from ShopTNA.com. I thought his shirt was cool, so I got one. Now, I just have to wait for it to come.
It's safe to say that my long #TwitterQuest is finally complete. Yes, I said it! My quest to get noticed by each and every member of the IMPACT roster is done. You thought it was impossible, yeah okay.
I got RTs or replies from Robbie E, Eric Young, Karen Jarrett, Gunner, Kazarian, Douglas Williams and a few others. I also answered the weekly IMPACT question on impactwrestling.com and my answer appeared on IMPACT! Everyone that watched the show saw my answer!
With that, I consider my quest complete. I also consider myself an unofficial member of the IMPACT roster; I have a contract to write strictly IMPACT reviews. Sorry, WWE fans that actually have a sense of humor.
I have a box of Cheez-It crackers in honor of my late unofficial ex-girlfriend SoCal Val, who was murdered by Traci Brooks this Halloween.
Warning: The picture of Val's murder is gruesome! You've been warned!
It Pays To Be Roode
New heavyweight champion Bobby Roode comes to the ring.
People boo him, he asks why. Is it because he took an opportunity when it came? Is it because he is the champion? Is it because he killed Beer Money?
I'm not booing Roode. In fact, my Twitter answer was in support of the new champion!
Roode bashes Storm until "Cowboy" comes out.
Roode runs away but GM Sting makes a title match for tonight.
Heel Roode is back, and I love it!
Crimson vs. Pope
Pope on IMPACT? That's a pleasant surprise.
It was a short back and forth match between the two.
I also made my IMPACT debut during this match via Twitter answer. Hooray! (@CharlieEGW_BR. Follow me on Twitter)
Pope jumped off the ropes at Crimson, who caught him and nailed a huge Red Sky for the win.
Winner: Crimson
Pope may have fallen victim to Crimson and his streak, but at least he was put on TV while doing it, right? Crimson gets more momentum heading into Turning Point this Sunday.
I think a heel Crimson would be interesting. Don't be surprised to see a Crimson turn on Sunday. Just my thoughts.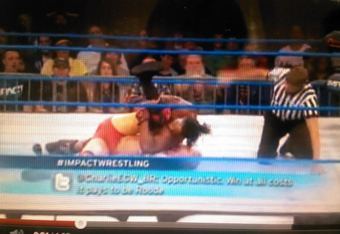 A Storm is Coming
James Storm is a bloodied mess backstage.
Trainers and other IMPACT people find him knocked out and bloodied. Storm is barely moving, the trainers are dumb enough to ask if he's okay.
Really? The guy is bleeding a lot and hardly moving. Yeah, he'll give you a thumbs up. He's all good, just tripped and fell.
Maybe Storm drank a barrel of John Jameson's whiskey and had to pay the price. Was that the late SoCal Val at the 10 second mark?! She tricked us all! Call the Conspiracy Squad, we got a situation!
Garrett Bischoff vs. Gunner
Before this match, Gunner talks a little about discipline.
Gunner is joined by Bischoff and Flair at ringside; both older guys are highly anticipating this ass kicking on Garrett.
Gunner runs at Garrett who pulls off a series of arm drags to everyone's surprise.
Flair jumped in and Garrett ran away, scoring a win by disqualification thanks to Ric's interference.
Winner: Garrett Bischoff via DQ
Everyone, even Garrett, seemed surprised by what just happened. He's got some wrestling skill it looks like.
Zema Ion vs. Jesse Sorensen
Well look here, first Pope, then me and now Zema Ion? Tonight is full of pleasant surprises. Hopefully the three of us all get more TV time.
These two X Division guys put on a nice showing. This is only Zema's second time wrestling in an IMPACT ring since Destination X in July. Sad. He's got talent, too.
Ion missed a 450 (Love that move) and Sorensen hit his finisher for the three.
Winner: Jesse Sorensen
Sorensen continues to shine, I believe he'll be X Division Champion some time in 2012, and now Kid Kash comes out.
Kash talks about Sorensen being disrespectful and having everything handed to him. Kash took what's his. Kash offers Sorensen an X Division title match. Wait, isn't Aries champion?
Kash says only one signature is missing and shoves the clipboard into Jesse's chest. Sorensen signs, and Kash publicly announces the three-way between himself, Jesse and champion Austin Aries.
Kash bashes Sorensen and they brawl until Aries comes out and the heels beat the face. See you Sunday style.
Karen's Angle
Remember that talk show Karen used to host? Karen's Angle? Just thought I'd bring that up.
Karen is very respectful of Gail Kim and says she'll beat Velvet for the Knockouts title on Sunday. Karen only kisses up to Gail while Madison keeps blurting in and trying to get some attention.
Knockouts Tag Team Championship
Mickie James and Knockouts Champion, Velvet Sky vs. Tag Champions, Gail Kim and Madison Rayne
This was a good display of Knockouts action and Mickie wasn't the focal point for once, cool.
Velvet came in off a tag on fire. She took out Gail and Madison and set up for her Pedigree-like finisher on Kim. Karen stepped onto the apron to distract the ref.
Velvet let Gail go, to deal with Karen. Karen jumps down and Velvet the hits Madison with her finisher. More problems between Velvet and Karen allow Gail Kim to hit Eat Defeat and retain.
Winners: Still Champions, Gail Kim and Madison Rayne
With Karen in Gail's corner, it should be interesting to see how the Knockouts title match will play out this Sunday.
Storm's Over
Backstage, a doctor tells Storm he can't compete tonight. Sting walks in wanting to know who knocked Storm out, Storm doesn't know but wants his match tonight regardless.
Robbie E and Rob Terry vs. TV Champion, Eric Young and Jersey Shore's Ronnie
Before you start moaning and bitching, the match was actually alright.
The Rob team worked over EY and looked dominant for much of the match. EY was a punching bag; Robbie E kept talking trash to Ronnie in the corner.
Robbie spat on Ronnie twice which allowed EY to bounce back, take down Robbie and tag in Ron.
Ronnie came in a hit a decent clothesline on Robbie. Ronnie took off his EY t-shirt (on sale now only at shoptna.com. It's Black November and up to 80 percent off!) and scoop slammed Robbie E.
EY hits an elbow drop in nothing but his underwear, he then holds Rob Terry back while Ronnie gets the pin.
Winners: TV Champion, Eric Young and MTV's Ronnie
I'm not sure if I want Robbie E as TV Champion any more. I sure as hell don't want Eric Young as champion, either. They need a tournament to declare the next No. 1 contender, have that guy beat EY and move Robbie E and Rob Terry into the tag team division.
AJ Styles vs. Daniels
The CEO of Bellator joined Mike and Taz on commentary on this match. He's clearly a big Styles fan, putting him over heavily.
AJ and Daniels had a good back and forth match. After some near falls, AJ and Daniels took the fight outside the ring.
While Daniels reached for his handy dandy toolbox of goodies, AJ went back into the ring for a little recovery time. Daniels pulled out his favorite screwdriver and waited for AJ to get up.
RVD ran to the ring and grabbed the tool from Daniels. AJ then hit Daniels with a Styles Clash for the win.
Winner: AJ Styles
This may mean the end of AJ/Daniels for now, leading to another run of RVD/Daniels. The two will meet in a match at Turning Point.
Jeff Jarrett, Scott Steiner and Bully Ray vs. Mr. Anderson, Jeff Hardy and Abyss
Abyss was picked by the Charismatic A-holes as a surprise partner.
Fun fact: Everyone in this match was once, or still is, in Immortal.
I enjoyed this match and would rank it up with AJ/Daniels for the MotN. Everyone fought each other in this match, it was given a good amount of time and had a nice clean finish.
All hell broke loose at the end. 
Abyss started kicking ass, Bully Ray clothslined Abyss over the top rope. Hardy hit a Twist of Fate followed by a Swanton on Bully. Jarrett hit a Stroke on Hardy then Anderson dropped Jarrett with a mic check.
Steiner dropped Anderson and set up for a Steiner Recliner but Abyss came back and hit a Black Hole Slam for the win.
Winners: Anderson, Hardy and Abyss
This match had good build towards the matches coming at Turning Point.
World Heavyweight Championship
James Storm vs. (c) Bobby Roode
Roode comes out first, which I find odd.
Storm's music hits but he doesn't come out. Roode starts to celebrate but his song comes on for a second time.
After a while, Storm walks out, still bloodied and pounces ("AHHH!" Pounce!) on Roode. 
Storm starts out on fire. Roode kicks Storm off of him and gets into a corner. Storm stands up but quickly passes out due to his head injury.
Everyone, even newly-heel Roode, is concerned and they try to help Storm.
Brian Hebner and Roode are holding Storm up while someone gets a stretcher or something. Roode asks Hebner if the match is over. Hebner says yeah, Roode asks if he rung the bell.
Hebner never had the bell rung to officially end the match so Roode gets Storm in a roll-up pin and yells for Hebner to count.
Winner: Still Champion, Bobby Roode
As Roode celebrates his win over a passed out Storm, Fortune comes out. Kazarian, Sting and AJ come out to Storm's aid.
Now's the perfect time to get my Fortune t-shirt back. Their theme song says "Fortune four" and now they're only down to three members. I'm the fourth member if I get my damn shirt back.
AJ calls Roode garbage and tells Sting he wants Roode at Turning Point. Sting makes the Turning Point main event AJ Styles vs. Bobby Roode for the motherf'n TNA Heavyweight Championship!
Thoughts
Overall, I think this episode was alright. It could've been better, especially since Turning Point is this Sunday. It didn't help adding two title matches at the last second, either.
I feel like the only real match that's been hyped is Hardy vs. Jarrett. Turning Point could've used much more hype. It's a problem when I, possibly the biggest TNA mark on B/R, doesn't remember a pay-per-view is this weekend.
Pros:
Roode's opening segment
Pope on TV
Garrett's got some skills. I like where this is going
Zema Ion/Jesse Sorensen
Knockouts Match
Ronnie's involvement
AJ/Daniels
Six man tag match
Roode continues to get fans against him during main event
Cons:
Zema/Sorensen and Crimson/Pope were too short
Daniels toolbox annoys me now
Abyss as partner was too predictable for me
Storm shows up for main event and match is thrown out
X Division title match added last second
World title match added last second
Very, very little hype towards Turning Point
We've seen better, IMPACT could've done better to hype their pay-per-view that is this weekend!
Don't forget to check out Turning Point this weekend, follow me on Twitter, Buy Saints Row: The Third on Tuesday and read my two slideshows coming out soon: 6 Reasons Why Matt Morgan Should Be IMPACT's World Heavyweight Champion and Why Bobby Roode Will Have a Long Reign as Heavyweight Champion.