Iowa Football: A Position-by-Position Look at the Hawkeyes in 2012
With 2011 in the books, it's time to look ahead toward 2012.
As with 2011, next season looks to be something of a rebuilding year. On the other hand, looks can be deceiving.
In truth, it hardly matters with Iowa unless Kirk Ferentz commits to certain adjustments within his program—adjustments that he has not-so-subtly hinted at and which primarily involve play-calling.
We'll have the remainder of the offseason to consider those changes, and to see whether Ferentz does indeed implement any of them.
That said, I was surprised at how few areas project to fall backwards next year when I looked at who the Hawks have returning.
Nonetheless, most of the areas that project to fall back are key areas for the Hawks.
It goes without saying, all of the following is based on who is on the roster right now. Anything can happen between now and next September.
Begin Slideshow

»
Incumbent: James Vandenberg (Sr)
Others With Experience: John Weinke (Sr)
Other Players of Note: Jake Rudock (RFr), Cody Sokol (Juco)
Final Synopsis: Hopefully, Vandenberg spends a lot of time in the film room this offseason, as he prepares himself to take a major step forward for his final campaign.
It is difficult to look ahead with JVB. He had some brilliant moments and his overall statistics—13 G, 58.7 PCT, 3,022 YDS, 7.5 YPA, 25 TD, 7 INT, 138.44 quarterback efficiency rating—were impressive for a first-year starter.
On the other hand, two of his three worst games were the final two games of the season, and the issues that plagued him early—locking onto receivers, failing to recognize the blitz, happy feet, inconsistent accuracy, discomfort working under center—still plagued him late in the year.
Vandenberg could be the best pure passer in the Big Ten next season if he cleans up these issues.
Jake Rudock will take over as the heir apparent, or perhaps more if Vandy fails to step up, and Ferentz genuinely opens up the quarterback position for competition.
Early Returns: Anywhere from breaking even to substantial improvement next season.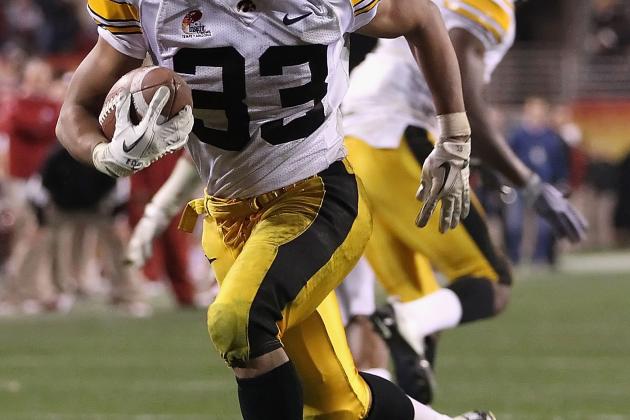 Christian Petersen/Getty Images

Incumbent: None
Others with experience: Jordan Canzeri (So) and De'Andre Johnson (So)
Final Synopsis: Coker's gone. McCall's gone. The Hawks are, once again, back at square one at running back.
Also, he is not listed above, but recent Iowa commit Greg Garmon will likely gain immediate playing time. Running backs are the most talent-intensive position on the field, and Garmon, as a 4-star running back (Iowa's first under Ferentz, to my memory) has plenty of talent.
Early returns: One would expect a big drop here, but if the Hawkeyes can hold onto all of their current running backs, plus develop Garmon, they will only slip back minimally.
This season, lack of depth killed Iowa at times. If things remain as they are, that shouldn't be an issue next season.
Still, losing Coker hurts.
As things stand now, the Hawkeye tailbacks will take a step back next season.
Incumbent: Brad Rogers (Jr)
Others with experience: Matt Meyers (So), Jonathan Gimm (Sr)
Final Synopsis: Rogers might be the most versatile fullback Iowa has had since Jeremy Allen. I would love for Iowa to use Rogers as an offensive weapon. However, even if the coaches decide otherwise, he is an effective blocker.
Meyers and Gimm will be much more able and ready backups with the experience they've gained this season and the weight Meyers will probably gain in the offseason.
Early Returns: Improvement next season.
Incumbents: Keenan Davis (Sr)
Others With Experience: Kevonte Martin-Manley (So), Steven Staggs (Sr), Don Shumpert (Jr), Jordan Cotton (Jr), Damon Bullock (So)***
Other Players of Note: Jacob Hillyer (RFr)
Final Synopsis: The Hawks can't simply replace Marvin McNutt. He is the best receiver in Iowa history, both as concerns tangible evidence and otherwise.
Davis will have to step up and be the go-to guy.
Overall, the depth will be better in 2012 than it was in 2011, but the graduation of McNutt is huge.
Early Returns: Will take a step back next season.
***Bullock will eventually move back to wideout, even though he ended 2011 at tailback.
Incumbents: C.J. Fiedorowicz (Jr) and Zach Derby (Sr)
Others Players of Note: Ray Hamilton (So), Jake Duzey (RFr), Henry Krieger-Coble (RFr)
Final Synopsis: Tight end play in 2011 was as weak as it has ever been under Ferentz.
C.J. Fed emerged late in the season, but he was still inconsistent. Meanwhile, Derby's play remained spotty. Hopefully, both of them can become more consistent in 2012. If they can, the tight end position group will once again be a strength. If they don't improve, then it will remain the same.
Ferentz likes to have five available players, so he will need to find more bodies to round out this group. Hamilton has looked like a solid third option, though I wouldn't be surprised if he switches positions. Duzey might be a solid H-back option if he can pack on 20 to 30 pounds this winter and get used to playing with his hand on the ground.
Otherwise, the Hawks might look to their true freshmen, or they might fill out the position group via position switches.
Early Returns: Anywhere from slight to substantial improvement next season.
Incumbents: James Ferentz (Sr), Brandon Scherff (So), Nolan MacMillan (Jr), Matt Tobin (Sr)
Other Players of Note: Eric Simmons (So Juco transfer), Conor Boffeli (Jr), Andrew Donnal (So), Brett Van Sloten (Jr), Drew Clark (Jr), Casey McMillan (Sr), Jordan Walsh (RFr), Austin Blythe (RFr)
Final Synopsis: The line will feature James Ferentz at center and Matt Tobin at a guard spot. MacMillan will move to a tackle position if he can get healthy.
Ferentz and Tobin improved at the end of last season. It would be a strong foundation if they can continue that improvement. Furthermore, there is a lot of good, young talent, most notably Scherff and Donnal.
That said, Iowa offensive lines tend to be works-in-progress, unless said line returns the vast majority of its starters from the previous season.
That is not the case for this group.
This will be a rebuilding year for the line, but the effects of the rebuilding could be minimal if MacMillan is healthy, and the line gels quickly.
Final Returns: Will take a step back next season.
Incumbents: Dominic Alvis (Jr)***, Steve Bigach (Sr)
Others With Experience: Joe Gaglione (Sr), Carl Davis (So)
Other Players of Note: Darian Cooper (RFr), Mike Hardy (So), Louis Trinca-Pasat (So), Riley McMinn (RFr), Melvin Spears (RFr)
Final Synopsis: You thought 2011 was bad? Next year projects to be worse unless some younger players have significant breakthroughs this spring.
Alvis's health will hurt. Kirk Ferentz would have been well advised to dive into the Juco pool to beef up his defensive end group, but it didn't happen.
Bigach can play inside or out, but he is not an impact player on his own. It will make a huge difference if Cooper and/or Davis step up.
Early Returns: Will take a step backward.
The line could improve if the young players play beyond their years and experience.
On the other hand, it could be a substantial step backward if they play like one would expect from young, inexperienced players.
***won't be 100 percent at beginning of season due to late season ACL tear, though he will likely be cleared to play.
Incumbents: James Morris (Jr), Christian Kirksey (Jr)
Others With Experience: Anthony Hitchens (Jr), Shane DiBona (Jr), Dakota Getz (Jr), Tom Donatell (Sr)
Other Players of Note: John Lowdermilk (So), Jim Poggi (So), Marcus Collins (So), Quinton Alston (So)
Final Synopsis: Don't be surprised if some of the juniors or sophomores redshirt, or perhaps move to defensive end or tight end.
Morris began 2011 at MIKE (middle linebacker), but moved to the strong side midway through the season, where he looked much more at home. The issue is that MIKE requires a specific skill set that none of the Hawks' experienced linebackers have.
In effect, Alston, who does have that skill set, might grab the starting MIKE job over more experienced players.
As for those "experienced" players, Morris, Kirksey, DiBona, Hitchens and Donatell have all started at least one collegiate game.
The linebacker play in 2011 left a lot to be desired, but it has to be remembered that both Morris and Kirksey were true sophomores, and Morris spent much of the season dinged up.
Either way, there will be a lot for new Iowa linebacker coach, LeVar Woods, to play with.
Early Returns: Substantial step forward next season, due to both player development and depth.
Incumbents: Micah Hyde (Sr), Tanner Miller (Jr)
Other With Experience: B.J. Lowery (Jr), Greg Castillo (Sr), Nico Law (So), Collin Sleeper (Sr)
Other Players of Note: Jordan Lomax (So), Jack Swanson (Sr), Jordan Price (RFr), Torrey Campbell (RFr), Gavin Smith (Jr)
Final Synopsis: First-year starter Tanner Miller improved by leaps and bounds as the season went on. If he keeps improving, he could vie for all-conference honors in 2012.
Hyde is limited in some respects—not a great tackler, cannot be left alone on an island with elite receivers, not a great leaper—but is superb in others. Most notably, he is smart, disciplined and if a quarterback misfires toward his side of the field, he will pick the ball off. He could solidify himself as a third-rounder in the 2013 draft if he has a strong season.
Lowery should be able to step in for Shaun Prater, who had a poor senior season.
However, there is a big void at strong safety. Sleeper has two starts under his belt, but he looked too physically limited to be a difference maker. I'm hoping Nico Law grabs the starting position. He was a monster on special teams in 2011.
Early Returns: Break even.
Punter: Open
Kicker: Mike Meyer (Jr)
Punt Returner: Micah Hyde (Sr)
Kick Returner: Jordan Canzeri (So) and Keenan Davis (Sr)
Final Synopsis: The kicker appears to be covered. Hopefully, Meyer takes the next step like Nate Kaeding took from his sophomore to his junior year. The problem is Meyer fell apart at the end of 2011. He finished 2-for-6 on field-goal attempts through the final five regular season games.
Punter is wide open. Iowa has had all-conference caliber punting for the past three seasons. Common sense dictates the Hawks will take a substantial step back in this area next year.
I would like to see Hyde off punt returns. He was not impressive in this role, and he will be too valuable on defense in 2012.
Davis won't be returning kicks this season. Personally, I would like to see Canzeri, Damon Bullock or maybe Kevonte Martin-Manley returning kickoffs. However, I don't think Canzeri will be risked on special teams if he gets significant carries at running back.
Early Returns: Will take a step back next season. The punter situation hurts, and the rest is too iffy to say one way or the other.
This group probably doesn't have what it takes to challenge for the division or conference title, but the pieces are there to win eight-nine games, especially given its soft schedule.
The defense could take a step backwards or forwards depending upon how the line develops. If it doesn't come together immediately—which is probable—then improvement by the linebackers will only mean so much.
Meanwhile, the offense requires the line to come together and for JVB to be more consistent. If these things happen, and the new running backs take care of the football, Iowa can and should have one of the better offenses in the conference.
Overall, this team has been in a mediocre slump for two years. In order to get out of it, Kirk Ferentz and his staff have to make some changes and refine their overall philosophy.
I am not saying Kirk Ferentz needs to adopt the Chip Kelly philosophy of fast-paced, spread-out, high-scoring football.
I am saying that the Hawkeyes have lost to inferior competition far too often over the past seven seasons. I am saying that the issues that plagued the Hawkeyes in 2005 still plagued them in 2011.
I am saying that poor special teams play is unacceptable under Kirk Ferentz, and it falls wholly at the feet of the coaches.
I am saying that 7-5 isn't good enough when there is enough gas in the proverbial tank to win eight to nine games, let alone challenge for the conference championship.
Hopefully, Kirk Ferentz, and his new coordinators make some of these changes. If they don't, next season's Hawkeyes will not reach the seven-win plateau, and the longest-tenured coach in the Big Ten will begin to feel his seat get warm.