North Carolina vs. Michigan State: Tar Heels Will Fly Past Spartans on Carrier
November 11, 2011
Ezra Shaw/Getty Images
The North Carolina Tar Heels have won five straight games against the Michigan State Spartans dating back to a 2004 win in a Final Four matchup—and the trend will continue Friday night.
The No. 1 Tar Heels and unranked Spartans will hit the hardwood on the U.S.S. Carl Vinson to play the first college basketball game ever to take place on an active flat top, according to ESPN.
Basketball fans are excited about this unique game and its venue.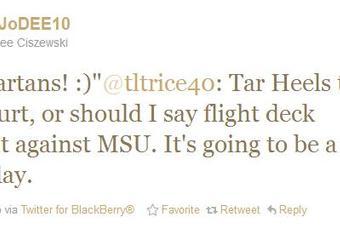 For the Tar Heels, it's the debut of a team that's returning its seven top scorers from last season, including Harrison Barnes, who chose to stay at North Carolina after his spectacular freshman season.
Barnes came to the Tar Heels as the No. 1 recruit on Scout.com, ranked ahead of Kyrie Irving—who was the first pick in the 2011 NBA Draft. Barnes awarded UNC with his play, earning ACC Rookie of the Year honors and carrying his team to the Elite Eight.
Have a look at what Barnes is capable of.
The Tar Heels should have little trouble with the Spartans, who lost three of their top four scorers, most importantly floor leader Kalin Lucas.
The Spartans will be looking to create a new identity this season in the absence of Lucas, who was the team's leading scorer for his last three years at Michigan State. However, Tom Izzo is an outstanding coach, and will have the Spartans playing good basketball by the time they enter their conference schedule.
Right now though, the Tar Heels are the team with better chemistry and more proven players.
This will shine through in this Veterans Day matchup—a convincing win for the top team in the nation.