Detroit Tigers 2012: Six Moves That Will Fix the Tigers' Woes
November 11, 2011
Harry How/Getty Images
The Detroit Tigers headed into this offseason with some well-known and written-about holes: second base, third base, leadoff hitter and fifth starter. The Tigers have an established team and are ready to compete for a World Series title, if only they can find fixes.
These are six moves I think would propel Detroit to an exciting season next year and get them ready for postseason success. Most of these moves are fairly low key. General manager Dave Dombroski said he was looking for role players, not necessarily All Stars, to fill the holes.
First move: Sign second baseman Jamey Carroll
Carroll has hit leadoff before and won't take a lot of dollars or years. I would imagine a deal similar to the ones Jhonny Peralta and Brandon Inge signed last year would get the job done.
Carroll has a career on-base percentage of .356, 40 points higher than Austin Jackson had last year, and with 130 fewer strikeouts. Carroll still has some speed; while he is no burner, he would be a good stop*gap while the Tigers wait and see if Danny Worth, Brandon Douglas or Hernan Perez develops enough to be the everyday second baseman.
Chance of happening: 75 percent. According to ESPN, Carroll  "appears close to signing a multi-year deal." Hopefully for Detroit's sake, it's with them.
Second move: Sign either Bruce Chen or Javier Vazquez
I know the popular pick is Mark Buehrle, but I think the number of years and dollars for Buehrle , while deserved, will be outside of what is in the long-term best interests of Detroit.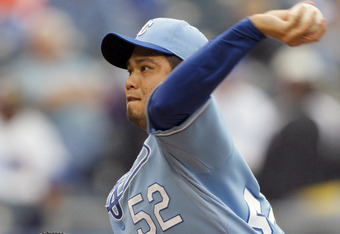 Ed Zurga/Getty Images
I think ideally Detroit is looking for an innings eater who won't command more than a two-year deal, and someone who could pitch in the 'pen if one of their young guys steps up. I like Chen over Vazquez, but either would be equal to or an improvement over Brad Penny.
Chen made 25 starts and pitched just over 155 innings, while Vazquez made 32 starts and logged just over 192 innings. The advantage to Chen is he is left-handed, giving the Tigers the lefty they've wanted in the rotation.
I would expect both to throw somewhere in the range of 170 to 190 innings if they start the whole year, posting a record around 12-10 with a 4.50 ERA. Dombroski said last year they were hoping for 10 wins out of the fifth spot in the rotation, and I think adding either of these pitchers would net Detroit more than 10 wins.
Another advantage Chen has is his experience coming out of the bullpen. This would be very advantageous if Jacob Turner, Drew Smyly or another farmhand shows he is ready at midseason.
Chance of happening: 65 percent. The Tigers will add a veteran starter, but the list of vets is a mile long.
Third move: Tigers complete trade with Atlanta Braves for Martin Prado
The Tigers will send second baseman/outfielder Ryan Raburn and minor league shortstop Argenis Diaz to Atlanta for Martin Prado.
I've always thought Raburn was a National League type of player, as his bat plays wonderfully off the bench, and he has the versatility to play several positions, albeit not wonderfully on the defensive side.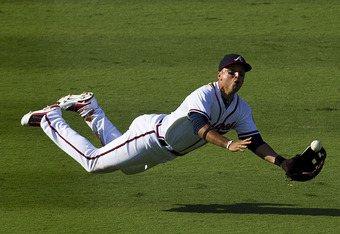 Daniel Shirey/Getty Images
Raburn and Prado have about the same batting average, but Raburn has more pop in his bat. Diaz would be able to come to camp with the Braves and could compete for a chance at being the shortstop in 2012 while the Braves wait for their talented minor leaguers to get ready.
Another reason for Detroit adding Prado is his experience as a leadoff hitter. Prado also has lots of versatility as he can play second, third, first and both corner outfield positions. His defense is also better than Raburn's.
Chance of happening: 40 percent. If the Tigers have signed Carroll, they may look to add depth to their bullpen or minor league system when they deal Raburn (I do think the chance of Raburn being dealt is high).
Fourth move: Tigers sign backup catcher Kelly Shoppach
Shoppach is a right-handed hitting catcher who is at a point in his career where he is okay with being the backup. Shoppach doesn't hit for average, but he still has some power left in his bat (he hit .172 with 11 home runs in 220 at bats).
The Tigers will add a backup catcher, and Shoppach has the defense and a decent enough bat to give Alex Avila the rest he needs.
Chance of happening: 80 percent
Fifth move: Tigers sign outfielder Grady Sizemore
Making the trade with Atlanta for Prado opens the door for this signing. Sizemore is a huge injury risk, but the risk is minimized by having Prado there to split time, and if Sizemore gets hurt, Prado can take over full time.
Sizemore would slide nicely into the leadoff spot in Detroit and provide a significant upgrade defensively over Delmon Young. Playing a corner will also reduce some of the injury risk Sizemore faces.
Chance of happening: 50 percent. I think Detroit will take a serious look at Sizemore, but all of the medical reports will have to check out for Detroit to sign him.
Sixth move: Detroit signs Cuban outfielder Yoennis Cespedes
This is the riskiest and probably the least likely of any of these scenarios. Cespedes is a physical beast and projects to bring five tools to the table in the majors. There is no doubt about his speed, power, and defense.
Cespedes is a center fielder right now, so if Detroit signed him they would probably shift him to right and move Boesch back to left. This of course assumes Cespedes is indeed ready to play in the Majors. I think the smarter move would be to sign Sizemore for a year and let Cespedes play a year in the minors, probably start at Erie and move up to Toledo with a September cameo.
The big downside with Cespedes is the cost. He'll probably require a five-year deal worth at least $60 million. That's a pretty big contract for a player who we really don't know a lot about. He has the tools, and if the Tigers (specifically owner Mike Ilitch) are willing to take the risk and spend the money, there could be a huge reward in store.
The other challenge with Cespedes is the competition for his services. There are a host of other teams interested, including the Miami Marlins, who have the advantage of new manager Ozzie Guillen, who has helped several other Cuban defectors adjust to the Majors.
Chance of happening: 20 percent. Cespedes is going to be expensive, and the Tigers might decide he's not worth the cost and risk.
If all of these moves are made, the Tigers 2012 Opening Day roster would look like this:
Batting Order:
1. 2B Jamey Carroll
2. RF Brennan Boesch
3. LF Grady Sizemore
4. 1B Miguel Cabrera
5. DH Victor Martinez
6. C Alex Avila
7. SS Jhonny Peralta
8. 3B Brandon Inge/Don Kelly
9. CF Austin Jackson
Bench: OF Martin Prado, C Kelly Shoppach,  UTI Danny Worth, IF Kelly/Inge.
Rotation/bullpen:
1. Justin Verlander
2. Dough Fister
3. Max Scherzer
4. Bruce Chen
5. Rick Porcello
6. Phil Coke
7. Duane Below
8. Ryan Perry
9. Daniel Schlereth
10. Al Alburquerque
11. Joaquin Benoit
12. Jose Valverde
i think these deals would give Detroit the push it needs going forward. It's entirely possible Detroit will also sign or trade for a right-handed, long-relief option. Right now their bullpen would have three left-handers, including Coke and Below, who would be the top candidates for long relief.
Also, if Jacob Turner or Drew Smyly are ready to pitch by midseason, I would expect one or two of the lefties to be dealt, as Chen would move to the 'pen.