Charlie Whitehurst vs Tarvaris Jackson: Who Gives Seattle Seahawks Better Chance
November 11, 2011
Wesley Hitt/Getty Images
Tarvaris Jackson or Charlie Whitehurst...for many Seattle Seahawks fans it is the question that just won't go away during the 2011 NFL season. 
The quarterback controversy for the Seattle Seahawks began in training camp.
Some Seahawks fans were upset that Jackson was named the starter, prior to taking a snap with his new team. They complained that head coach Pete Carroll's philosophy of "earn everything" was being ignored by promoting him over last season's backup quarterback.
However, similar outrage was mysteriously lacking when Sidney Rice, Zach Miller, James Carpenter and John Moffitt were all named starters over players that were starting for the team the year before. 
Colin Cole was unable to play to start the season. Alan Branch took over the starting duties and Cole was released.
It seemed those accusing Carroll of being hypocritical were the actual hypocrites. 
Fans' concerns with the starting quarterback continued through the preseason games. Reader boards espoused the belief that Whitehurst should be promoted from clipboard holder. News polls showed that two out of three respondents felt Whitehurst was the right man for the job. Radio call-in shows featured rants from upset fans.
The take in my articles was that  Jackson appeared to be the best option. He had shown decent improvement in Minnesota after being forced into starting duty before he was ready.
More importantly, I embraced the argument that the coaching staff had a better perspective on the capabilities of the two signal callers.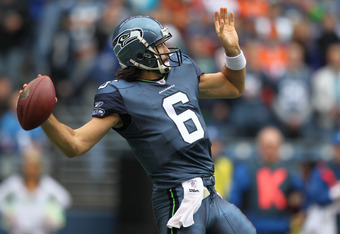 Otto Greule Jr/Getty Images
Whitehurst was given his opportunity to play following Jackson's pectoral strain. He came into the game vs. the Giants and eventually directed the team on an important touchdown drive. 
The debate was back, and some fans were looking forward to him getting two weeks with the starting offense. 
Whitehurst's performance vs. the Browns seemed to settle the debate. In what was one of the most boring games of the young decade, the Seahawks best offensive play was a special teams return. The touchdown was brought back due to a phantom block in the back, but Seattle still had the ball in Browns' territory.
One play later...one terribly under-thrown ball to Sidney Rice later...one interception later...one terrible loss later, fans were starting to call for Josh Portis.
Jackson came on in relief during the game vs. the Cincinnati Bengals. Whitehurst struggled in three possessions. Trailing 10-3 and losing momentum, an injured Jackson was pushed back into service.
Jackson was 21-40 on the day, but Seattle receivers uncharacteristically dropped eight of his passes. In two quarters plus two possessions he threw for 323 yards and seemed to put the QB controversy to bed.
Fickle fans in Seattle are using Jackson's performance and acceptance of blame for the loss in Dallas as fodder to hand the ball back to Whitehurst. They want to know which quarterback gives the Seahawks the best chance. My response is chance to what?
Best chance to win
Tarvaris Jackson gives the Seahawks the best opportunity to win. Whitehurst has had major accuracy issues in each of his outings. Jackson has been far from perfect, but is clearly playing better...even with the pectoral strain.
Yes, Jackson does have more interceptions (nine) than touchdowns (six) on paper. However, two of those interceptions were on hail-Mary passes on the final play of the first half. Another interception was more of a Zach Miller handoff to a defender (OK, he was hit pretty hard just after catching the pass), and a fourth was a reception by Doug Baldwin that one official changed to an interception.
Jackson has a respectable completion rate of 60.4 percent, while Whitehurst is completing less than half of his passes. He has one touchdown pass in seven quarters of play and has a QB Rating that is more than 10 points lower than Jackson.
If that isn't enough, I welcome you to watch his performance against the Browns one last time.
| | | | | | | | | |
| --- | --- | --- | --- | --- | --- | --- | --- | --- |
| NAME | ATT | COMP | PCT | YDS | AVG | TD | INT | RATE |
| | 227 | 137 | 60.4 | 1556 | 6.9 | 6 | 9 | 73.2 |
| | 56 | 27 | 48.2 | 298 | 5.3 | 1 | 1 | 62.9 |
Best chance to have better Luck next year
Seattle has likely won too many games to get the top spot in the 2012 NFL draft. However, staying near the top makes it more likely they can trade up to get Andrew Luck...or at least be in a position to get one of the other top options.
Tarvaris Jackson has every reason to push to win games. It will support efforts to maintain the starter role in 2012 and a later draft pick will make it harder for Seattle to draft a potential replacement.
Whitehurst already knows he's done in Seattle (and likely the NFL) after this season. He lacks the talent and the motivation to keep Seattle out of the top five picks.
Best chance to put fans in the stands
Neither. Die-hard fans are going to show up regardless. Fans that are frustrated by the level of play so far this season, won't be prompted to attend games to see either quarterback.
To help ensure fans show up to games, Josh Portis would need to be given a few starts.
I'm not espousing his ability to lead the team to wins, but fans would be intrigued to see what the undrafted rookie can do against an NFL defense.
Best chance to play long-ball
Jackson has had some success airing the ball out at times this season. Particularly in the game vs. the Bengals, Jackson was hitting receivers downfield in stride.
His performance set up some exciting plays that could lead me to change the answer to the prior question. If nothing else, a few long, jump-balls need to be directed to Sidney Rice and Mike Williams.
Best chance for divine intervention
About the only factor that could save the Seahawks season is a lift from above. Known as "Clipboard Jesus" in Seattle, Whitehurst might be able to arrange for divine intervention.
Then again, if he had that connection, one has to wonder why he hasn't called in the chip yet.
Best chance at saving some face for Pete Carroll
This would have to be Jackson. The Seahawks didn't have to give up any player capital to sign the free agent, and they are giving him less money that Whitehurst. 
Clipboard Jesus is pretty much a lost cause at this point. There is little he could do over the last half of the season to deserve a new contract in 2012, which means the draft capital surrendered for him will be lost.
Jackson, on the other hand, could show that Schneider and Carroll were correct when they saw value in him. If he can get back to playing like he did against the Falcons and the Giants he will show that he is an adequate place-holder until the Seahawks can draft their quarterback of the future in April.