Army Hero Prepares Yankee Stadium for West Point-Rutgers Game
November 11, 2011
Tony Odierno comes from a military family, he graduated from West Point in 2001 and went on to lead a unit of the First Cavalry Division in Iraq in 2004.  He suffered a serious injury in the war and now works for the New York Yankees as a stadium executive.
It has been 10 years since his West Point graduation and the world has changed enormously in that span.  So much has been asked of those who have served in the military.  Army soldiers like Captain Anthony K. Odierno have been through so much.  He was wounded on Baghdad's Airport Road on Aug. 21, 2004 when a rocket propelled grenade pierced the Humvee he was riding in, killing his driver, and wounding the gunner in the vehicle. 
Since then he has recuperated from the loss of his left arm, earned a graduate degree from New York University and accepted a new position at Yankee Stadium as a stadium operations executive.  We have talked to Tony the past two years for our West Point radio show before the Army football team has played at Yankee Stadium.  I meet him for the first time today at a Veterans Day package drive for troops the Yankees held with the USO and Bank of America.
Tony stood out in the crowd right way.  He has that "West Point" look, stands straight as an arrow, well trimmed hair cut, piercing eyes and takes in what is going on around him before saying anything.  He has been busy preparing the Stadium for the second visit of Army to play football in the new Stadium.  
We spoke with Tony earlier this week on our West Point Football Report, he described how proud a task it is for him and the team to prepare Yankee Stadium for the visit by the West Point football team, students and alumni: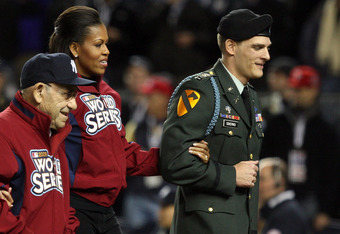 Jed Jacobsohn/Getty Images
"You always enjoy having Army here at Yankee Stadium.  Just working with everyone at Army.  Obviously I still know a lot of people there.  It is great to catch up with them.  They have such a great tradition of playing games here in the old stadium and last year in the new Yankee Stadium.  It is great to have them back."
Last year's Army game at Yankee Stadium was a Notre Dame home game with the crowd of over 50,000 fans predominantly routing for the Irish.  This time it will be an Army home game with a large number of Cadets in the stands, the Army bands will be playing "On Brave Old Army Team", and many of the military traditions will be on display that fans at Michie Stadium enjoy.  Tony commented about Army playing a home game at the famed Bronx, New York ball park:
"We are happy to have Army as the home team this year.  I think it is a real chance for everyone in New York who might not necessarily have been to West Point to come to this game, and see the Corps of Cadets.  We will have the 82nd Airborne jumping in to the Stadium and learning a little of the history and traditions of West Point.  And what it stands for, and that is service to our country, and service above self."
Playing football in the fall and winter at baseball parks used to be very common, now in an era of sport specific stadiums, it is a novelty.  In the old Yankee Stadium when football was played there, the field was laid out along the third base line.  Now the field is laid out between home plate and center field.  With the success of the Babe Ruth and Joe Dimaggio led Yankees, there was a sense of glamour for the football games played at the old Yankee Stadium. 
It really was a big stage stage for the games between Army and Notre Dame in the 1920s to 1940s and later when the football Giants called the stadium home from the 1950s to 70s. The famous 1958 Giants-Colts overtime playoff game that brought professional football into the television era was played there.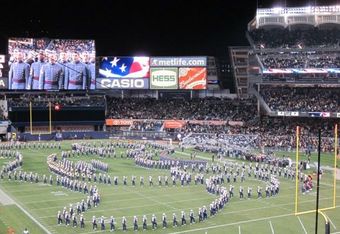 It is a big job to convert the stadium to be a first class football arena with an all grass field and press areas on the fifty yard line.  Tony described for us some of what is involved:
"There is a lot of stuff to do.  Unfortunately this year, we had more time then we would have liked.  We would have liked to have gone a lot further in October.  It begins with excavating and sodding the infield and making the entire field grass for this game.  Obviously, there is the equipment, goal posts, even to converting some of our suites to coaches booths on the fifty."
Going back to his near death experience in Iraq and the platoon of 50 soldiers he was in charge of, in 2008 he described to Jack Curry of the New York Times, his immediate military bred reaction, 
"I can't just sit here, I have to get out and continue to lead these guys."
The Army Captain said when he awoke in a military hospital, the first thing he saw was  aback pack from the Wounded Warrior Project, it reminded him that someone cared.  The first concern of an Army platoon officer is the well being of those he is responsible for.  About those he served with in Iraq:
"I owe my life to a lot of the guys who were on my team.  After going to Walter Reed, the care there was excellent.  There are a lot of great organizations out there.  Everything from the VA to Army programs, to non-profit organizations, the Wounded Warrior Project which I am on the board for, they are all doing a great job making sure our veterans and our injured service men and woman are the most well adjusted after the experiences that we go through over there."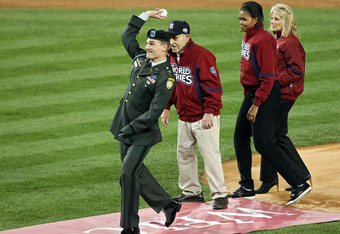 Al Bello/Getty Images
On Oct. 27 Tony and his dad, Army Chief of Staff, General Raymond T. Odierno jointly received the Gunnery Sergeant John Basilone Award for Distinguished Military Service presented by the National Italian-American Foundation in Washington DC.
You can listen to our complete interview on:
 http://legionpost50ny.com/Radio_SAL_111108_Anthony_Odierno_USMA01.html
The West Point Black Knights take on Rutgers at 3:30 p.m. Saturday at Yankee Stadium, one of my favorite places in the world.
Ken Kraetzer produces the West Point Football Report for Sons of the American Legion Radio heard Tuesdays at 5:30 p.m. on New Rochelle based WVOX 1460 AM and nationally on WVOX.com.  Reach him on kgk914@aol.com.