Quarter-by-Quarter Prediction: Boise State vs. TCU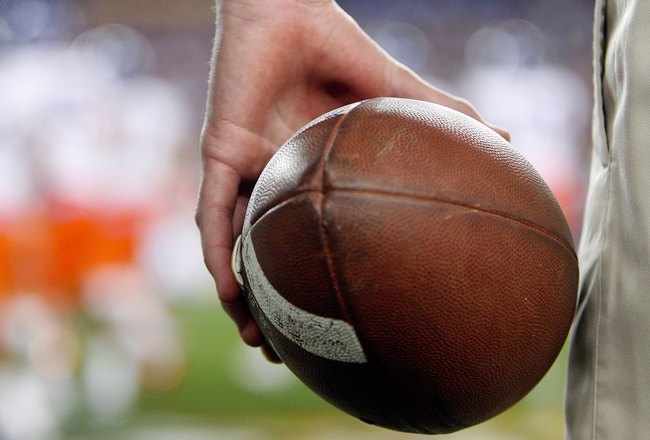 Christian Petersen/Getty Images
The game that will probably determine the Mountain West Championship is nearly here.
Saturday is the day TCU comes to Boise to take on the No. 5 Broncos. Quarterback Kellen Moore and the boys have not played their best ball the last couple games, and TCU has looked better as the season has transpired.
What will happen when these two teams collide in Idaho?
Well, if history has anything to do with it, it will be a close game. TCU and Boise State have played just three times, and all of those games took place in the postseason. Boise State has won two of those contests, but each game was decided by a score or less.
Boise State beat TCU 34-31 in the Horned Frogs' home stadium during the inaugural Fort Worth Bowl, but that was back in 2003. TCU returned the favor in 2008, beating the Broncos 17-16 in the Poinsettia Bowl in San Diego.
The biggest stage these two met on was the 2010 Fiesta Bowl. Boise State won that game by a 17-10 score on the back of the "Riddler," which was the name of the fake punt that led Boise State to the winning drive.
So who will win the game this Saturday? How will it be won?
Check out a quarter-by-quarter prediction.
First Quarter
Jamie Squire/Getty Images
The game will start with intensity and hard nosed football. TCU will come out hitting hard, but so will the Broncos.
The Broncos will have a solid start, scoring on their opening drive. TCU will move the ball a bit, but I think they stall on their first drive. Some of it will be because the crowd will be into it, and the young TCU quarterback has not been in a game like this all year.
Boise's defense will come to play, but TCU will have some early success running the ball.
The two teams will then begin to battle defensively. Both teams will exchange punts, and neither will dominate in the first quarter.
First quarter score prediction: Boise State 7 and TCU 3
Second Quarter
Christian Petersen/Getty Images
Boise State will get some rhythm going early in the second quarter. They have done this many times this year, and this game will be no exception.
TCU will again have some success running the ball, but Boise State will shut down the End Zone.
Kellen Moore will spread the ball around, and Doug Martin and surprise success D.J. Harper will have a better than expected first half of running.
The Bronco's special teams will come into play, keeping TCU pinned back with poor field position. This will lead TCU to have a hard time scoring points. TCU will probably be trying too hard at some point, and this will lead to a turnover.
Boise State will capitalize on that turnover and turn it into at least three points.
Going into the half the score will be: Boise State 17 and TCU 6
Third Quarter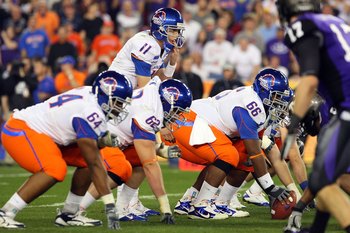 Christian Petersen/Getty Images
Both teams will come out after the half with adjustments made.
TCU will play with renewed passion and energy. Coach Patterson knows how to make the right adjustments, and this will be no exception.
TCU will challenge Boise State early on in the third quarter, but Boise State will counter.
It will be a bit back and forth in the third, but TCU will make up very little ground.
End of third quarter score prediction: Boise State 27 and TCU 13
Fourth Quarter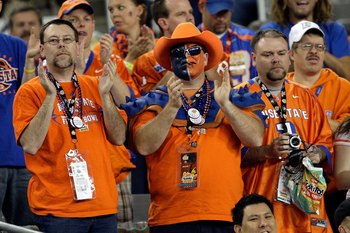 Jamie Squire/Getty Images
The fourth quarter is when the passion, energy, strategy, and conditioning come into play. The crowd will help the Broncos keep the edge, and another turnover from the TCU offense will cause the Horned Frogs to lose their edge.
Kellen Moore will capitalize and throw his third touchdown of the game. The Bronco defense will step up and keep the Horned Frogs pinned down for most of the fourth.
TCU will score late, but only when it doesn't matter.
Boise State will take a commanding lead part way through the fourth quarter, and they will never look back.
Doug Martin and D.J. Harper will chew up yards and the clock, and the Broncos will take the victory.
Final stats prediction: Kellen Moore 23/29 3 touchdowns, and no interceptions. Doug Martin 15 carries for 86 yards and 1 touchdown. D.J. Harper 12 carries for 112 yards and 1 touchdown.
Final Score Prediction: Boise State 37 and TCU 20
Keep Reading

Boise State Football: Like this team?