Chicago Blackhawks' Sucess Will Rely on Captain Serious
November 11, 2011
Jonathan Daniel/Getty Images
After two straight losses, the Chicago Blackhawks were finally victorious on Thursday night with a 6-3 win against the lowly Columbus Blue Jackets.
Columbus is certainly the kind of team you want to face when you are in a rut. Either way, the Hawks did what they had to do.
One player emerged and that was captain, Jonathan Toews. Toews has always been quiet in demeanor but lately he has also been quiet on the ice.
Prior to Thursday's win, Toews only had three points in his last eight games. He is still a premier player and leads the league with a faceoff percentage of 62. Though battling as always in previous games, he looked like he had been pressing.
Against the Blue Jackets, he found himself with a new winger in Marian Hossa. Along with Viktor Stalberg on his other side, that line dominated the first period.
Toews opened up the scoring with a rebound strike and potted another first period goal to take a 2-1 lead. He added an assist on Hossa's third period marker to cap off a three-point night.
The second goal was a brutal effort by the Blue Jackets' Steve Mason. Regardless, it was the effort and drive by the captain that led to these tallies. He was taking care of the Hawks' end of the ice and creating chances offensively.
Changing the lines of course helped, but similarly to last season, it will have to be the performance of Jonathan Toews that carries the Hawks.
Last February, Toews kept the Hawks alive in the playoff hunt. During that stint, he was the NHL player of the month, scoring 21 points in 13 games. That performance may have been the biggest reason the Hawks stayed alive and ultimately made it into the postseason.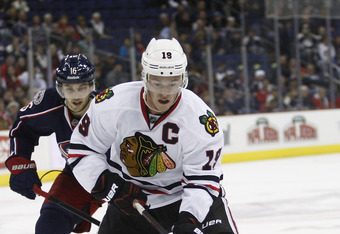 John Grieshop/Getty Images
Toews will not put those numbers up every month of the season, nor should he be expected to. What Hawks' fans should expect, and will get, is for Toews to be the best two-way player on the ice every night.
He spoke about the "little things" during his first intermission interview on Thursday and those are the things he does best. It's the backchecking and winning 50/50 battles. It's taking care of the puck, and being opportunistic at the other end of the ice.
That is what he will need to continue to do for the Hawks to be successful.
What you saw Thursday was a player that was tired of losing. It was a captain that decided he needed to lead by doing. It was a centerman who worked for his opportunities and cashed in.
The Blackhawks have more weapons in their arsenal than they did last season, but they will only go as far as No. 19 will take them. If he can raise his game when the team needs it most (as he did against Columbus), it will light a fire under this club.
If the Cup is to be within reach this season, the captain will have to continue assert his will. 
Game Notes:
How much fun did Steve Montador have on Thursday night? Montador registered a Gordie Howe hat trick. He got in a fight and added power-play goal and a power-play assist to highlight his best game as a Blackhawk.
With his breakaway goal in the second period, Patrick Kane notched his eighth point in his last six games.
Thanks for reading.