NHL: Examining the Starter and Backup Goalie Dynamic
November 11, 2011
Bruce Bennett/Getty Images
In the NHL it seems that most roles are thoroughly defined. Skilled scoring forwards play on the top line, two way players can eat up second line minutes, and defensive minded grinders usually end up on the third and fourth lines.
The same can reign true amongst the defensive pairing on any given team. Due to the fact that there are two defenseman on each pairing and there are three pairs, teams often balance the pairings out. This can included an offensive and defensive defender on the top pairing, a second paring comprised of two way defenders, and a third pairing where one defender compensates for the other's inadequacies and vice-versa.
However the dynamic between a starting goalie and a backup goalie is both complex and interesting. Recent examples throughout the league have made me look into this dynamic.
It seems that each goaltender's role is defined early on. Most starting goalies started out as rookie backups and through experience grew into the starter's role. Some took an opportunity that presented itself when the starter suffered a prolonged injury. Others were top prospects that were thrown into the frying pan of the NHL. 
Just the same there are many different scenarios how backups got their role on a given team. Some of the league's best backups are former starting goalies that are on the back nine of their career. These wily veterans have the experience to tutor and step in if the situation demands it.
To best understand the different dynamics between a starting goalie and his backup, it would be best to outline what it takes to be a starter in today's NHL.
To be a good starter in today's NHL, a goalie needs to appear in 55 or more games, post at least 30 wins, and have a GAA between 0.00 and 2.50. These numbers are pretty standard. Having numbers like this usually draw a line between starter and glorified backup. Most goalies in the NHL are good starters.  Ultimately there are different tiers of starters.
In the NHL, many writers and critics have come up with an "elite" class of goaltenders. This elite class could encompass goalies like Ryan Miller, Tim Thomas, Pekka Rinne, Henrik Lundqvist, Roberto Luongo, Carey Price, Marc Andre Fleury, and potentially a few others in no particular order.
You then have above average goalies that have played well and are still young and fine tuning their craft. Also included in this category is goaltenders that still put up respectable numbers despite their age. Tomas Vokoun, Antti Niemi, Jonathan Quick, Jimmy Howard, Cam Ward, Kari Lehtonen, Mikka Kiprusoff, Corey Crawford and many others could all be put in this category. 
After this you have good goalies that have had some good seasons or ones that are on their way up the charts.
If a goalie was missed, it wasn't intentional but you get the point. You can now see how certain starters could have certain expectations. These expectations have an impact on the dynamic the starter has with his backup.
This dynamic is very interesting because even though each goalie's role is defined, there are sometimes exceptions. 
Martin Biron is a perfect example of this. He was once a starting goalie for Buffalo and Philadelphia but he has now settled into a niche of playing as a backup. He gets a start every six or seven games and give Henrik Lundqvist a break when needed.
However, Biron could carry the torch for a bit if needed. He has the experience to take an opportunity and run with it but just the same, he isn't looking to cause any problems. He is off to a hot start of 3-0-0 and has only allowed three goals this year but he knows his role. He will do what he is told and what is ultimately best for the team. However this may not reign true in other tandems throughout the league.
The next question than becomes, if a starting goalie falters, how long do you ride your backup if he has a hot hand and how can you ease your "starter" back into the rotation?
This is a question the Buffalo Sabres may have to consider. They are in the situation of having two very capable goaltenders on their roster. For example, Ryan Miller is arguably one of the best goalies in the NHL today. However, he hasn't gotten off to a great start.
Enter backup Jhonas Enroth. Enroth is a youthful and capable 23-year-old netminder. This season he is 4-0-0 with a .952 Sv% and a 1.41. GAA. Quite a contrast to starter Ryan Miller's 5-5-0 record and a .913 Sv% and GAA.
Regardless, Buffalo decided to ride the hot hand with Enroth and then the media caught wind of the trend and thought it could be a goaltending "controversy"? Miller proceeded to get the next start and he managed to hold on for a 6-5 overtime win against the Winnipeg Jets.
This interests me because it begs the question, do starting goalies start to question their  role if a backup gets some consecutive starts or do they realize that the team goal comes first?
In Buffalo's situation, I feel Ryan Miller will get it together. He is a Vezina winner and professional. Every goalie goes through rough patches at times. He is 31 years old and the best thing he can do is play good hockey and mentor his young backup in Enroth. 
All throughout the league however there are different dynamics and different course of action that can be taken. Goalies are like starting pitchers in the sense that before a game they have a routine. This may involve a certain pre-game meal, stretching regiment, and various other pre-game activities.
When a starter in either sport misses their start or spot in the rotation, it makes their next appearance that much harder. The routine becomes so ingrained its a comforting and necessity.  
For the head coach and general manager, the situation becomes a catch-22. A team could be in the position of having to sit a top goalie due to their play but at the same time they want to get the two points each and every night. Most coaches all come to the realization that you can never put one player before the team. In other cases teams pit goalies against each other to raise their competitive edge.
A starter could then feel the need to excel with a greater sense of urgency. In the same token, a backup could see this as their big break to super stardom. Rangers fans often wonder where the team would be today if Kevin Weekes entered the 05-06 NHL season healthy. Would Lundqvist be leading the Rangers? Back to the issue, Washington attempted to use a competition system last year.
Last year, the Washington Capitals rotated two relatively young goaltenders in Michal Neuvirth and Seymon Varlamov. Both showed signs of brilliance and the dynamic in that situation was unique. Both youngsters were gunning for the top spot. Each tried to one up each other's previous performance. This allowed them to both be well conditioned and disciplined athletes.
George McPhee however felt that Neuvirth was the better of the two and he traded Varlamov and signed Vokoun to add some playoff security and to mentor his fellow countryman in Neuvirth. Neuvirth ultimately will become a better goalie from developing under a seasoned goalie.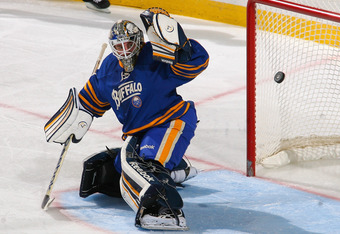 Rick Stewart/Getty Images
Another dynamic is a situation where the backup has the potential to be a starter if they were ever traded. Goalies like Jonathan Bernier, Tuukka Rask, and Cory Schneider fall into this role. Do you think they would rather be a starter on another team or are they content being a backup for the time being knowing they could be the eventually successor? It is an interesting situation because teams often trade young goalies to add other depth. 
There are so many dynamics to consider but ultimately I feel their is a common theme amongst each tandem. Each grouping has a healthy respect for each other. Both realize their mutual wealth to the franchise and wouldn't be as effective without each other. Yes teams may tinker and tighten nuts and bolts every so often, but at the end of the day starters and backups are teammates and brothers in arms. They put on the same sweater every game and have the same goal of hoisting the Stanley Cup in June.
How would you describes your team's goalie dynamic? Do you feel confident with either goalie between the pipes on any given night or do you sometimes hold on for dear life? Leave a comment in the section below to get the conversation going.
Tom Urtz Jr. is an NHL Featured Columnist. For more NHL free-agent news, updates and alerts about players: