The Chicago Cubs Have Found Their Man and His Name Is Mike Maddux
November 11, 2011
Leon Halip/Getty Images
It's not official yet, but if Mike Maddux did half as well talking to Theo Epstein and crew as he did with the media after his session with them, I think we have the new manager of the Chicago Cubs.
Maddux was funny and confident after the thorough interview session with the Cubs. That was in stark contrast to the first candidate to go through the process, Pete Mackanin.
He looked like he just fought a 15-round heavyweight boxing match when he was done, mentioning being put through the grinder by them.
Dale Sveum was candidate No. 2. There was so little coverage of his interview that it seems like he was an afterthought, or maybe on the way to Boston, who also interviewed him.
Maddux was a breath of fresh air and would be a great choice to take over the dugout at Wrigley Field.
The fact that he hinted there could be another Maddux joining him sweetens the deal. He mentioned that he and Greg had spoken about the possibility if he got the job.
Mike became a hot commodity after helping the Texas Rangers get to the World Series the past two years with his rejuvenation of their pitching staff.
His very first season, the team ERA dropped from 5.37 to 4.38. He also improved the WHIP from 1.58 to 1.37. Last season those numbers were 3.79 and 1.24, which is incredible considering that the ballpark in Arlington is a hitter's paradise.
He's considered the best pitching coach in baseball by many, and he might have the key to the next big thing in baseball.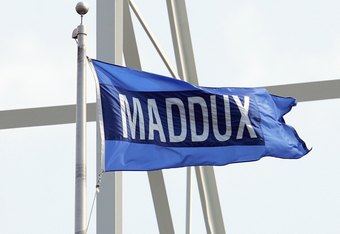 Jonathan Daniel/Getty Images
Five Rangers pitchers last year started a total of 157 games. It could be luck, or it could be that he has found a way to keep pitchers healthy.
The Rangers apply many methods, including throwing more often between starts and long toss to build up their arm strength.
Pitching and defense win. If he can improve the Cubs pitching, keep them healthy and get the most out of them, they are well on the way to picking up the hardware the new regime is expected to bring to Chicago.
He had previous success with the Milwaukee Brewers as their pitching coach, so he has experience in the Cubs' division and the National League.
Sandy Alomar Jr. is supposed to interview on Friday. After that, there is nobody else scheduled at this time, so the choice may be among this group.
I was hoping Ryne Sandberg would get an interview, but Epstein put the kibosh on that immediately when he said the new manager would have to have major league experience managing or coaching.
That was smart on his part because the outcry for Sandberg would have been overwhelming. He didn't want to put himself in the position where he either had to give him the job, or, for the second year in a row, slam the door in his face.
The last time he searched for a manager, he came away with Terry Francona. Not a bad choice since the Red Sox won two World Series championships with him.
Joe Maddon, current Tampa Rays manager, came in second that time. He is now thought of as maybe the best manager in baseball, so he did a great job narrowing the field with Boston.
There is talk he could be a dark horse candidate for the Cubs job, but he still has a year left on his contract. The Cubs still haven't worked out compensation with the Red Sox for Epstein, so that scenario is unlikely.
Francona has also been mentioned as a possibility, but it seems Epstein doesn't necessarily want to get the whole gang back together.
We should know something early next week if not sooner. I think Mike Maddux is the best choice for the job.
If things go as well for him as they did in Boston for Francona, his jersey might join his brother Greg's hanging from the foul pole in Wrigley.