Baltimore Ravens: Top Songs That Might Not Have Offended John Harbaugh
November 10, 2011
Rob Carr/Getty Images
"What's Your Name" by Lynyrd Skynrd got Baltimore Ravens head coach John Harbaugh in a huff on Sunday night, even though his Ravens knocked off the host Steelers 23-20 with a last-minute touchdown.
Why's that, you ask?
Seems that the head Raven thought the home team's sound crew blared the song over the public address system at Pittsburgh's Heinz Field as a jab at Ravens quarterback Joe Flacco.
In particular, Harbaugh feels, the part of the song's lyrics that contain the phrase, "little girl" was intended to question Flacco's manhood as his stats were displayed on the stadium scoreboard alongside the stats of Pittsburgh quarterback Ben Roethlisberger.
Although Harbaugh's reaction to the sound crew's choice of music may be a bit of an overreaction, it should be acknowledged that the song and its timing weren't entirely appropriate.
With that in mind, here's a list of songs the sound crew should have chosen from to spare Harbaugh's feelings.
1. "On the Wings of Love"—Jeffrey Osborne
Perhaps if the sound crew had played this song, Harbaugh would have changed his tune, so to speak. "Wings" for the Ravens' mascot. "Love" for the respect that should be shown towards the opposing quarterback. See, coach? Plenty of love and inference to go around with this song choice.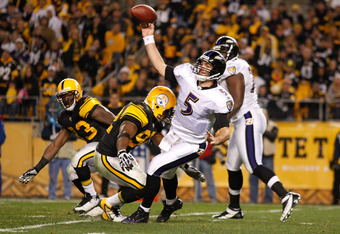 Jared Wickerham/Getty Images
2. "The Look of Love"—ABC
Get it, Coach? Look, like when a quarterback looks the defensive coverage one way, then throws another? Of course, the song had to include "love" somewhere so you wouldn't take offense. Ha! Another pun! Offense! Get it?
3. "Holy Joe"—U2
Not one of the Irish band's better-known songs, but apropos because it paints Flacco's first name in a positive light. Then again, Harbaugh might have misinterpreted the intent, given his sensitive side.
4. "A Baltimore Love Thing"—50 Cent
It's all in the title, Coach. Peace out, yo!
5. "Touchdown"—T.I. Feat. Eminem
Given the way the game ended, this song choice would have been prophetic. But at least it wouldn't have ruffled any feathers.