Week 10 Predictions: Steelers vs Bengals and Other Games with Upset Potential
November 10, 2011
Jonathan Ferrey/Getty Images
With surprise teams like the 5-3 Buffalo Bills, 6-2 Cincinnati Bengals and 4-4 Kansas City Chiefs, it's safe to say that the unexpected upset has been a major theme of this NFL season. 
Conversely, the 3-5 Philadelphia Eagles and 4-4 San Diego Chargers attest to the same theme with their first half struggles.  
By my imperfect and certainly-debatable count, there have been at least two or three significant upsets in each of the season's first nine weeks. While counting, it became difficult right around Week 4 to even distinguish upsets, because which teams are better than which is now anybody's guess, judging by the frequency of unexpected outcomes. 
Week 10 is upon us with the season's first Thursday night game, the Chargers against the Raiders. Why should we expect the season-long theme of upsets to change in Week 10? Good question; we shouldn't.
Here are four games with upset potential this weekend.
Arizona Cardinals at Philadelphia Eagles (no line)
So what if the Cardinals are 2-6 this year and 2-5 on the road in the Eastern time zone over the last three years? They're coming off a comeback overtime win against the doormat Rams and have never had more momentum in 2011.
The Eagles, on the other hand, blew an excellent chance to climb back into the NFC East picture with a Monday night home game against Chicago, but squandered it with some real lackluster play. The box score suggests the Eagles would've had a great shot to win the game convincingly, but they never finished the Bears off, giving up 10 fourth-quarter points to lose 30-24. This, among others, will be a moment the Eagles look back on in late December when they don't control their destiny for a Wild Card spot.
The Cardinals seem just as likely to win with John Skelton as with the injured Kevin Kolb, so why not? They've actually played a very tough schedule with games against Pittsburgh, at Baltimore, at Washington, against the Giants and at Seattle, which is not an easy place to play. 
The outcome of this game depends on which Philly team shows up. Will it be the one that rolled up the Cowboys 34-7 on national TV, or the one that choked away leads to the Niners and Bears at home?
Buffalo Bills (+5.5) at Dallas Cowboys 
The 5-3 Bills are fading, having lost three of five, and play four of their next five on the road. Dallas is the definition of mediocre with a 4-4 record and having not won more than two consecutive games all year.
The other side of that coin is that only two of the four losses have been consecutive, and those were to Detroit and New England in close games.
This line reflects a distrust of Buffalo, which appears to be roughly the same team that jumped out to an early 4-1 record. The defense has tightened in recent weeks, but at the expense of the offense, which was used to quick turnarounds and short possessions early in the season.
This win is vital for both teams' playoff hopes, and the Cowboys should be favored, but the Bills will not be easily dispatched in this game.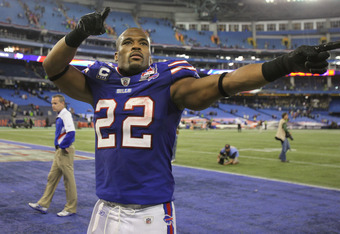 Tom Szczerbowski/Getty Images
Pittsburgh (-3) at Cincinnati Bengals
Everyone is handing this win to the Steelers without much consideration for the Bengals, but I don't see why. Marvin Lewis' defense has joined fellow AFC Northerners Pittsburgh and Baltimore in the top four of total yards allowed and come in behind only San Francisco defending the run.
Offensively, Andy Dalton has been more than serviceable, with a 12/7 TD/INT ratio, a 61.5 completion percentage and a confident demeanor expected by no one around the league. A.J. Green, the touted rookie WR, has been as good as advertised, and, combined with Dalton, proves the Bengals 2011 draft class to be rousing success.
Sure, the schedule has been very light early on, with the team's six wins coming against Cleveland, Buffalo, Jacksonville, Indianapolis, Seattle and Tennessee for a combined record of 16-33. I don't see this is as any reason to discount their chances against Pittsburgh, which hasn't exactly played up to expectations.
The fact that Cincy has taken care of bad teams is not a reason to slight them. Isn't that what good teams are supposed to do? If anything, learning how to win close games, especially on the road (4-1 record), is great experience in gearing up for a pretty nasty second half schedule.
The Bengals' confidence couldn't be any higher after a comeback road win against the viable Titans, and I don't think they'll be frightened one bit by the team on the other side of the ball this Sunday.
Baltimore Ravens (-7.5) at Seattle Seahawks
Seattle's first eight games: at 7-1 49ers, at 6-3 Steelers, vs. 2-6 Cardinals, vs. 5-3 Falcons, at 6-2 Giants, at 3-5 Browns, vs. 6-2 Bengals, at 4-4 Cowboys. I challenge all readers to find me a tougher first half schedule than that.
Nevertheless, the Seahawks are 2-6 and looking like an also-ran in the NFC after last year's surprise playoff run. They're a dumpster fire at quarterback, with Tarvaris Jackson and Charlie Whitehurst taking snaps, and the offense generally lacks a single serious threat.
While the offense has surpassed 17 points in only two games, the defense has been sneakily good. They rank just outside the top 10 against the run and are tied middle of the pack in takeaways. 
They are overmatched in most facets of the game, but could serve as a trap for the Ravens, who have Cincinnati and San Francisco looming.
The Ravens have been really good when right this year, but are prone to the occasional fish-out-of-water flop game. They did it in Week 2 against Tennessee, Week 7 against the Jaguars and then in Week 8 against the Cards.
There are much more favorable visiting environments in the NFL than Qwest Field, so a frisky Seahawks team beating the spread and keeping this game close is no stretch in my mind. 
Does anybody trust Joe Flacco on the road in a hostile stadium after some of the stinkers he's put up this year?
These four games are my favorite upset possibilities, but true to the theme, we'll probably see another upset or two from an unexpected place. 
Stay tuned for another exciting slate of NFL games in Week 10.