Notre Dame Football: New Helmets Represent a Shift in Priorities for the Irish
November 11, 2011
It doesn't matter what fans think about Notre Dame's new helmets. Nor does it matter what fans think about Fieldturf, Jumbotrons or Ozzy Osbourne.
These small changes represent a greater shift in philosophy for the Fighting Irish.
Progress, though it may be painful, is exactly what Notre Dame needs.
Across the nation, Irish supporters have furrowed their collective brow, frustrated by a Notre Dame football program that seems to be straying further and further from its roots.
Fans that grew up with a program steeped in tradition can't bear to see the remnants of past glory tossed aside like yesterday's Observer.
Without the traditions, is Notre Dame really the same Notre Dame anymore?
In a literal sense, no, it isn't. But why should it be?
Notre Dame last won a national championship in 1988. The majority of Notre Dame's current roster wasn't alive in 1988. Current Notre Dame players are more likely to identify Lou Holtz with ESPN than with the Fighting Irish.
It sets up a strange dichotomy, with fans in the stands cheering for a return to glory days that the players on the field may not even know existed.
The truth of the matter is, those glory days aren't coming back. I'm not saying that the Irish can't compete for national titles again, but if the 2011 version of Notre Dame is the same as 1988 version, Brian Kelly is doing something horribly wrong.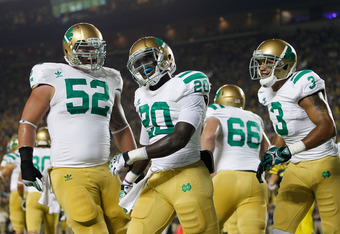 Gregory Shamus/Getty Images
That's exactly why it doesn't matter if fans are annoyed by the music, repulsed by the helmets or haunted by the possibility of a Jumbotron.
These changes are certainly front-and-center for Notre Dame fans, but that doesn't mean they're designed to appeal to Notre Dame fans.
They are designed to appeal to 17 and 18 year-old kids that want to play college football.
Those kids want to wear flashy uniforms. They want to hear music blaring over the stadium speakers. They want to look up and see themselves on a 50-foot screen.
Brian Kelly said it himself at his Tuesday press conference. "With all due respect to everyone with an opinion, I don't care what they think. Our players love it."
Kelly brought in an uptempo spread system to attract elite athletes to South Bend. It's working. Notre Dame is a faster team than it was during the Davie, Willingham or Weis eras.
If the Irish are really serious about competing on a national stage, making South Bend an attractive destination for top recruits must be the top priority. Kelly's push for the continued modernization of the entire Notre Dame football program is the next logical step down that path.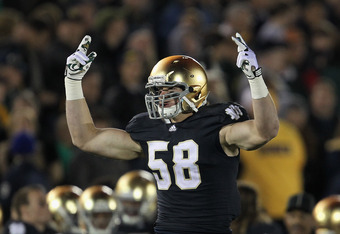 Jonathan Daniel/Getty Images
Notre Dame can't rely on tradition anymore. The majority of today's high school athletes don't know about the intricacies of the Notre Dame tradition, nor should they be expected to. Hell, Jonas Gray has spent four years at Notre Dame, and he doesn't even know the whole story of one of the greatest players in school history.
The hard truth of it is, for all of the complaining about the perceived desecration of Notre Dame traditions, the fans' perspective on all of this window dressing is inconsequential. As long as the Irish are winning, they'll get over it.
If Notre Dame finishes 10-3 with a bowl win and a Top 15 recruiting class, are donors really going to pull money because they're bothered by Crazy Train playing in the stadium?
Are fans really going to flip away from NBC on Saturday afternoons because the helmets are too shiny?
Will lines at the bookstore disappear if a few throwback jerseys hit the shelf?
I don't think so.
Will recruits be more inclined to commit to a program that's finally embraced the 21st century version of college football?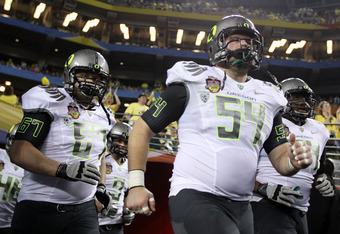 Christian Petersen/Getty Images
Absolutely.
Need an example? Just look to the biggest game of Week 11.
No. 6 Oregon has essentially built its football program solely on the basis of having awesome uniforms and a flashy offense. Last year, Chip Kelly's Ducks rode that formula all the way to the BCS National Championship Game.
Sure, the proximity to talent-rich California helps, but don't act like Oregon's relationship with Nike didn't weigh heavily on DeAnthony Thomas' mind when he chose the Ducks over his hometown USC Trojans.
Notre Dame's opponent on Saturday, the Maryland Terrapins, is in the first year of an attempt to follow that same blueprint. Under Armour founder and Maryland alum Kevin Plank has supplied his Alma mater with a dizzying array of uniform combinations.
The Terps haven't yet begun to bring in the type of talent that can transform their program, but Maryland's duds have already generated a spike in national attention around the program.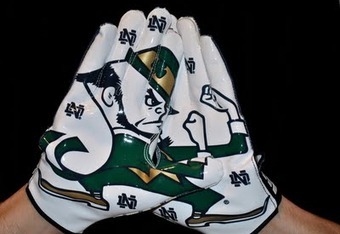 While I'm not sure I'd endorse an Oregonian stylistic revolution for the Fighting Irish, the larger point holds true.
Recruiting is the lifeblood of a football program. Therefore, a successful program must tailor its own priorities to those of its recruits.
In the short term, that means change, whether the fans like it or not. If executed properly, those changes will lead to winning. With winning comes satisfaction. For everybody, fans included.
So, what's the harm in putting up a Jumbotron across from the press box?
Why doesn't it makes sense to give an offense based on speed a fast track on its home field?
Why can't Notre Dame have the same partnership with Adidas that Oregon has with Nike?
They may be drastic, but none of these surface changes will fundamentally alter Notre Dame as a university or as a football program. In fact, they'll likely have a hand in reviving the greatest Notre Dame tradition of all.
Victory.
Just hold off on playing DJ Khaled over the "Alma Mater".